New to Los Angeles or can't make it home for the upcoming holiday? 101 North Eatery & Bar in Westlake Village, CA is open Thanksgiving day for dine-in and take-out.
Whether guests want to enjoy the comfort of their own home or would like a place to go on Thanksgiving 101 North has options for everyone! 101 North Eatery & Bar is offering dine-in Thanksgiving dinner or it can be picked up via contactless curbside pick-up, it can even be delivered for free! Please see below for pricing and menu details. 101 North Eatery & Bar also created a Thanksgiving Cocktail Kit which is available for the whole month of November for $50 and serves 8 people. Ingredients include Vodka, Honeycrisp Apple, Apricot, Ginger, and Lemon Essence. Please join 101 North and Chef Anthony Alaimo, a Michelin Star Chef in celebrating the thankful holiday.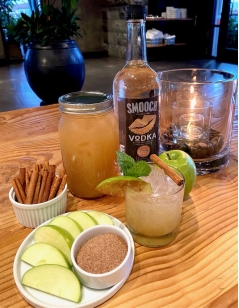 Thanksgiving set menu for dine in
Full menu not available. Set menu only.
$75 person | 4pm-9pm
Choice of starter
Burrata
Roasted baby beets, burrata, fig balsamic, baby arugula
Porcini mushroom soup
Toasted pine nuts, rosemary creme fraiche (v)
Choice of main
Roasted mary's free range turkey
Ruby yams, braised turkey gravy, harticot verts, sausage & wild rice stuffing
Wood grilled angus tenderloin
Smoked potato puree, caramelized onion jus
Butternut squash agnolotti
Brown butter, vincotto, parmesan (v)
Dessert
Trio of mini desserts
Pumpkin cheesecake, bourbon pecan apple tart, chocolate fondant
_ _ _ _ _ _ _ _
(v) = vegetarian
Vegan menu
Porcini mushroom soup
Toasted pine nuts, rosemary creme fraiche
Butternut squash risotto
Vincotto
Vegan crème brûlée
Pineapple, toasted coconut tuile, macadamia nut streusel.
To go menu
Porcini mushroom soup
Toasted pine nuts, rosemary creme fraiche (v)
Baby kale salad.
Spiced pumpkin seeds, midnight moon cheese, dried cranberries, apple vinaigrette
Roasted mary's free range turkey
Ruby yams, braised turkey gravy, harticot verts, sausage & wild rice stuffing
Pumpkin cheesecake
Free delivery & pick up available between 4pm-9pm
$99 serves 2 | $195 serves 5
For more information on 101 North's Thanksgiving menu or to make a reservation please visit: https://www.101northeateryandbar.com/thanksgiving
 About 101 North:
When the 101 North team searched the Los Angeles area for the perfect location to begin this journey, we were inspired by the rich and diverse culinary scene that downtown Los Angeles has created. We were motivated to bring that energy, enthusiasm and love for food to an area that has an emerging culinary scene of its own. We firmly believe that Westlake Village is the perfect place to debut our New American restaurant, serving a population that values and appreciates high quality dining and holds their community of family and friends in the highest regard. It is 101 North's philosophy that love can be expressed in food and we invite you to share in the love with us.
About Chef Anthony:
As the leader of our team, Chef Anthony has filled the kitchen with local talents that parallel his deep and unwavering passion for food. A native to New York, Chef Anthony has poured years of dedication into exploring ways to enhance his culinary abilities, most notably cooking in numerous award-winning restaurants all over the world, including Europe, Asia and the United States. Anthony Alaimo found his calling to cuisine at a young age when he began working after school in Italian restaurants throughout his native New York City. In pursuit of a culinary career, he journeyed up the Atlantic coast, which not only enhanced his knowledge but also fueled his passion by allowing him to work with local ingredients in the bustling seafood industry of New England. It was there that his culinary skills emerged as he was mentored in the art of blending unique seasonal ingredients and traditional Italian flavors.
His culinary ambitions brought him through many notable kitchens throughout the United States and Europe, which ultimately led him to the Bellagio in Las Vegas where he went on to work at legendary restaurant Le Cirque with Sirio Miccioni's team. Resort mogul Steve Wynn and the Wynn Resorts organization later presented Anthony with an opportunity to create an Italian restaurant in Macau, China where he then spent nine years as the Chef De Cuisine. During his tenure at Il Teatro at Wynn Macau, he and his team earned the most prestigious hallmark of a young chef's career; a Michelin star in addition to multiple Forbes 5 star designations. His travels throughout Asia and abroad have finally brought him back to Los Angeles where he is able to share these experiences and his passion with his guests.
---
Get Citizensjournal.us Headlines free  SUBSCRIPTION. Keep us publishing – DONATE