A Pot of Steamed Clams Is the Easiest Weeknight Supper
Cook them in this simple, five-ingredient tomato broth, made rich with chorizo and cream
Recently, a new acquaintance came to me with a familiar lament: "I'm stuck in a cooking rut! I cook the same things all the time, and I'm so sick of all of them!" 
With clams on my mind, since I'd been testing a recipe for them all week, I asked my new friend when the last time she'd cooked them was. 
"Huh," she said. "I can't even remember the last time. Maybe never—but I always order them when I go out to eat!" 
I sent her this recipe for creamy tomato and chorizo clams, in an attempt to nudge her out of her comfort zone. She immediately responded, "Looks so easy, I can do this!" My thoughts exactly.
I hope that when you glance over this recipe, you'll notice how short the ingredient list and directions are and feel inspired to tackle something that might feel foreign in the kitchen. It might be something totally new to you, but that doesn't have to be intimidating—it could be just what your cooking routine needs!
Two days later, my friend texted me that she doubled the recipe for her family of four, and everyone, teenagers included, absolutely loved it. If I can please two picky teenagers, I know I've achieved recipe success.
Shellfish, Demystified
We all have a vague understanding that for health and environmental reasons, we're supposed to incorporate more seafood into our diets, but it can be daunting to cook at home, mostly since most of us, myself included, do it so rarely. Shellfish, in particular, seems to send home cooks running—but in truth, it's probably the easiest seafood of all to cook. 
In fact, I'd go so far as to say that shellfish such as clams and mussels might be the easiest protein of all to cook, because unlike chicken, pork, beef, or fish, these bivalves tell you exactly when they're ready. All you have to do is pay attention for a couple of minutes, and you'll never overcook them. 
How exactly do they "tell you" they're ready? They open! Clams will remain shut tight until they are cooked, at which point they will open up on their own, making it easy for you to scoop the meat out from their shells. If a clam remains shut after cooking it, it must be discarded, as it is not safe to eat. 
To make things even easier, clams clean themselves! Before cooking, simply submerge them in cold water for about 20 minutes. Clams are sold live, and this lets them "breathe" in fresh, filtered water, and spit out all of the sand from within their shells. After soaking, give the shells a good scrub and rinse and they'll be ready to use.
An Upgraded Clam Supper
The most common way to prepare clams is in a simple broth of white wine and garlic. This is the preparation you're likely to have seen on the menus at restaurants all over the United States and Europe. It's simple and delicious, and the flavor of the clams comes through clean and pure. 
It's fantastic as an appetizer, or alongside another dish—but for a full meal, it's not quite substantial enough.
In this recipe, I've upgraded a basic pot of clams to a one-pot weeknight clam supper, by adding chorizo, canned tomatoes, and just a touch of heavy cream. The chorizo doesn't overpower the clams, but adds a rich heartiness and gentle heat to the tomato broth, while the cream cuts the acidity of the tomatoes, and gives the broth a smooth, almost tomato soup-like vibe. If you want to make the dish dairy-free, the cream can easily be omitted.
My husband passes my favorite fishmonger on his route to work, so whenever we make mussels or clams, I ask him to pick them up the way home. I always like to grab my seafood at the last possible minute, because in a coastal town like Monterey, California, that might mean that your catch is literally fresh off the boat!
I like to go ahead and get the broth going late in the afternoon, and leave it covered on the stovetop until George gets home with the shellfish. With a toddler, I like to squeeze in any recipe prep where I can throughout the day, but even without getting a head start, the broth only takes about 10 minutes to stir together. 
Just before we're ready to eat, I'll bring it back to a simmer and toss in the clams. Less than 10 minutes later, dinner's ready! I always serve clams with a fresh baguette, for sopping up the flavorful broth.
Clams might seem like such a fussy, difficult meal to prepare, but what could be simpler?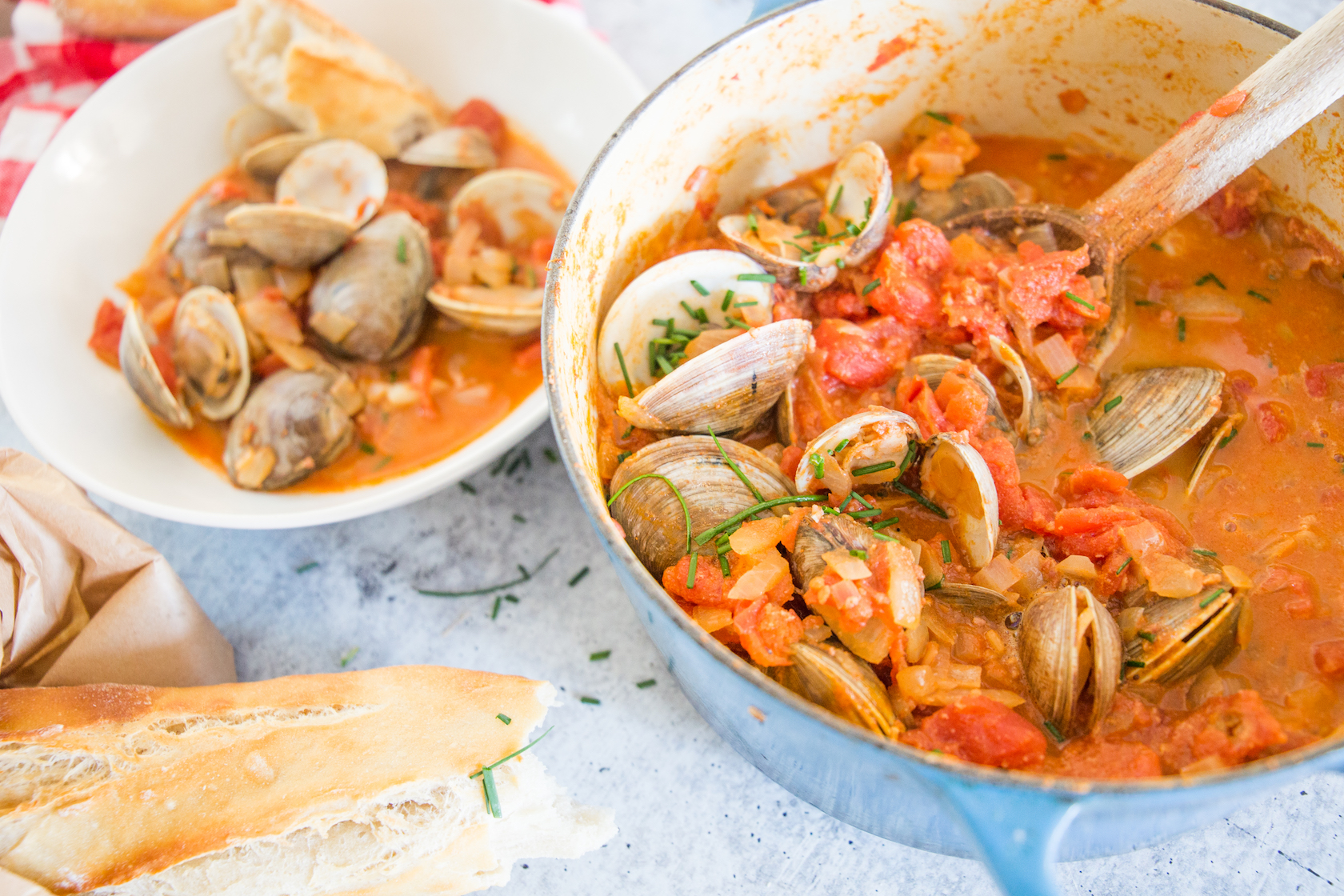 Serve with a fresh baguette, for sopping up all the broth. (Caroline Chambers)
Creamy Tomato and Chorizo Clams 
Serves 2
2 1/2 pounds fresh clams, rinsed

4 ounces ground pork chorizo (about half of a typical container of chorizo)

1 small yellow onion, finely chopped

4 cloves garlic, minced

1 (28-ounce) can diced tomatoes

1/4 cup heavy cream

1 teaspoon kosher salt

2 tablespoons finely chopped soft herbs, such as chives or parsley

1 baguette, sliced
Place the clams in a large bowl and cover with cold water for 15 –20 minutes. They are still alive and they will "spit out" any sand or grit from inside their shells when submerged in cold water. 
Meanwhile, cook chorizo and onion in a large, heavy-bottomed pot over medium-high heat, stirring often with a wooden spoon, until the chorizo is cooked through and the onions are soft, about 5 minutes. Stir in the garlic and cook for an additional 1 minute.
Stir in the tomatoes, heavy cream, and salt and bring to a simmer. Taste and add more salt if needed.
Drain the clams, then rinse thoroughly. 
Stir in the clams and cover the pot. Cook until the clams open, 6–10 minutes. Discard any clams that don't open.
Garnish with fresh herbs and serve with baguette. 
Recipe Tips
This recipe is just as delicious with any variety of clams or mussels. Just keep an eye out for when their shells open up—that's when you'll know they're ready to eat! 
Pescatarian? Omit the chorizo but add a big pinch of red pepper flakes and paprika to flavor the tomato broth. 
If you have leftovers, use them to make a Manhattan clam chowder of sorts. Pluck the meat out of any remaining shells and stir it into the broth, along with however much fish or chicken stock you need to make it feel like a soup. Stir in some diced potatoes, or whatever other veggies you might have on hand, and simmer until the veggies are tender.
Caroline Chambers is a recipe developer, food writer, and author of "Just Married: A Cookbook for Newlyweds." She currently lives in Carmel Valley, Calif., with her husband, George, and son, Mattis. Follow her on Instagram for cooking tips and snippets from her life in Northern Calif. @carochambers
Republished with Permission The Epoch Times    SUBSCRIBE
---
Get Citizensjournal.us Headlines free  SUBSCRIPTION. Keep us publishing – DONATE