Translated from the Provencal dialect as "boiled water," aïgo boulido is an unassuming broth of garlic and sage, enriched with eggs. But don't be fooled by its simplicity: "Aïgo bouildo sauvo la vido"—"boiled water saves your life"—as the popular Provençal folk saying goes. 
The simple, delicately aromatic soup has long been believed to have powerful curative properties. It was once a grandmother's remedy for people recovering from sickness or injury, as well as birthing mothers. 
Anchored in the peasant food traditions of Provence, aïgo boulido was born from making use of humble and inexpensive local ingredients. 
It is said that the soup was first invented by hikers venturing the trails of Provence. They would pick sage, bay leaves, and other drying herbs—known as the famed "herbes de Provence"—along their way, and boil them in spring water to eliminate any germs. Later, garlic, which also grows abundantly in the mountains of Provence, was added to the recipe, and the dish became adopted by locals, mothers, and grandmothers.
Today, aïgo boulido is still widely consumed in the south of France to aid digestion, ward off winter ills, and detox after days of feasting—or recover from a nasty hangover. It is most often enjoyed during the holiday season, to wrap up the big Christmas Eve feast, or as a post-holidays detox soup, as it is low in calories and has wonderful restorative properties, thanks to its two star ingredients: garlic and sage.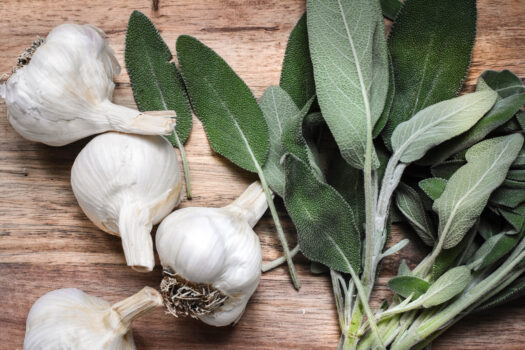 Health Benefits
Garlic 
Garlic is a plant belonging to the allium family, related to onions, scallions, shallots, leeks, and chives. Throughout history, its use has been documented for both culinary and medicinal purposes by major civilizations like the Egyptians, Greeks, Romans, and Chinese.
Though low in calories (about four calories per clove), garlic is full of flavor and packed with nutrients and active compounds. Many studies show the benefits of adding garlic to your diet, including:
When shopping for garlic, choose bulbs that are firm to the touch, with dry and unblemished skins. The heads should stay together and not break apart easily. Whole garlic heads should be kept at room temperature in a dry place and can last for months. Individual cloves, unpeeled, should be used within 10 days.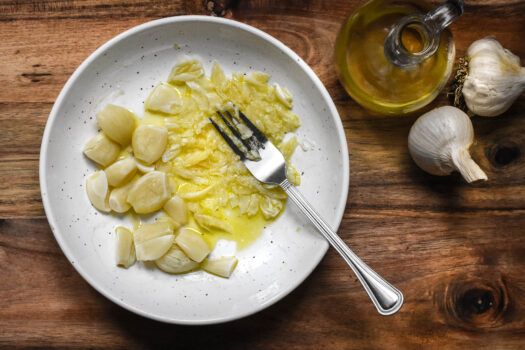 Sage 
Sage is an herb belonging to the mint family, alongside oregano, rosemary, basil, and thyme. Native to Mediterranean countries, it has been consumed in these regions for thousands of years, most notably by the Greeks and Romans. It has a strong earthy aroma, and only a few leaves are required to lend big flavors to any recipe. 
Just like garlic, sage has several promising health benefits, including: 
Lowering blood pressure: Sage leaves are rich in antioxidants and anti-inflammatory compounds, which help lower blood pressure and reduce blood sugar levels. 
Boosting brain health: A recent review of studies shows sage contributes to brain health and fosters our brain functions. Notably, the herb plays a role is stopping the breakdown of the chemical messenger acetylcholine (ACH), which leads to memory loss and more serious conditions like Alzheimer's disease. 
Improving oral health: Sage has antimicrobial effects, which can neutralize microbes present in our mouth, preventing dental plaque, cavities, and throat infections. 
When shopping for sage, choose fresh over dried, as it has superior flavor and curative powers. Look for fresh, fuzzy leaves with a vibrant green-grayish hue, free from brown spots or yellowish ends. To store fresh sage leaves, wrap them in a paper towel and place them in a bag in the refrigerator. Use them within five days. 
Three Variations
There are three common ways to enjoy aïgo boulido. The first one, the "light" version, simply calls for boiled water with a few garlic cloves, bay leaves, and fresh sage. This consommé is then filtered and sipped pure, with just a drizzle of olive oil. The delicate mix of herbaceous flavors from the herbs and fruity notes from the olive oil tastes both cleansing and soothing, and surprisingly satisfying, too.
A second method, which is my favorite and the recipe I am sharing here, incorporates beaten eggs into the broth, and is usually served with a piece of toasted bread on top. Stirring whole eggs into the broth forms tiny, tender rags, giving the soup a more substantial texture. It also adds a healthy dose of protein—and with a slice of toasted bread with cheese on top, you have yourself a delicious, nutritious dinner. 
Finally, a third way calls for placing whole poached eggs on top of the soup right before serving, rather than stirring them in. This is a delicious choice, too, but requires the extra step of properly poaching the eggs in simmering water and white vinegar. 
Aïgo Boulido
For this recipe, you'll need four small heads of garlic, a bay leaf, a few sprigs of parsley, and a small bunch of fresh sage leaves—ideally all from your local farmers market, if possible. For the eggs, buy them as fresh as possible and take them out of your fridge at least 30 minutes prior, to allow them to reach room temperature.
Serves 4
4 garlic heads (about 10 cloves per head) 

8 1/2 cups water

8 fresh sage leaves

1 bay leaf

1 tablespoon extra virgin olive oil 

2 large eggs

2 tablespoons (10–12 sprigs) flat parsley, stemmed and chopped  

Salt and freshly ground black pepper, to taste

4 slices of rustic bread (i.e., pain de campagne, French sourdough)

1/2 cup grated hard Alpine cheese (i.e., Emmental or Gruyere)
Peel the garlic cloves and place them (whole) in a large pot over medium heat, along with the water, sage, and bay leaf. Bring to a boil and simmer for about 15 minutes, uncovered, until the garlic has softened. 
With a slotted spoon, remove the garlic cloves and place them in a large bowl. Mash them roughly using the back of a fork and mix in 1 tablespoon of olive oil. Return the garlic to the broth, and simmer to reduce for 15 more minutes. Pass the broth through a fine-meshed strainer and return it to the pot. Bring to a low simmer again. 
Break the two eggs into a small bowl and whisk well with a fork. Slowly pour the beaten eggs into the simmering broth, whisking them in the broth as you pour. Do not stop whisking until the eggs are cooked and look like stringy threads. Add the chopped parsley and season to taste with salt and pepper. Turn off the heat. 
Divide the cheese evenly onto the 4 slices of bread and place them under the broiler on high for 1–2 minutes, until the cheese is melted. To serve, divide the aïgo boulido into four bowls and top each with a slice of cheesy bread. 
Aigo boulido, a Provencal garlic soup. (Audrey Le Goff)
Audrey Le Goff is a French food writer, photographer, and creator of the food blog Pardon Your French, where she shares recipes and stories from her beloved home country, France. She is the author of the cookbook "Rustic French Cooking Made Easy" (2019). She currently lives in Niagara, Canada. Follow her on Instagram @pardonyourfrench
Republished with Permission The Epoch Times    SUBSCRIBE
---
Get Citizensjournal.us Headlines free  SUBSCRIPTION. Keep us publishing – DONATE