Ben Bernanke's Money
By Chip Bok, our newest commentator/cartoonist
By Chip Bok, Bokbluster.com
Editor's note: Chip is one of our new writers- a talented cartoonist as well as political commentator. He was out here in SoCal this week attending an editorial board meeting for Investor's Business Daily. People like this don't work for free, so would you help us with our new trial Adopt-a-Reporter program?  If you like and would be willing to help support a writer, DONATE and send us an email referencing the donation, which will be earmarked for the purpose you specify. Let us know what you think of his work via reader comments here or by email. We encourage you to visit his site- http://bokbluster.com, read, enjoy and click on the links.
The Times of London, Chicago Tribune, Washington Post, New York Times, Los Angeles Times, Time, and Newsweek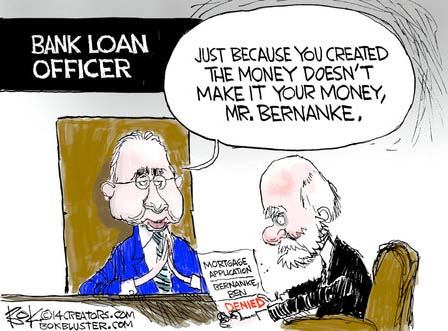 What good is quantitative easing if Ben Bernanke can't get a loan? The former Fed Chairman confided last week that he was unable to refinance his $850,000 home mortgage. It's true he's out of a job but ex-government swells are never out of the money. Bernanke is still making the stuff from thin air (or hot air) by cranking out speeches at more than $200,000 a pop.
Helicopter Ben Bernanke
IBD notes that even Barney Frank now lays some blame on the government for the 2008 banking crisis. It forced banks to lend to risky home buyers and now Dodd Frank is overcorrecting by putting the clamps on the banking industry. Banks have been forced to close branches to pay penalties. They're sitting on piles of free money but they're reluctant to lend, even to Helicopter Ben.
In that same speech he also discussed how the government can always avoid deflation by printing more dollars and referred to a statement made by Milton Friedman, a Nobel Prize winning economist, about using a helicopter drop of money to fight deflation. Since then, Bernanke has had the nickname of "Helicopter Ben."

This material is copyrighted and may not be reproduced without permission.

____________________________________________________

Editorial cartoonist Chip Bok has worked has appeared in The Times of London, Chicago Tribune, Washington Post, New York Times, Los Angeles Times, Time, and Newsweek, before hitting the big time with Investor's Business Journal and Citizensjournal.us.  He won eight industry awards that we know of including Time Magazine top 10, National Cartoonist Society and Pulitzer Prize Finalist. Bok is a graduate of the University of Dayton. He lives in Akron, Ohio, with his wife, Deborah. They have four children.

Get free Citizensjournal.us BULLETINS. Please patronize our advertisers to keep us publishing and/or DONATE