California Job Tracker
cost arial, viagra order sans-serif; font-size: 12pt;">By Lynn Reaser
discount arial,sans-serif; font-size: 12pt;">California's job market has continued to heal with spreading job growth and falling unemployment. As of January, 25 of the state's 29 metropolitan areas had fully recovered from the job losses of the recession. The only four metropolitan statistical areas (MSA) that have not recovered are Hanford-Corcoran, Redding, Oxnard-Ventura-Thousand Oaks, and Yuba City. If job growth continues at the pace of the past year, the Hanford area should join the "recovery club" within a few months.
Revised numbers show that California achieved even stronger job growth last year than earlier reported. 2015 ended with the addition of 483,000 jobs versus the 459,000 earlier recorded. As of January, payroll jobs in the state were 5.0% above their pre-recession peak.
The state's unemployment continues to drop. As of January, it had fallen to 5.7%, the lowest since September 2007 and sharply down from the 12.2% high reached in October 2010. California's jobless rate is dropping even as more people are entering the workforce. Last year, the state's jobless rate fell 1.3 percentage points from the prior year's level. This was one of the largest declines registered among all states and 17.9 million Californians now hold jobs (includes self-employed workers).
An important metric of the labor market is the employment-population ratio. This reflects both the number of working-age individuals who are in the labor market and how many of those individuals have jobs. California's ratio in 2015 was 58.3%, up from the prior year's 57.7%. California registered a strong increase in its working-age population, a robust gain in the number of those individuals seeking work, and an even greater advance in those finding jobs. These are positive trends which appear likely to continue in 2016.
California Regions Recover
Percent Change in Jobs from Pre-Recession Peaks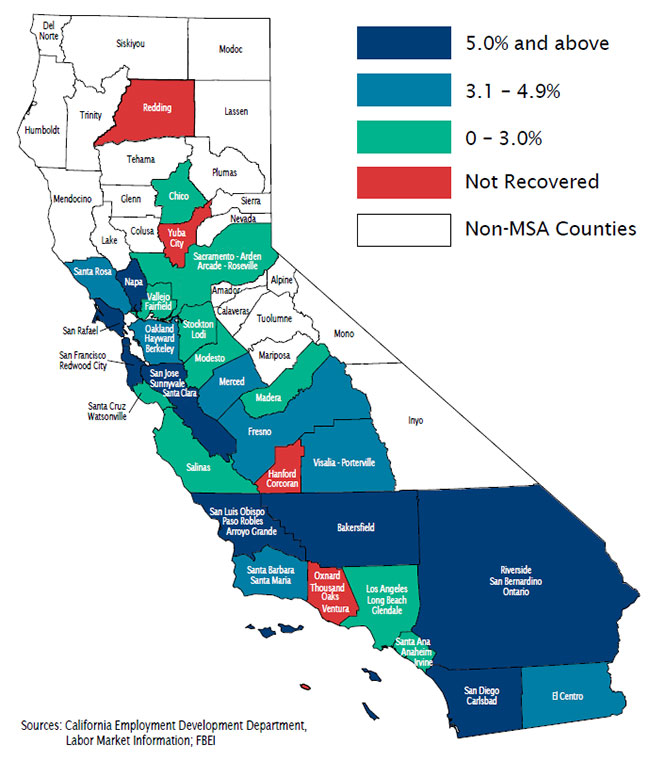 See raw data: Employment numbers by region.
Lynn Reaser is chair of the treasurer's Council of Economic Advisors and chief economist at the Fermanian Business and Economic Institute for Point Loma Nazarene University. The opinions in this article are presented in the spirit of spurring discussion and reflect those of the author and not necessarily the Treasurer, his office or the State of California.
_________________________________
Get Citizensjournal.us Headlines free  SUBSCRIPTION. Keep us publishing – DONATE