Cartoonist Chip Bok on Keystone Environmentalists
Chip Bok, Bokbluster.com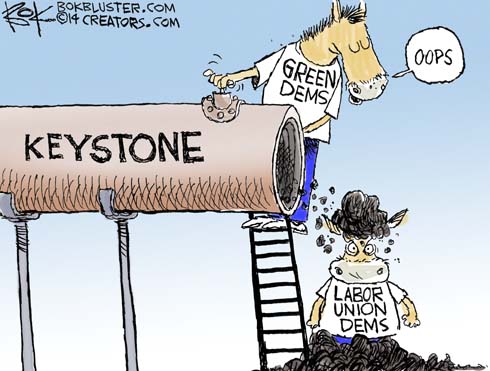 In the wake of the midterm shellacking, Louisiana Governor Mary Landrieu wanted to show her constituents that she supports the oil and gas economy her state depends on. So she pushed Harry Reid to bring the Keystone Pipeline bill to the senate floor for a vote. The move seemed kind of desperate considering the House version of the bill bill is named for her Republican runoff opponent Bill Cassidy.
Environmentalists
The environmentalist wing of the party prevailed over the labor union wing. She lost by one vote and is now officially under the Democratic Party bus.
________________________________
Editor's note: Chip is a talented cartoonist as well as political commentator.  People like this don't work for free, so would you help us with our new trial Adopt-a-Reporter program?  If you like and would be willing to help support a writer, DONATE and send us an email referencing the donation, which will be earmarked for the purpose you specify. Let us know what you think of his work via reader comments here or by email. We encourage you to visit his site- http://bokbluster.com, read, enjoy and click on the links.
Get Citizensjournal.us Headlines free  SUBSCRIPTION. Keep us publishing – DONATE