Cartoonist Chip Bok: Back to School
vcialis 40mg arial, viagra dosage sans-serif;">By Chip Bok Bokbluster.com
cialis arial,sans-serif;">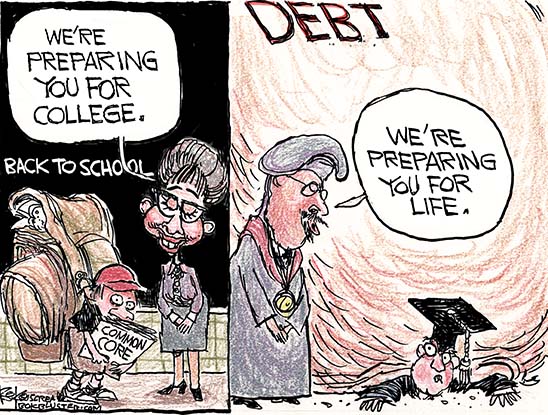 Labor Day is the traditional end of summer break but it seems most kids now stagger back to school in mid-August.  All that late summer sweat doesn't seem to be making them any smarter. The average SAT score in 2015 was 1490, down from 1524 in 2006.
School Costs
IBD says the Department of Educaton runs over 100 grant programs at a cost of $100 billion with nothing to show for it.
Meanwhile student debt is soaring. According the LA Times, tuition and fees rose from $1,832 at an average private 4 year school in 1972 to $31,231 in 2015. Student loans are up 76% to $1.2 trillion since 2009.
The median household income in 1972 was $8,282 according to US Census stats. It was $48,874 in 2012. According to my cartoon math private college costs consume 63% of a family budget now compared to 22% 40 years ago. Paul F. Campos, in the NYT, says if car prices had risen at the same rate as tuition the average car would now cost $80,000.
Why would that be?
Professor Campos blames it on exploding administrative salaries. Utah State Professor William Shugart II writing for American Thinker cites a NY Federal Reserve study to blame federal subsidy itself.
Editor's note: Chip is a talented cartoonist as well as political commentator.  People like this don't work for free, so would you help us with our Adopt-a-Reporter program?  If you
like and would be willing to help support a writer, DONATE and send us an email referencing the donation, which will be earmarked for the purpose you specify. Let us know what you think of his work via reader comments here or by email. We encourage you to visit his site- http://bokbluster.com, read, enjoy and click on the links.
Get Citizensjournal.us Headlines free  SUBSCRIPTION. Keep us publishing – DONATE
Scroll down to make a comment