Cartoonist Chip Bok: Bernienomics
see arial, story sans-serif;">By Chip Bok Bokbluster.com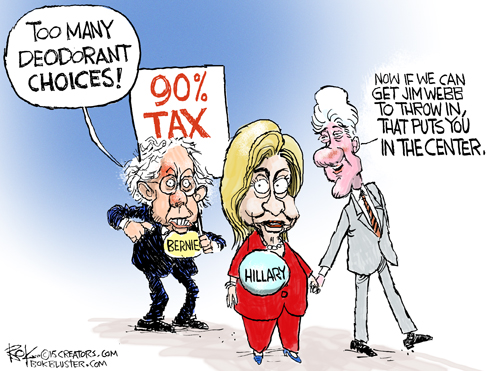 I got a lesson in BernieNomics yesterday. In an interview with John Harwood, Bernie Sanders recommended a 90% income tax rate and complained that stores stock too much deodorant. It's the armpit version of clean your plate because children in India are starving.
His views on kids' sports on the other hand are laissez faire. He favors unsupervised play.
___________________________________
Editor's note: Chip is a talented cartoonist as well as political commentator.  People like this don't work for free, so would you help us with our Adopt-a-Reporter program?  If you like and would be willing to help support a writer, DONATE and send us an email referencing the donation, which will be earmarked for the purpose you specify. Let us know what you think of his work via reader comments here or by email. We encourage you to visit his site- http://bokbluster.com, read, enjoy and click on the links.
Get Citizensjournal.us Headlines free  SUBSCRIPTION. Keep us publishing – DONATE
Scroll down to make a comment