Cartoonist Chip Bok – Black Friday in Ferguson!
Chip Bok, buy cialis Bokbluster.com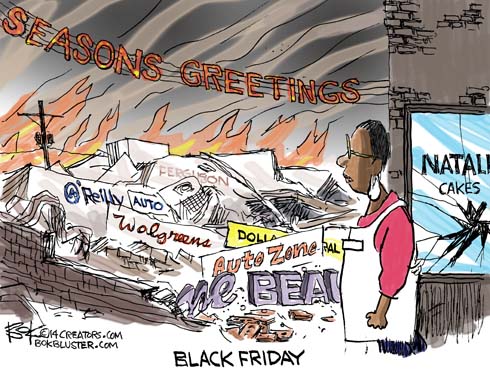 Black Friday won't be setting sales records in Ferguson. According to the New York Times at least 25 buildings were burned in the violence.
On the bright side over $250, online 000 in donations have poured in to Natalie DuBose. Her small bakery, Natalie's Cakes & More, was heavily damaged and she had been unable to fulfill Thanksgiving orders.
Editor's note: Chip is a talented cartoonist as well as political commentator.  People like this don't work for free, so would you help us with our new trial Adopt-a-Reporter program?  If you like and would be willing to help support a writer, DONATE and send us an email referencing the donation, which will be earmarked for the purpose you specify. Let us know what you think of his work via reader comments here or by email. We encourage you to visit his site- http://bokbluster.com, read, enjoy and click on the links.