Cartoonist Chip Bok: Climate of Fear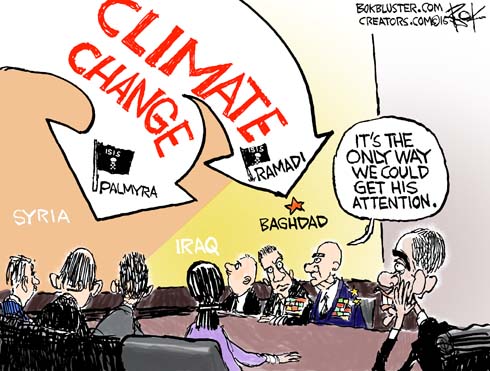 The Islamic Caliphate is capturing and holding territory in Anbar province and Syria. ISIS murdered 262 people in Palmyra over Memorial Day weekend. If past behavior is any guide, antiquities there could be doomed. President Obama called the defeat of Ramadi a "tactical setback".
In a commencement speech at the Coast Guard Academy last week the president hinted at his military priorities. He named climate change the top national security threat.
___________________________________
Editor's note: Chip is a talented cartoonist as well as political commentator.  People like this don't work for free, so would you help us with our Adopt-a-Reporter program?  If you like and would be willing to help support a writer, DONATE and send us an email referencing the donation, which will be earmarked for the purpose you specify. Let us know what you think of his work via reader comments here or by email. We encourage you to visit his site- http://bokbluster.com, read, enjoy and click on the links.
Get Citizensjournal.us Headlines free  SUBSCRIPTION. Keep us publishing – DONATE
Scroll down to make a comment