Cartoonist Chip Bok: Cool Fool
Added by Citizen Reporter on February 18, 2015.
Saved under Editorial, General Editorial
Tags: Cartoon, Celebrity, Chip Bok, Egypt, Foreign, internet, Iraq, media, murder, Obama, selfie, War on Terror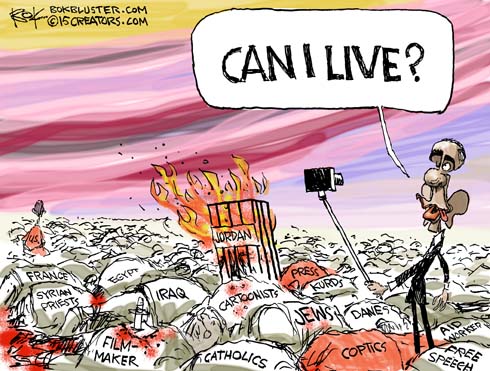 In the midst of the world wide jihad that dare not speak its name, the Fruit Loop President found time to fool around in the Oval Office. Not the Bill Clinton kind of fooling around – just acting like a fool.
Obama mugged in front of a mirror, took selfies with a camera on a stick, and whined, "can I live?" while shooting air free throws. It was part of a BuzzFeed video to reach the "young healthies" he needs to subsidize the old and unhealthy in ObamaCare.
Later in Libya, the land he "liberated", 21 Coptic Christians, or 'Egyptians" as he called them, were beheaded, 45 Iraqis were burned alive, and two people were killed in an attack on a Danish cartoonist.
Maybe the president is a cool fool like a fox. His Gallup Poll approval rating reached 50% today
Editor's note: Chip is a talented cartoonist as well as political commentator.  People like this don't work for free, so would you help us with our Adopt-a-Reporter program?  If you like and would be willing to help support a writer, DONATE and send us an email referencing the donation, which will be earmarked for the purpose you specify. Let us know what you think of his work via reader comments here or by email. We encourage you to visit his site- http://bokbluster.com, read, enjoy and click on the links.
___________________________
Get Citizensjournal.us Headlines free  SUBSCRIPTION. Keep us publishing – DONATE
Scroll down to make a comment