Cartoonist Chip Bok: Don't Crush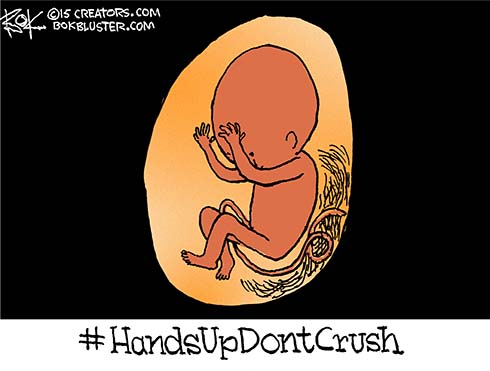 Planned Parenthood defends itself by saying the organs harvested from aborted fetuses go to research that saves lives. If that's the case it's a generational wealth and health transfer. Most of the saved lives belong to older people. The survival rate of the fetuses is zero.
Kirsten Powers, in a column titled "Crush Planned Parenthood", quotes a friend:
My friend and former Obama White House staffer Michael Wear tweeted, "It should bother us as a society that we have use for aborted human organs, but not the baby that provides them."
Ken Blackwell says that when it comes to abortion, black lives don't matter.
Editor's note: Chip is a talented cartoonist as well as political commentator.  People like this don't work for free, so would you help us with our Adopt-a-Reporter program?  If you
like and would be willing to help support a writer, DONATE and send us an email referencing the donation, which will be earmarked for the purpose you specify. Let us know what you think of his work via reader comments here or by email. We encourage you to visit his site- http://bokbluster.com, read, enjoy and click on the links.
Get Citizensjournal.us Headlines free  SUBSCRIPTION. Keep us publishing – DONATE
Scroll down to make a comment