Cartoonist Chip Bok: Export/Import
Added by Citizen Reporter on August 16, 2015.
Saved under Editorial, General Editorial
Tags: bokbuster.com, cable tv, Cartoon, Chip Bok, Congress, corporate welfare, economy, Ex-IM Bank, Export, Foreign, import, Politics
help arial, pharm sans-serif; font-size: 12pt;">
cialis arial, sans-serif; font-size: 12pt;">By Chip Bok Bokbluster.com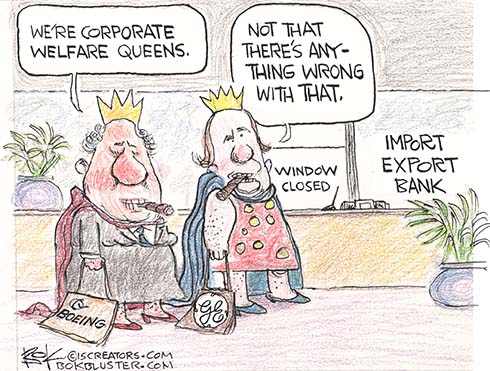 Boeing and GE have stopped contributing to politicians who oppose the Export / Import Bank. Both companies get subsidized loans from the bank to help them export their products. No stranger to crony capitalism, GE CEO Jeff Immelt threatened to move jobs out of  the country if the Ex/Im is closed. Immelt moonlights as Obama's Jobs Czar.
Editor's note: Chip is a talented cartoonist as well as political commentator.  People like this don't work for free, so would you help us with our Adopt-a-Reporter program?  If you
like and would be willing to help support a writer, DONATE and send us an email referencing the donation, which will be earmarked for the purpose you specify. Let us know what you think of his work via reader comments here or by email. We encourage you to visit his site- http://bokbluster.com, read, enjoy and click on the links.
_________________________________
Get Citizensjournal.us Headlines free  SUBSCRIPTION. Keep us publishing – DONATE
Scroll down to make a comment