Cartoonist Chip Bok: Fed Up
cialis arial,sans-serif;">By Chip Bok Bokbluster.com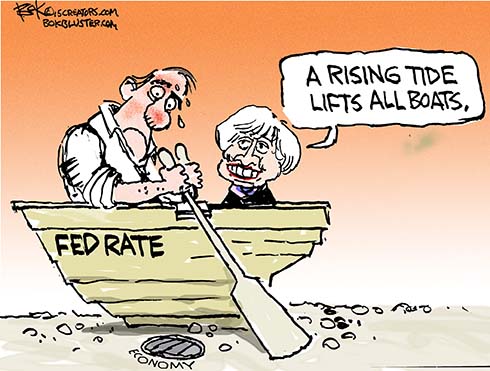 The Fed has kept the stock market and, so it claims, the U.S. economy afloat with low interest rates. The Dow lost 1500 points in the past week. World economic growth is stuck in the mud.
And with interest rates near zero, the Fed is low on flotation devices.
If income inequality is your thing, cheer up. Jeff Bezos lost $2.6 billion on Monday. Bloomberg has the fat cat score card here.
Editor's note: Chip is a talented cartoonist as well as political commentator.  People like this don't work for free, so would you help us with our Adopt-a-Reporter program?  If you
like and would be willing to help support a writer, DONATE and send us an email referencing the donation, which will be earmarked for the purpose you specify. Let us know what you think of his work via reader comments here or by email. We encourage you to visit his site- http://bokbluster.com, read, enjoy and click on the links.
Get Citizensjournal.us Headlines free  SUBSCRIPTION. Keep us publishing – DONATE
Scroll down to make a comment