Cartoonist Chip Bok: French Train Heroes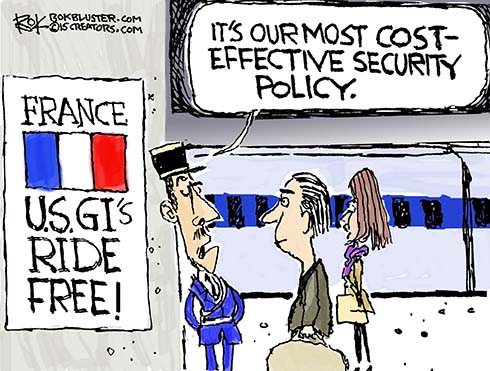 Two off duty U.S. soldiers and a student subdued, and beat the crap out of, an armed terrorist on a French bullet train. The three are being treated as heroes and were awarded a medal by the French government. One is also being treated for wounds.
The gunman's alibi? He's no terrorist. He's a train robber.
Editor's note: Chip is a talented cartoonist as well as political commentator.  People like this don't work for free, so would you help us with our Adopt-a-Reporter program?  If you
like and would be willing to help support a writer, DONATE and send us an email referencing the donation, which will be earmarked for the purpose you specify. Let us know what you think of his work via reader comments here or by email. We encourage you to visit his site- http://bokbluster.com, read, enjoy and click on the links.
Get Citizensjournal.us Headlines free  SUBSCRIPTION. Keep us publishing – DONATE
Scroll down to make a comment