Cartoonist Chip Bok: Gay marriage baked in the cake
May 4, 2015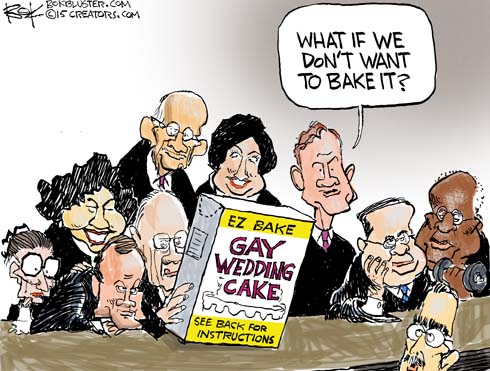 The Supreme Court is considering whether same sex marriage is a constitutional right. Many court experts think it's already baked in the cake. American tolerance of homosexuality has improved dramatically in a short time. Does the tolerance go both ways?
LGBT activists recently shunned and boycotted a prominent gay couple for hosting Ted Cruz for a discussion about gay marriage and the Middle East. A Christian couple in Oregon lost their bakery when they refused to bake a cake for a same sex wedding. Then a judge fined them $135,000. They were kicked off GoFundMe where they were raising funds to pay the fine.
During oral arguments last week Alito asked if churches could lose their tax exempt status if they refuse to perform  gay weddings. The government lawyer said it would be "an issue".
Editor's note: Chip is a talented cartoonist as well as political commentator.  People like this don't work for free, so would you help us with our Adopt-a-Reporter program?  If you like and would be willing to help support a writer, DONATE and send us an email referencing the donation, which will be earmarked for the purpose you specify. Let us know what you think of his work via reader comments here or by email. We encourage you to visit his site- http://bokbluster.com, read, enjoy and click on the links.
___________________________________
Get Citizensjournal.us Headlines free  SUBSCRIPTION. Keep us publishing – DONATE
Scroll down to make a comment