Cartoonist Chip Bok: Kasich boots Texan for Fox News debate
recipe arial, hospital sans-serif; font-size: 12pt;">By Chip Bok B

okbluster.com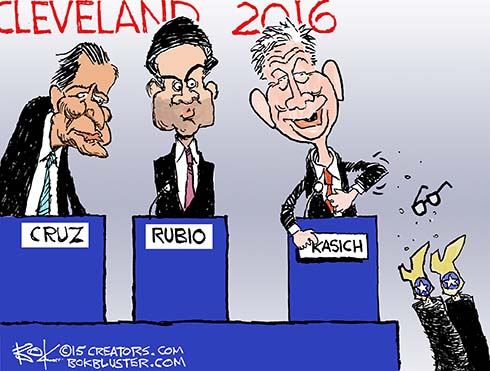 Ohio governor John Kasich entered the fray for the Republican nomination two weeks ago. The Buckeye Gov displaced Texas Governor Rick Perry for the last spot in tonight's Fox News debate in Cleveland.
Editor's note: Chip is a talented cartoonist as well as political commentator.  People like this don't work for free, so would you help us with our Adopt-a-Reporter program?  If you
like and would be willing to help support a writer, DONATE and send us an email referencing the donation, which will be earmarked for the purpose you specify. Let us know what you think of his work via reader comments here or by email. We encourage you to visit his site- http://bokbluster.com, read, enjoy and click on the links.
Get Citizensjournal.us Headlines free  SUBSCRIPTION. Keep us publishing – DONATE
Scroll down to make a comment