Cartoonist Chip Bok: Megyn vs The Donald
dosage arial, sans-serif; font-size: 12pt;">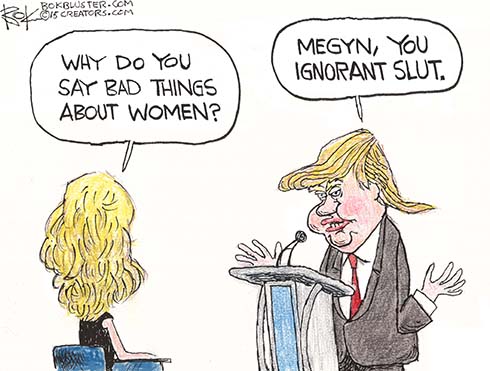 Donald Trump bitched about Megyn Kelly's debate questions by way of saying she "had blood coming out of her eyes, blood coming out of her wherever".
That comment took me back to 1979 BP (Before Political-correctness) when Dan Akroyd debated Jane Curtin on SNL.
Editor's note: Chip is a talented cartoonist as well as political commentator.  People like this don't work for free, so would you help us with our Adopt-a-Reporter program?  If you
like and would be willing to help support a writer, DONATE and send us an email referencing the donation, which will be earmarked for the purpose you specify. Let us know what you think of his work via reader comments here or by email. We encourage you to visit his site- http://bokbluster.com, read, enjoy and click on the links.
Get Citizensjournal.us Headlines free  SUBSCRIPTION. Keep us publishing – DONATE
Scroll down to make a comment