Cartoonist Chip Bok: Name that enemy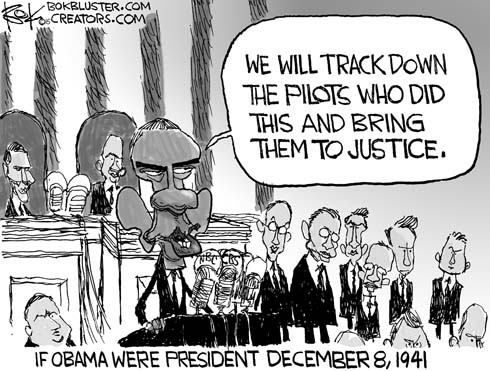 Eli Lake thinks he knows why President Obama won't name the enemy. In a Bloomberg column Lake says it's because many of our allies in the Muslim world share the same beliefs but not the violent tactics of Islamic radicals. He cites a 2013 Pew Survey that says 74 percent of Egyptian Muslims favor Sharia law for Muslims and infidels alike.
Three-quarters of Pakistani Muslims support laws banning blasphemy. A majority of Muslim Iraqis said they supported "honor killings" of women who engage in premarital sex or adultery.

All of this gets to a paradox of the war on terror. It has never been a war on the tactic of terrorism, and it has always been a war against networks of radical Islamists. But in order to wage that war, the U.S. has had to ally with Muslim countries and people, many of whom believe the state should punish apostates, adulterers and blasphemers.
Can't have a War without an Enemy
The administration doesn't like to call it a war either – try overseas contingency operations. John Kerry in his 2004 run for the presidency called it a nuisance.
That would explain the detainees at Gitmo. If there's no war they're not POWs. If they can't be prosecuted they have to be released.
Here's a link to Roosevelt's Day of Infamy speech.
Editor's note: Chip is a talented cartoonist as well as political commentator.  People like this don't work for free, so would you help us with our Adopt-a-Reporter program?  If you like and would be willing to help support a writer, DONATE and send us an email referencing the donation, which will be earmarked for the purpose you specify. Let us know what you think of his work via reader comments here or by email. We encourage you to visit his site- http://bokbluster.com, read, enjoy and click on the links.
Get Citizensjournal.us Headlines free  SUBSCRIPTION. Keep us publishing – DONATE