Cartoonist Chip Bok on DEA NFL raid- adopt-a-reporter
Chip Bok, Bokbluster.com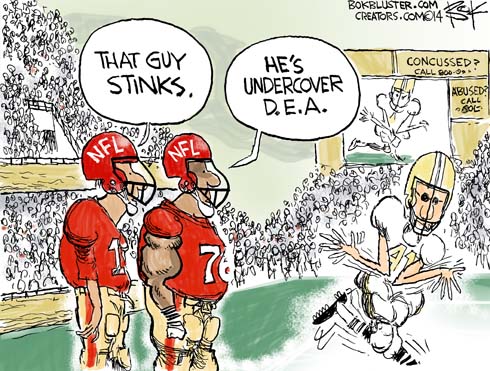 Here's a new headache for the NFL, and this time it's not from concussions.
DEA agents raided traveling NFL team docs and trainers last Sunday. They snooped through their bags searching for painkillers. The idea being that since they were traveling from out of state, the docs might be prescribing drugs without a license.
Interestingly, being out of state doesn't prevent the players from being hit with local taxes in the state where a game is played
________________________________
Editor's note: Chip is a talented cartoonist as well as political commentator.  People like this don't work for free, so would you help us with our new trial Adopt-a-Reporter program?  If you like and would be willing to help support a writer, DONATE and send us an email referencing the donation, which will be earmarked for the purpose you specify. Let us know what you think of his work via reader comments here or by email. We encourage you to visit his site- http://bokbluster.com, read, enjoy and click on the links.
Get Citizensjournal.us Headlines free  SUBSCRIPTION. Keep us publishing – DONATE