Cartoonist Chip Bok: Prayer Shaming
Prayer shaming went viral last week. Some on the left seem more upset with Christians, Jews, and Muslims who pray than radical Muslims who kill.
After the terror attacks in France, and San Bernardino, and the shooting at a Colorado Planned Parenthood, normal people and politicians did the only thing they could – they offered their thoughts and prayers.
That was a prayer too far for some in the gun control crowd. And so the prayer shaming began.
This was the front page of the The New York Daily News on December 3.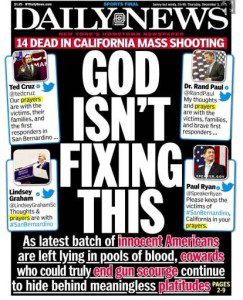 The paper complained that Republicans were "preaching about prayer" instead of getting your guns.
The NYT ran its first front page editorial in 95 years demanding confiscation of "assault style" weapons. (NR Online notes that sort thing had zero success preventing the attack in Paris where gun laws are stricter than anything being called for here.)
Even my old Tropic editor at the Miami Herald, Gene Weingarten, tweeted, "Dear "thoughts and prayers people": Please shut up and slink away. You are the problem and everyone knows it." He now says he respects people who pray. He claims he was only bashing politicians who offer platitudes instead of action. Gene is a very funny guy. I know for a fact he's more interested in poop than prayer.
Molly Hemingway in the Federalist, however, is serious about prayer. She says the left prays to its god of government.
If some in the media didn't want God to "fix this" at least one of the victims did. Townhall says that Holly Petit asked for prayers as the shooting raged around her at the Inland Regional Center in San Bernardino.  She survived.
Editor's note: Chip is a talented cartoonist as well as political commentator.  People like this don't work for free, so would you help us with our Adopt-a-Reporter program?  If you
like and would be willing to help support a writer, DONATE and send us an email referencing the donation, which will be earmarked for the purpose you specify. Let us know what you think of his work via reader comments here or by email. We encourage you to visit his site- http://bokbluster.com, read, enjoy and click on the links.
Get Citizensjournal.us Headlines free  SUBSCRIPTION. Keep us publishing – DONATE
Scroll down to make a comment