Cartoonist Chip Bok: State of the Union
Chip Bok, for sale Bokbluster.com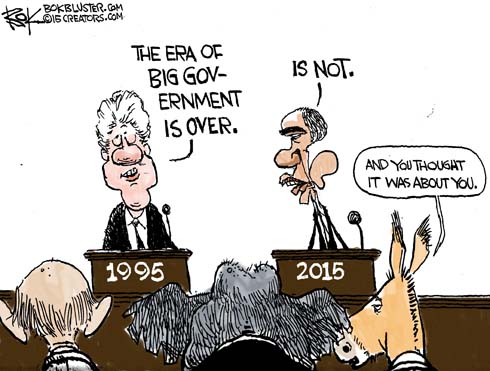 Despite being shellacked in the mid-term elections President Obama was defiant in his State of the Union speech on Tuesday. As James Taranto put it in the WSJ, viagra sale "it was an ungracious address even by the president's standards". That was in contrast to Bill Clinton's conciliatory tone after losing Congress in the 1994 midterms. In his 1995 State of the Union Bubba proclaimed the end of Big Guv. From then on he remained popular by playing small ball. Obama, on the other hand, has said, "I wasn't sent here to do school uniforms". 
David Frum in The Atlantic thinks Obama's peevishness is directed at preventing Hillary from moving to the right.
Editor's note: Chip is a talented cartoonist as well as political commentator.  People like this don't work for free, so would you help us with our Adopt-a-Reporter program?  If you like and would be willing to help support a writer, DONATE and send us an email referencing the donation, which will be earmarked for the purpose you specify. Let us know what you think of his work via reader comments here or by email. We encourage you to visit his site- http://bokbluster.com, read, enjoy and click on the links.
Get Citizensjournal.us Headlines free  SUBSCRIPTION. Keep us publishing – DONATE