SAFTY Program Still Saving Lives
During COVID – 19
The past few weeks have presented numerous disruptions to most everyone's lives. The everyday grind for many has been put on hold, but other things continue in spite of the current COVID-19 situation. For our Safe Alternatives for Treating Youth (better known as SAFTY) Mobile-Crisis Response in Santa Barbara County, the current crisis doesn't mean calls stop, in fact, despite an overall decrease in calls, the incoming calls are more intense than ever.
Sahara, age 16, overdosed on Zoloft and Nyquil, ended up in the ER.

The SAFTY team has gone to Sahara's house every day since her discharge to assess her and safety plan with the family. Sahara showed remorse for her suicide attempt and has been very receptive to the coping techniques given to her by the SAFTY team as well as continued follow up. The SAFTY team connected her to Santa Barbara Behavioral Wellness for continued services and she is showing improvement.

Sean, age 17, was standing at an overpass, ready to jump.

CHP and police talked him down, then called our SAFTY team. Through an in-person assessment and collaboration with law enforcement, we were able to keep him out of the ER. The SAFTY team reconnected him with his therapist and followed up that night. Since then, SAFTY has done daily follows up via telehealth and the client is doing much better.

Riley, age 20, had conflict and was making threats towards her boyfriend because of her severe mental health symptoms including mania and bipolar depression.

She was almost hospitalized but the SAFTY team was able to help her and her family implement a safety plan, keeping her out of the hospital. The Team has gone to her house nearly daily and she is making great progress in stabilizing. Riley remains super engaged and wants to regain her health even though she continues to have suicidal thoughts.
All client names have been changed to maintain privacy
"We try and help youth see the positive in things, even if it's as simple as 'you've gone a whole day without harming yourself, great job!' That positive reinforcement is important. I'm always very proud of our SAFTY team, but especially during the current crisis I've been continually impressed by their bravery and creativity," said Christina Lombard, Casa Pacifica SAFTY Program Manager. "Not only have the staff gotten creative, they've been excited about getting creative. This unprecedented situation has forced us to think in ways we might not have before and I think we're only becoming better for it,"
Long before there was a COVID-19 crisis, there was a children's mental health crisis. Help us continue providing critical services like the SAFTY Program with a gift to Casa Pacifica today.
Celebrating Our Volunteers!
We celebrated National Volunteer Appreciation Week by making special deliveries to some of our favorite people! COVID-19 can cancel our volunteer appreciation luncheon but it can't cancel our gratitude for them!
Tamiann Cook, Angel of the Year. Children's party helper extraordinaire, Angels Board and Planned Giving Committee member, Tami is always willing to share her time and talents!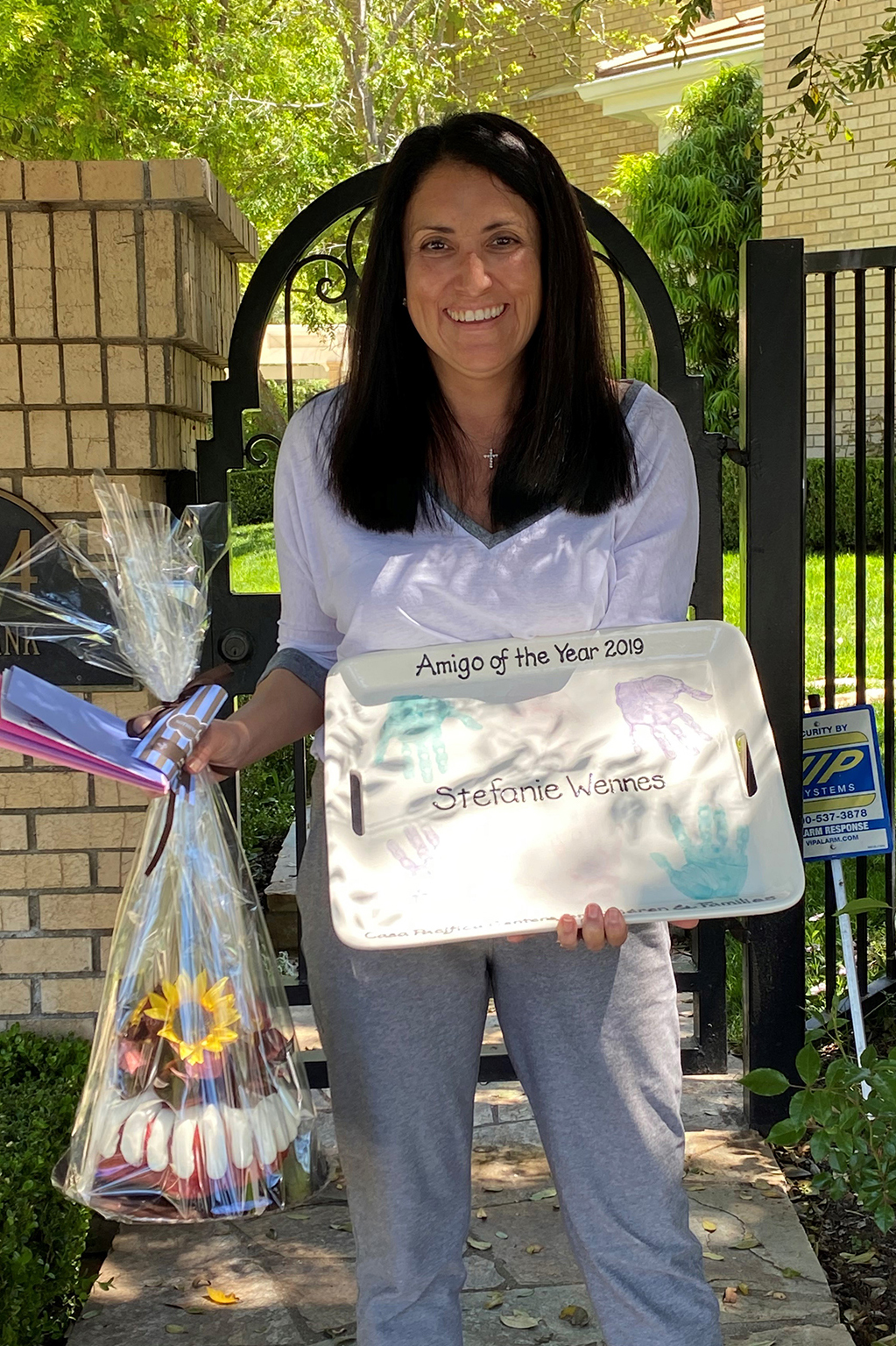 Stefanie Wennes, Amigo of the Year. Longtime Casa Pacifica supporter through service on the Board of Directors and Amigos President, Stefanie is always focused on the children and their ever-changing needs.
PODS Tri-Counties, Community Volunteer of the Year. From storage help to holiday giving to event sponsorship, our friends at PODS do it all! Thank you Steve Yapp and Al Jonas! (pictured)
Sonny Grenier, Seraphim Award Winner. Twenty+ year history with Casa Pacifica, Co-Chair of Festival Operations and generous community supporter through free Skating Plus outings for the youth.
Water's Edge and Waterside Restaurants, longtime supporters of Casa Pacifica in various capacities, have been donating hot meals to Casa Pacifica youth and staff twice a week since the start of the COVID-19 crisis. The youth and staff look forward to these meals are thoroughly enjoying them. Thank you Orestis Simos, Director of Operations; Chef Alex Montoya; and the entire Water's Edge and Waterside team for lending a hand during these difficult times, you are providing meals and more importantly happiness!
Local artist Ranae Smith and her kids, Hayden and Sarah, have been supporters of Casa Pacifica for 20+ years. As luck would have it, we had previously arranged for Ranae to come teach an art class to our kids the day before closing our campus to outside visitors. The budding artists were taught how to make an acrylic pour painting, the abstract results of which were colorfully stunning and mesmerizing. The kids were truly proud of their work and felt great about their accomplishment.
"I was so happy to have my first painting class with the kids at Casa Pacifica. What a time for me personally to be able to share what I love to do with some amazing people. Each painting is unique and beautiful! Can't wait to spend another afternoon with the talented kids at Casa Pacifica."
– Ranae Smith
Thank you for sharing your expertise, creativity, and most of all your heart with Casa Pacifica and our youth for the past twenty years, Ranae! We look forward to being able to thank you in person soon!
Mark your calendar for 2021 Festival!
Our dear friend Greg Finnerty, volunteer extraordinaire, supporter and creative designer to the Casa Pacifica Angels Wine, Food & Brew Festival has passed away. His thousands of hours spent to make the Casa Pacifica Angels Wine, Food & Brew Festival a beautiful, special and unique event will never be forgotten. We will miss his infectious laugh, positive attitude and warm heart towards others. The Casa Pacifica Wine, Food & Brew Festival will never be the same. He will be dearly missed.
Help our kids stay engaged!
Here at Casa Pacifica we are doing our utmost to keep our youth and staff safe and cared for. No community access and temporarily suspended volunteers on campus has created a unique challenge to keep our youth engaged and their spirits high.
Our youth struggle with already difficult challenges so engagement
and hope during this crisis is especially important.
YOU can help us provide safe activities here on campus!
Donate to our Facebook fundraiser!
Money raised will go straight to our residential youth in the form of activities,
art, online classes, games, movies and more!
Casa Pacifica is proud to welcome Melissa Livingston to its Board of Directors. Melissa is the Acting Director of the County of Ventura's Human Services Agency. We are fortunate to add her and her expertise in social services to our Board's wealth of knowledge. In her free time, Melissa enjoys volunteering, spending time with her family, traveling, cooking, and entertaining. Welcome, Melissa!
We hope you and your family are staying safe and well during this uncertain time. We are happy to share we still have no positive cases of COVID-19 on our campus.
The Health Clinic is monitoring all youth for symptoms and check temperatures daily

The Health Clinic is checking all staff temperatures twice a day – at the beginning and end of shifts

We continue to restrict visitor access and are utilizing virtual platforms to ensure our youth stay connected to their support systems

Staff able to work remote continue to do so

Staff and youth on campus are required to wear cloth face masks at all times

All meeting rooms on campus are cleaned immediately after use and cleaning is logged, details posted on each door
The safety of our youth and staff remain our highest priority and we will remain steadfast in our efforts to reduce any risk associated with COVID-19. We appreciate everyone's support and patience while we make changes to safely continue serving our children and families and families in need.
1. Shop! Love a good Target run? Who can resist Amazon these days? Put those shopping sprees to good use and shop for our kids! Check out our Target registry or Amazon wish list and have items shipped straight to us. And don't forget to sign up for Amazon Smile and designate Casa Pacifica as your charity of choice so we receive a percentage of your purchases!
2. Become an Angel or Amigo!  These two groups are some of our biggest supporters. The Casa Pacifica Angels help out with our fundraising events and children's parties throughout the year. The Casa Pacifica Amigos organize fun activities for the kids on the weekends – some favorites are carnival day and movie nights. Annual membership is $50 – join or gift a membership today!
Thank you to our Corporate Leaders!
Our Mission
Casa Pacifica restores hope, enhances resilience, and strengthens community connections for children, young adults and families at the most challenging times of their lives.
Casa Pacifica Centers for Children and Families
1722 S. Lewis Rd
Camarillo, CA 93012
(805) 445-7800
www.casapacifica.org
Casa Pacifica Centers for Children and Families
---
Get Citizensjournal.us Headlines free  SUBSCRIPTION. Keep us publishing – DONATE