Workshops
Just Around the Corner!
"When you exist in spaces that weren't built for you, sometimes just being you is the revolution"
-Elaine Welteroth, More Than Enough
For our August Nonprofit Leadership Council, the Center for Nonprofit Leadership is excited to bring together local leaders of color to discuss what it takes for nonprofits to facilitate a space for Black, Indigenous, and People of Color (BIPOC) in the sector to do more than just survive, but to thrive as the leaders they are. This event aims to highlight the extra strain on BIPOC in the field normally and especially now during the current social climate, as well as propose strategies for taking care of BIPOC in nonprofit settings.
An introduction to key mental health terms and contextualizing the experience of BIPOC in the workplace will be presented by Carl Chávez. This presentation will be followed by a response panel of local leaders of color discussing their lived experiences and suggestions for fostering safe spaces for leaders of color to thrive in the nonprofit workplace.
Panelists Include:
Sharon Comartie, VP of Administration, Kids and Families Together
Lena Morán-Acereto, Director of Programming and Language Justice, Just Communities
Gerry Pantoja, Director of Major and Planned Giving, Ventura College Foundation
Darcy Taylor, CEO of Habitat for Humanity of Ventura County (HFHVC)
Moderated by Jennelyn Tumalad, Program Specialist, Center for Nonprofit Leadership
Register for these Upcoming Workshops!
Did you know?
As an Organizational Member you can register yourself and your staff, volunteers, or board members for all of our workshops at no additional cost?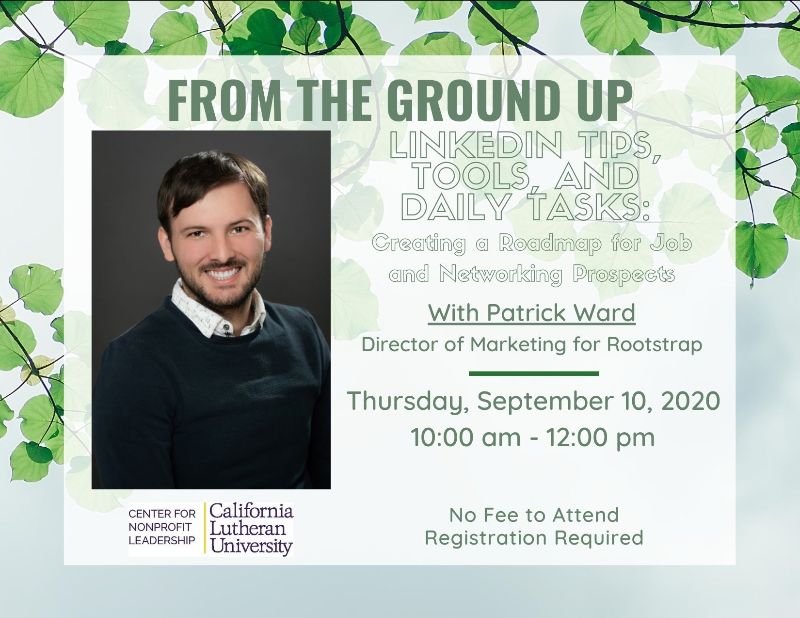 The reality of furloughs, layoffs, and cutbacks surround us as we continue to traverse the economic impact of Covid-19. Whether you are among the community that has suffered these impacts, or you're anticipating ways to develop supplemental income or professional networks, this workshop is for you. Join Patrick Ward, Director of Marketing at Rootstrap, in a workshop that will leave you feeling prepared to take on the job hunt and network building during a time of social distancing via Linkedin. Patrick will show you why Linkedin is an amazing tool to have in your journey, and by the end of the workshop you'll be equipped with a daily less than 1 hour strategy plan on Linkedin to get yourself connected and hired. REGISTER HERE.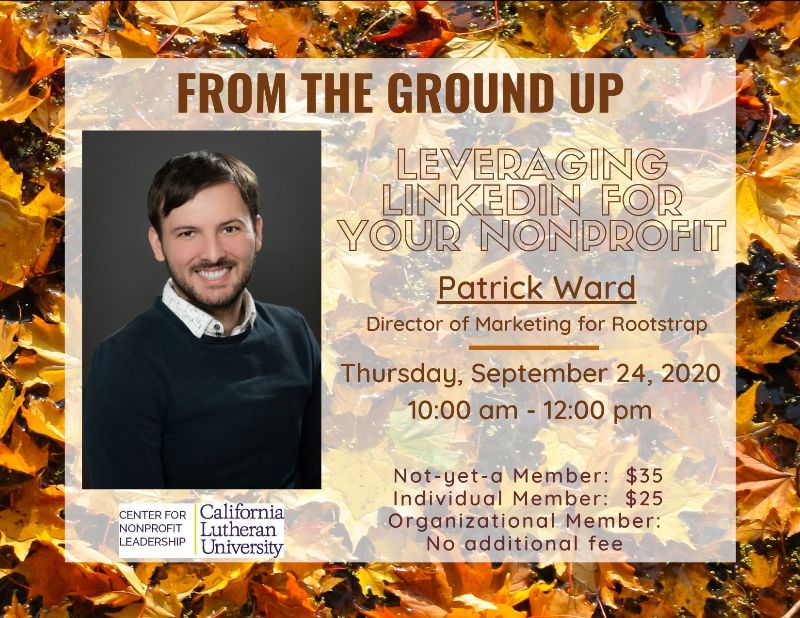 Even though Covid-19 has created limitations to the way we socialize and connect, the nonprofit fundraising and recruitment cycle still persists. How are you connecting with new and existing donors? How are you making sure you're getting the best candidates and volunteers engaged and passionate about your nonprofit? Join Patrick Ward, Director of Marketing at Rootstrap, in an interactive workshop that will help you leverage the capabilities of Linkedin for your nonprofit's needs. Whether it is donor outreach, prospecting for corporate partnerships, or recruiting for new talent, you will leave this workshop feeling more prepared to take on the needs of your Nonprofit, even through this crisis. REGISTER HERE.
Announcing – Workshop Office Hours!
Select workshops will have associated office hours offered to registrants. Office hours are meant for you to take a deeper dive into whatever needs you may have after taking the workshop, this could look like:
You're a more advanced individual and would like to discuss some deeper strategy goals with your facilitator in regards to your organization's specific needs

You're completely new to the subject your workshop covered and would like additional time to dive deeper into the subject

You're wanting some one-on-one counseling on practicing your discipline, maybe this looks like acting out scenarios or even a second eye on your current work.
The possibilities are endless! If you are not yet a member, and would like to become one to get priority for this special offering, follow the link for more information about joining our membership. 
 
Update Your Organizational Membership's Sub-Members
Are you an organizational member that is interested in allowing other staff members, volunteers, or board members the benefits to your membership? Add them as Sub-Members and they will be able to register for their own workshops without going through your primary contact.
Login to your account today and add an unlimited number of sub-members!
You may do so by following these 3 simple steps:
1) Login (if you need help with your login credentials, contact Jennelyn Tumalad at [email protected])
2) Select the option "My Membership" in the drop down menu
3) Add/edit your current sub-members at the bottom of the page
 
An Additional Offering From our Friends at Maine Association of Nonprofits
August 27: Collaborative Fundraising: Moving From Scarcity to Abundance
Learn how your organization can raise more money with partners and peers. Fundraising doesn't have to be a competitive sport. There are times when multiple organizations, working together, can raise a lot more money collectively. Join Andy Robinson as he facilitates a dive into the specifics of shared fundraising, including: 
Options for collaborative fundraising

Why donors and funders appreciate this approach

Sorting out the work, dividing up the money

Fundraising with unexpected partners
Register here. Pay what you can, everyone is welcome!
Intended Audience
Nonprofit board members, staff and volunteers

About the Presenter
Andy Robinson provides training and consulting for nonprofits in fundraising, board development, marketing, earned income, planning, leadership development, facilitation, and train-the-trainer programs. He specializes in the needs of organizations working for human rights, social justice, artistic expression, environmental conservation, and community development.
Over the past 25 years, Andy has worked with nonprofits in 47 U.S. states and Canada. He is the author of six books, including Train Your Board (and Everyone Else) to Raise Money (www.trainyourboard.com). His latest is What Every Board Member Needs to Know, Do, and Avoid. When he's not on the road, he lives in Plainfield, Vermont. Learn more about Andy and his work at www.andyrobinsononline.com.
This event is hosted by the Maine Association of Nonprofits.
Copyright © 2020 Center for Nonprofit Leadership, All rights reserved.
Our mailing address is:
Center for Nonprofit Leadership
Center for Nonprofit Leadership
---
Get Citizensjournal.us Headlines free  SUBSCRIPTION. Keep us publishing – DONATE