Dog That Once Struggled to Find a Forever Home Can Spell Her Name and Count Numbers
.
Photographer and filmmaker Leonora Burke, from California, first learned about a tiny rat terrier puppy named Penny Loggins from some old neighbors who were fostering the miniature dog. During that time, Penny had already been bounced around a few foster homes following her rescue at Hancock Park in Los Angeles.
While the little energetic terrier might have initially struggled to find her forever home, Penny certainly stuck with Burke, who discovered quickly enough that sometimes, a puppy with too much energy is simply looking for bigger and brighter challenges.
Sharing Penny's story with The Epoch Times via email, Lurke explained that the puppy, which was estimated to be around a few weeks old in 2014, was found by someone in the park, who took her to a PETCO.
A kind employee then took the puppy in until she could find a proper foster through the store's adoption fair. However, the puppy was returned by the first foster home. Soon after, the puppy, which needed a lot of care, arrived at Burke's former neighbors who fostered her for a month.
Burke, who caught sight of Penny, wanted to adopt her but found out that someone else was already filing the adoption papers at that time. "I figured it wasn't meant to be but I told my friend I was happy she would have a home and to let me know if it didn't work out," Burke said.
However, 10 days after, Burke received a call that Penny had been returned within two days.
"She had such bad separation anxiety that she cried all day and the adopter's landlord said that the puppy had to go," Burke shared. "I immediately went to meet her."
She then decided that she was going to keep Penny.
Burke, who got Penny home immediately, discovered that the 10- to 12-week-old puppy was "smart and rambunctious" and had more energy than the pooch knew what to do with. However, instead of holding that against the small dog, Burke decided to channel the energy into trying to train her new four-legged companion. For about six months, Burke taught her how to sit and some other basic dog tricks.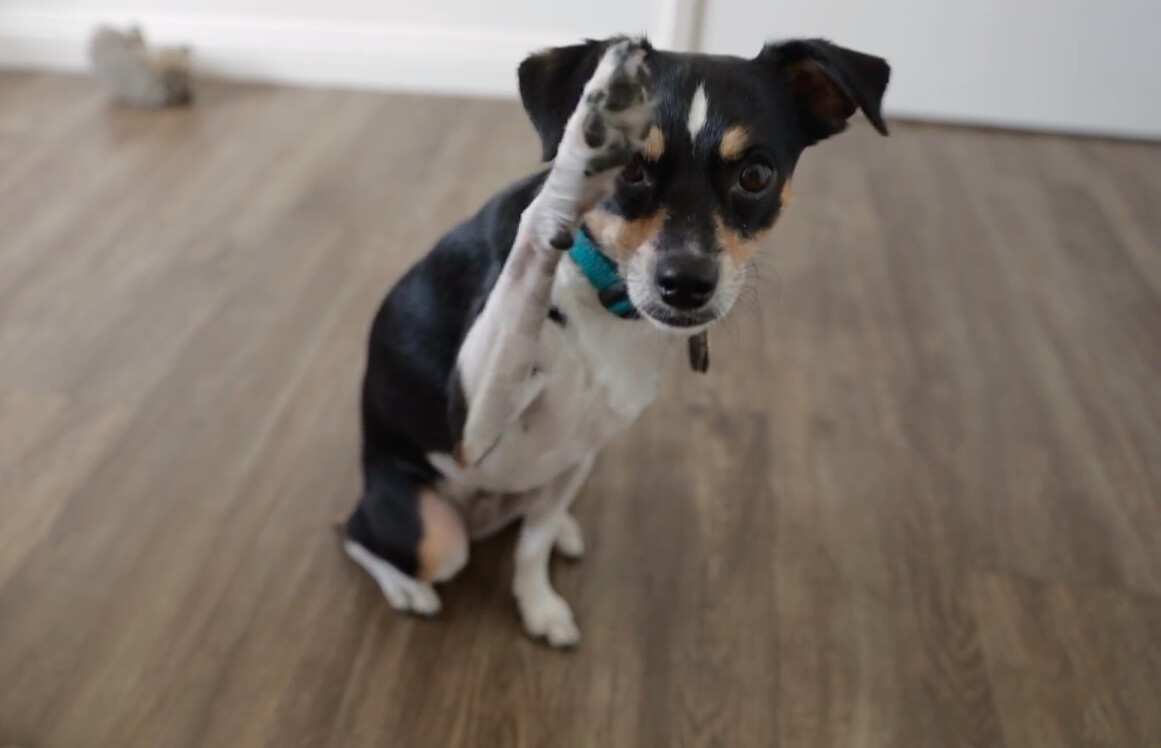 (Courtesy of Leonora Anzaldua Burke)
Penny, who happens to be a good learner, picked it up easily and then needed something more challenging.
"I thought that since dogs have the cognitive ability of a toddler she might be able to learn shapes," Burke said. "And then shapes became spelling and, last year, spelling became counting."
Like training a little child, it did take a lot of patience on Burke's part, but eventually, Penny started to count numbers from 1 to 3 using cute little letters. However, it doesn't just stop at that; the impressive dog can spell out what she is, which is D-O-G, and spell her name by laying down the letters in order.
Penny's antics go beyond just spelling and counting. The smart dog also keeps a watchful eye on her fellow canines. "One of the ladies who works at the doggy daycare told me that Penny will come alert her to other dogs misbehaving and I have seen her keep other dogs in line when I'm watching friends' pups," Burke said.
Penny, who has been with Burke for the last five and a half years and will turn 6 in June 2020, is an "extraordinary dog." The little dog just seems to get smarter by the year.
Burke mentioned that Penny is also quite attuned to what people want. The energetic dog is well behaved and doesn't have accidents or act out.
However, the last few weeks have been quite hard for Penny due to the quarantine measures.  "I noticed she seemed a little bored and down; so we started working on spelling DOG again. (We'd gotten a little lax and she forgot.)," Burke said.
Although Burke has spent a lot of time and energy in caring for Penny, it has been "worth it."
"She is the sweetest, best behaved, smartest little critter and she makes my life better every day," Burke said.