American Freedom Alliance
AFA's Discussion Group
Thursday,  3 September
**NEW TIME** 4 PM Pacific
Something completely different
Sir Roger Scruton with Peter Robinson
How to be a Conservative
Toxic Schools, Poisoned Children, Destroyed Republic
As we recognize our educational institutions as the font of the destruction but also as the potential source of saving the Republic, one aspect of too many of our schools has become clear: the intent is to poison, and it's too successful at it.
Read more here.  
AFA's Liberty Index Initiative
The violence, destruction, chaos and general mayhem in our cities and streets are born of hatred and rage that have been deliberately cultivated and fomented in our young people, primarily through our schools.  We're seeing the culmination of the decades of efforts of Marxist and other Leftist groups who have been manipulating our history, teaching shame rather than pride in this most exceptional nation, teaching victimhood rather than self-determination, teaching destruction rather than gratitude to those who are the creators of all that we benefit from. 
Recognizing the power that our education system has, and how that power has been exploited for a hateful and anti-Freedom agenda, AFA is launching an initiative to assess schools according to a Liberty Index,  creating a resource for parents, the community and educators to find schools whose academic and philosophical values match their own; in addition, we will be recognizing excellence and will promote schools which rank high on our Liberty Index.  
You can read more about it here and here.
You can help us by sending us your thoughts about what constitutes a great school, or complete this form with your selections of best and worst schools – be sure to add your reasons why.  
This is the first of many ventures taken by AFA to contend with the destruction of education and we're very excited by it.
The Left's Long March must be stopped, and we're here to do our part.  Please join us in this crucial undertaking.
 
AFA's EVERY BUSINESS IS ESSENTIAL

Initiative
** We've put this initiative on hiatus during this seemingly interminable limbo that the panic-mongers have inflicted upon us.  During this time, the essential-ness of businesses isn't at issue but the counties have a stranglehold on what businesses can and can't do.  Once we've moved past this, we'll get back to work with this with renewed vigor, to put it mildly.**
 AFA has launched our "EVERY BUSINESS IS ESSENTIAL" initiative in response to the destruction of economic freedoms wrought by zealous bureaucrats.  Read our press release here, the rationale here, and sign YOUR support for economic freedom here. Indeed, the current vandalism of businesses across the country and the race-based rioting emphasize the crucial nature of economic activity and how it's tied to the flourishing of individuals and of our nation as a whole.
We are taking a stand for economic freedom by asking elected officials and those seeking election to sign a pledge that they take as a fundamental truth that all businesses are essential, and to 
oppose all efforts and legislation that might designate any business as non-essential.
In this way we hope to prevent any future cripplings of this great nation's economy with arbitrary, personal, irrational choices about what is and isn't essential, and to re-establish stability in the economic arena.
Never again should bureaucrats make decisions that kill economic freedom, that kill businesses; our aim is to support those who agree with this stance, and to root out those who don't.  
Please do sign your support, and help us advance this initiative with your donation.
Every business is essential, and let's make sure this kind of economic warfare never happens again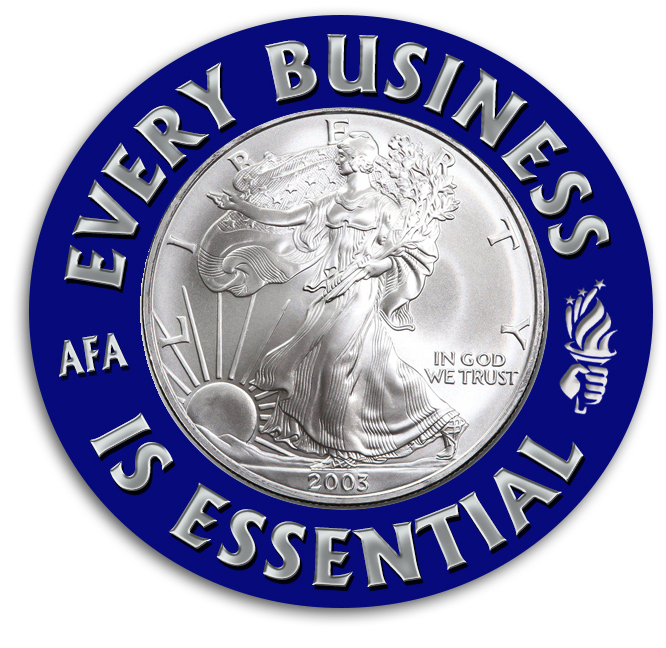 Best to you and yours during this unprecedented time.
Karen Siegemund
President,
American Freedom Alliance
Your tax-deductible donation is vital for our fight for freedom.
The American Freedom Alliance is a non-profit, 501(c)(3) organization
Our mailing address is:
American Freedom Alliance
---
Get Citizensjournal.us Headlines free  SUBSCRIPTION. Keep us publishing – DONATE