THE MUSIC MAN
by Meredith Willson
Show runs June 24 through July 24, 2022
Auditions
Saturday & Sunday, April 23 & 24 from 2 – 4 pm
Monday, April 25 from 7 – 9 pm
Callbacks: Wednesday, April 27 from 7 – 9 pm
Ojai Art Center, 113 S. Montgomery Street, Ojai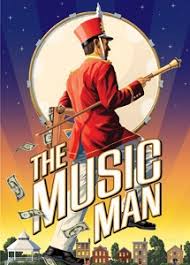 Directed by Tracey Williams Sutton
Produced by Herb Hemming
Music Direction by Andy Street
Choreography by Holly Irwin
Vocal Direction by Emily Redman Hall
Rehearsals begin April 30, (generally) Monday – Thursday evenings, and Saturday afternoons. Not everyone will be called to every rehearsal.
All auditioning should prepare 16 bars from any Broadway show, including The Music Man. Everyone auditioning must sing first. We won't provide an accompanist, so please bring a recording of the song you plan to sing. We can amplify most songs on your phone or other device.
WE SEEK THE FOLLOWING CHARACTERS:
Harold Hill: A dynamic con man and traveling salesman, Prof. Hill comes to River City, Iowa, and creates a hysteria about the "trouble" of the new pool table in town in order to sell band instruments and uniforms. He promises to form a wholesome boy's band, though he can't read a note of music. His main ambition, besides fleecing the good citizens of their cash, becomes trying to win over the local librarian. Seeking an actor with tremendous charm and charisma. This is one of the great roles in American Music Theater; currently played by Hugh Jackman on Broadway. All actors auditioning for Harold must perform part of the number "Trouble" in addition to their audition song. Age Range: 35 – 45.
Marian Paroo: A sometimes stuffy librarian and piano teacher, Marian sees through Harold's charade and sets out to expose him as a fraud. Seeking a strong actress with a lovely soprano voice. Marian is a classic leading lady with a mind of her own. Age Range: 25 – 35.
Winthrop: Marian's lisping younger brother, Winthrop's excitement about the boy's band is part of the reason behind Marian's transformation. Seeking an adorable young actor who sings. Age Range: able to play a 10 year old.
Mrs. Paroo: Marian and Winthrop's charming Irish mother. Mrs. Paroo is a feisty strong-willed woman. Seeking a great character actress. Age Range: 40 – 50.
Mayor George Shinn: A blustery politician and mayor of River City. Mayor Shinn is the king of malapropos. Seeking a loveable and bumbling character actor. Age Range: 50 – 70.
Eulalie Mackecknie Shinn: Mayor Shinn's peacock wife, is easily won over by Prof. Hill when he appoints her the head of the "Ladies' Auxiliary Society for the Classic Dance." Mrs. Shinn is a large and boisterous character. Seeking an actress with great comic timing. Age Range: 45 – 60.
The Barbershop Quartet: Four bickering school board members (Olin Britt, Oliver Hix, Ewart Dunlop, and Jacey Squires). All members of the Barbershop Quartet must sing well and feel comfortable with tight harmonies. Seeking good actors who also sing very well. Age Range: 35 – 60.
Pick-a-Little Ladies: Eulalie's gossipy friends. The Pick-a-Little Ladies include Alma Hix, Mrs. Squires, Maud Dunlop, and Ethel Toffelmier (the "pianola" girl). Seeking comedic actresses who sing. Age Range: 35 – 60. Ethel Toffelmier is slightly younger (30 – 40). Seeking an actress with great comedic timing.
Marcellus: Harold's old friend and former partner, Marcellus is now a resident of River City. He's given up his con man ways and is dating his boss's niece, Ethel Toffelmier. Seeking an actor that dances and sings. Age Range: 35 – 50.
Amaryllis: Marian's young and somewhat precocious piano student. Seeking a young actress that sings well. Age Range: 10 – 12.
Tommy Djilas: The town troublemaker, Tommy is secretly dating the mayor's oldest daughter, Zaneeta. Harold makes him assistant bandleader. Seeking a strong young actor with a tremendous personality. Teenager.
Zaneeta Shinn: The mayor's oldest, strong-willed and slightly daffy daughter. Teenager.
Gracie Shinn: Zaneeta's younger sister, a tattle-tail. Age Range: 12 – 14.
Charlie Cowell: A traveling anvil salesman, Cowell tries to expose Harold as an imposter. He is a slightly smarmy man that attempts to seduce Marian. Seeking a strong actor with great comedic timing. Age Range: 45 – 60.
Constable Locke: The town policeman. Seeking a strong actor. Age Range: 35 – 60.
River City Townspeople: Adult Characters of all ages. All townspeople are involved in crowd scenes and the large group numbers. Seeking diverse actors with strong singing voices. Please note: the Traveling Salesmen (a group at the beginning of the show) will be made up of people from the town, including those in the Barbershop Quartet.
River City Kids: Seeking youth that sing and move well, that will ultimately make up the "band" that Harold creates. Seeking about eight young people, Ages 6 – 12.
For additional information, please contact Tracey Williams Sutton at 

[email protected]

.
---
Get Citizensjournal.us Headlines FREE SUBSCRIPTION. Keep us publishing – DONATE