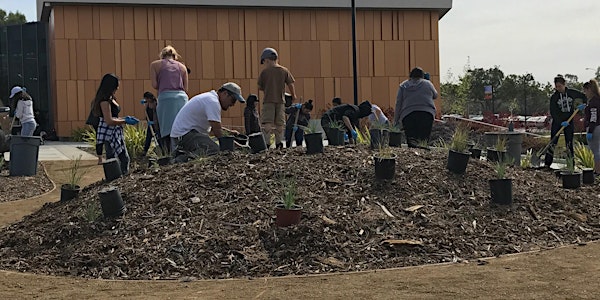 Native Plant Garden Maintenance: 'Learning and Earning' Volunteer Event
Hands-on mini-class and volunteer event, covering Early Summer maintenance and giving away free plants and seeds!
About this event
Join us at the beautiful King Gillette Ranch Visitors Center for a short workshop on native garden maintenance, followed by plenty of hands-on experience planting and pruning native plants, along with weeding and watering. All attendees can take home 2 free native plants, plus free milkweed seed for their own garden (limited to registered participants)! The in-person class will cover
– Introduction to collecting seed from your garden
– Correct methods for planting natives in the Spring
– How to deadhead and prune your native shrubs and perennials during the Spring
– When and what types of fertilizers to use on native plants, and whether to fertilize during the Spring
– Correct watering of newly planted natives, and established plantings
Attendees will have the opportunity to help install, prune, irrigate and collect seed from various plants in our native plant garden at the Visitor's Center. Weeding and mulching may also take place.
This in-person class will take place outdoors at the King Gillette Visitors Center native plant garden. Most of the class will take place in an exposed, full sun garden setting. Attendees should be prepared to stand for over 2 hours and be exposed to the sun for various lengths of time. Please wear hiking or outdoor working attire, bring water/reusable water bottle, sunscreen, and a sun hat.
The class will be led by Antonio Sanchez, nursery manager and restoration volunteer coordinator for the Santa Monica Mountains National Recreation Area. Antonio has over 15 years experience growing and killing native plants in nurseries and landscapes, and led the nursery at California Botanic Garden in Claremont and was co-owner of Nopalito Native Plant Nursery in Ventura. In his spare time he enjoys listening to the native plant band Sage Against the Machine on Instagram.
Date and time
Fri, June 10, 2022 | 9:30 AM – 12:00 PM PDT
Location
King Gillette Ranch 26800 West, Mulholland Hwy Calabasas, CA 91320
---
Get Citizensjournal.us Headlines FREE SUBSCRIPTION. Keep us publishing – DONATE