Pacific Coast: 2021 40 Under 40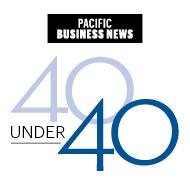 Do you know a young professional who is making a difference in the workplace and shaping the future of our community? If so, nominate them now! Be part of PBN's 22nd Annual 40 Under 40 awards recognition program.
September 20, 2021
Virtual Awards Reception
ELIGIBILITY REQUIREMENTS
PBN 2021 40 Under 40
Honoring outstanding young business professionals in Hawaii who:
Demonstrate business excellence at his or her business or organization
Contribute to the overall success of his or her company or organization
Stand out amongst peers and colleagues
Strong current and past community involvement
39 years of age and younger on August 23, 2021
Previous 40 Under 40 honorees are not eligible
A panel of judges will select the honorees from among the nominees.
**Self-nominations are welcome.**
Deadline for Nominations: Sunday, May 23, 2021
---
SAVE THE DATE: Forty Under 40 special section will be in the Friday, August 27, 2021, edition.
---
To ensure your nomination is as competitive as possible,
please review the following tips:
1. Ensure that all areas of the nomination are filled out, and each question is answered.  The judges can only work off of information provided in the nomination packet and/or letters of support- so if something isn't listed, it can't be considered.
2. For ease, feel free to use bullet points, numbers, etc. instead of full paragraphs.
3. The best and most successful nominations include facts and figures, not opinions.  For example, let us know how a person or company increased revenue that year and provide numbers, vs. letting us know that they are "great to work with".
4. Make sure the nomination is submitted on time.
5. For more information on the nomination process, please contact Rose Balagtas at [email protected] or (808)955-8072.
PLEASE NOTE: The two letters of support are an OPTIONAL piece of the nomination. 
---
GOLD SPONSOR: 8 event tickets, podium time, your logos on all event collateral and your organization mentioned in our Editor's letter
SILVER SPONSOR: 6 event tickets, your logos on all event collateral and your organization mentioned in our Editor's letter
FOR ADVERTISING OPPORTUNITIES CONTACT: Veronica Kusmuk (805) 845-2708 ([email protected]) or Sean McCullough (805) 845-2733 ([email protected]pacbiztimes.com)
---
Get Citizensjournal.us Headlines FREE SUBSCRIPTION. Keep us publishing – DONATE