From the People's Cube: The difference between weather and climate
By mind arial,sans-serif;">Red Square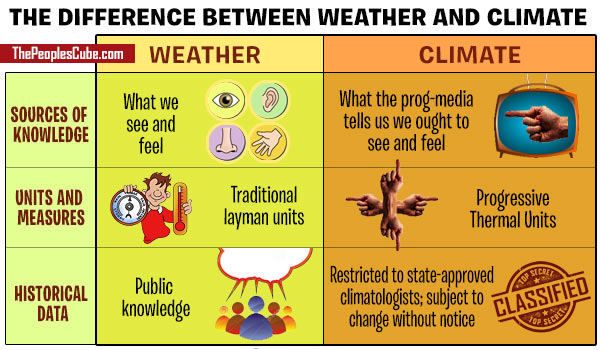 We hope this little chart will help the kollektive to overcome stage fright and become more successful in the climate debating scene. Let us reiterate the talking points:
Weather is what we can see and feel; climate is what the state and the prog-media tell us we ought to see and feel.

Weather is measured in traditional layman units; climate is measured in Progressive Thermal Units (PTU).

Weather historical data is public knowledge; climate historical data is classified, restricted to trained state climatologists only, and is subject to change without notice.
Get Citizensjournal.us Headlines free  SUBSCRIPTION. Keep us publishing – DONATE
 *Scroll down to post a comment