BY LOUISE BEVAN
Officers from across Gwinnett County, Georgia, showed up to pay their respects to a fallen hero after police SWAT K9 Blue was killed in the line of duty. The dog was caught in crossfire as his team apprehended an armed suspect.
The first full-time SWAT K9 to join Gwinnett County Police Department (GCPD), Blue lost his life on Sept. 10, reports CBS46.
After Blue tracked a suspected car thief into the woods, gunfire broke out between the suspect and the police on his trail. The 5-year-old German shepherd was shot and killed; the suspect, 18-year-old Robert Samuel Craig Rusk, was also shot and died from his injuries.
"When you have a K-9 partner, that is a special relationship," shared Lt. Jason Teague, assistant SWAT commander. "These dogs are relied on as a work partner but it's hard, it's impossible to not get attached.
"He paid the ultimate price," Teague said. "[H]e sacrificed himself to save those SWAT officers. That's next level."
The day after passing, Blue's body was escorted by more than 100 police cars and motorcycles to a pet cemetery. A memorial service in Bethlehem, Barrow County, took place four days later.
As is customary, an officer remained with the K9's body around the clock until his final farewell ceremony.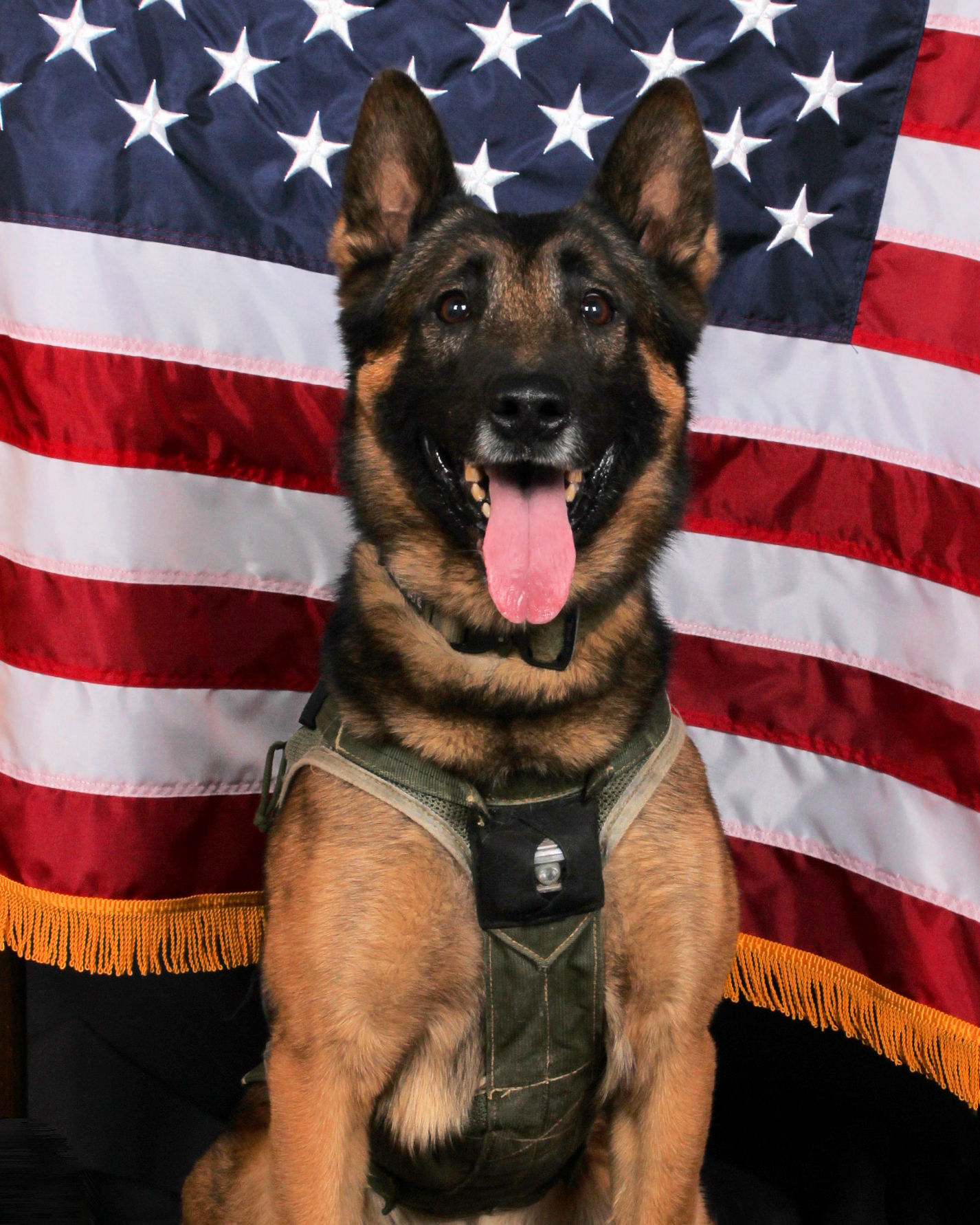 Blue (Gwinnett County Police Department)
"I couldn't imagine losing him, and he is just my friend," local resident Shawn Crook told WSB-TV, gesturing to one of his own two German shepherd dogs while paying his respects during the Sept. 11 funeral procession. "This is his work partner he worked with day in and day out, and he puts his life on the line for him …"
The Gwinnett County Sheriff's Office K9 Unit later posted photos from Blue's funeral procession on Twitter, along with three hashtags: #Hero, #K9Blue, and #BluePawsMatter.
An investigation into the shooting is ongoing. The GCPD maintain that Rusk fired first; while the Georgia Bureau of Investigation claims not to have found evidence to support this yet, police did find a gun near the suspect's body.
A woman that ran from the same stolen car as Rusk has yet been identified.
The highly trained K9 Blue was enlisted out of Houston, Texas, after a nationwide search. He had just surpassed his first anniversary with GCPD's SWAT team when he died.
Blue was a dual-purpose K9, trained both to track and apprehend suspects and to detect explosives, according to a Gwinnett County news release posted after his death. Teague praised the sociable dog for his ability to work in a team environment, and for his willingness to respect the command of "just about anybody on the team."
While heartbroken to lose its loyal comrade, the team has collectively pledged to enlist other K-9s in the future.
"[I]n the end," Teague told CBS46, "that dedication from the K-9 and the dedication from the handler … it saved everyone's lives yesterday, without a doubt."
We would love to hear your stories! You can share them with us at [email protected]
Republished with Permission The Epoch Times    SUBSCRIBE
---
Get Citizensjournal.us Headlines free  SUBSCRIPTION. Keep us publishing – DONATE