Hillary's classified comments
story arial, sans-serif; font-size: 12pt;"> 
September 4, 2015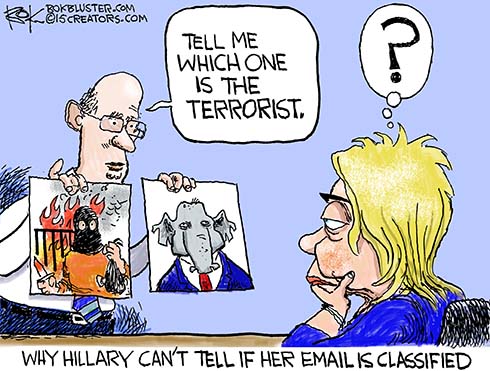 Mark Thiessen quotes Dave Barry:
"when your opponent is obviously right and you are spectacularly wrong." The answer, he wrote, is simple: "Compare your opponent to Adolf Hitler."
Thiessen says that's  what Hillary did when she accused The Donald of wanting to round up illegal immigrants and ship them off in box cars.
Hillary went on to compare Republicans who oppose abortion as terrorists.
She also says that if there were classified email messages on her secret server she didn't know about it because they weren't marked classified.
Editor's note: Chip is a talented cartoonist as well as political commentator.  People like this don't work for free, so would you help us with our Adopt-a-Reporter program?  If you
like and would be willing to help support a writer, DONATE and send us an email referencing the donation, which will be earmarked for the purpose you specify. Let us know what you think of his work via reader comments here or by email. We encourage you to visit his site- http://bokbluster.com, read, enjoy and click on the links.
Get Citizensjournal.us Headlines free  SUBSCRIPTION. Keep us publishing – DONATE
Scroll down to make a comment