When it comes to making cocktails at home, garnishes are often overlooked, skimped on, or simply skipped altogether. But cocktail garnishes should never be an afterthought, because they contribute far more than just decoration to a drink. Cocktail cherries add a slight fruity nuance to a Manhattan or an old-fashioned. And it wouldn't be a mint julep without the effusively aromatic and flavorful mint sprig garnish.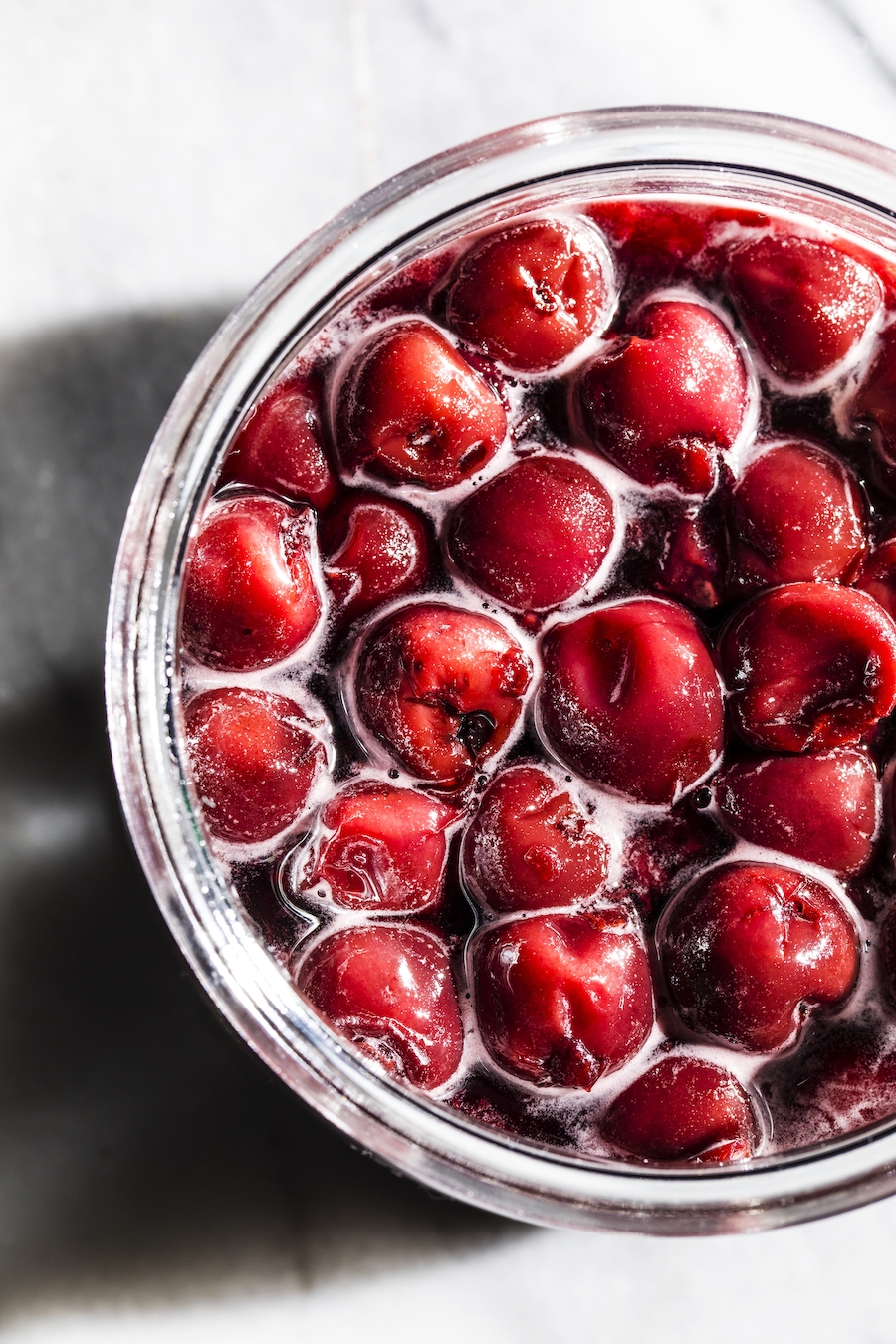 Cocktail cherries. (Courtesy of America's Test Kitchen)
Rimming the outside of a serving glass with salt or sugar is an easy and attractive way to intensify the flavor of a cocktail through garnishing. Citrus rim salt tempers the sweetness of a frozen margarita, and we love our sidecars with a classic sugared rim.
Countless cocktails use citrus zest as a garnish, in one shape or another. Citrus zest is a tool for expressing citrus oil into a cocktail, adding the finishing touch of flavor, aroma, and texture. When we want the lightest touch (as in our Aviation, where we don't want to overwhelm the delicate floral flavor), we create a narrow coil, simply twisting the zest into a curl over the glass before dropping it in or perching it on the rim. For a stronger burst of bright aroma and flavor, as in our Bichon Frisé, we use a wider strip of peel and pinch it over the top of the drink to express the citrus oils before rubbing the outer edge of the glass with the peel and then dropping it right into the drink.
How to Rim a Glass With Salt (or Sugar)
Moisten about 1/2 inch of glass rim by running citrus wedge around outer edge, or by dipping edge of glass in small saucer of water; dry any excess liquid with paper towel. If you prefer, moisten only portion of glass so that you can enjoy cocktail both with and without garnish.
Spread 1/4 cup kosher salt or sugar (for up to four glasses) into even layer on small saucer, then roll moistened rim in salt or sugar to coat. Remove any excess granules that fall into glass.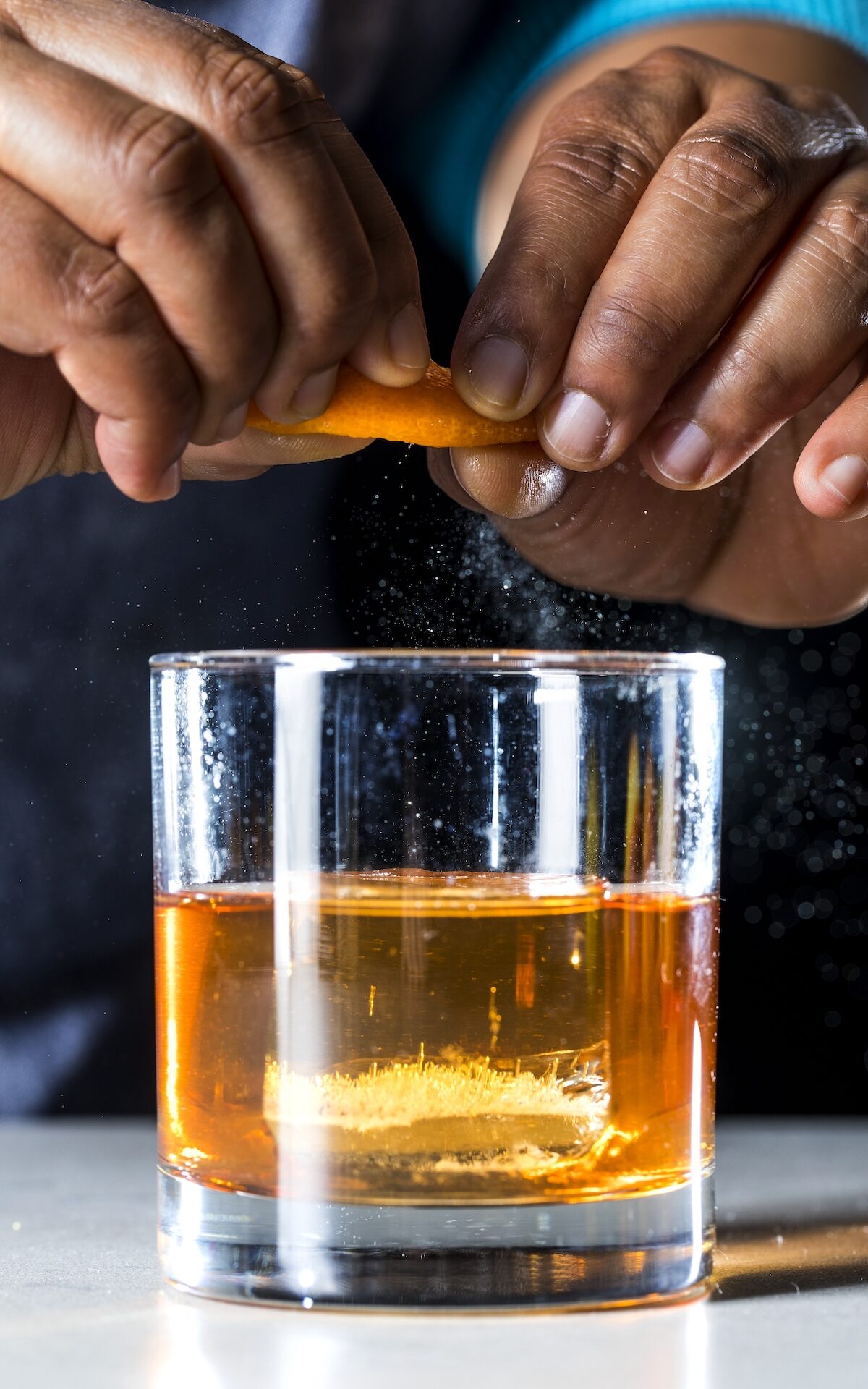 Garnishing with citrus peel. (Courtesy of America's Test Kitchen)
How to Garnish With Citrus Zest
To make citrus zest twist, use channel knife to remove 3- to 4-inch strand, working around circumference of citrus in spiral pattern to ensure continuous piece.
To garnish with citrus twist, curl strand tightly to establish uniform twist, then place in cocktail or on edge of glass.
To make citrus zest peel, use Y-shaped vegetable peeler to remove 2- to 3-inch strip, working from pole to pole and avoiding as much white pitch as possible.
To garnish with citrus peel, hold strip horizontal, pith side facing you, near surface of cocktail, with index finger and thumb of each hand. Pinch zest to express oils onto cocktail. Rub outer edge of glass with peel, then place in cocktail.
RECIPE: Cocktail Cherries
Excerpted with permission via The Epoch Times from "How to Cocktail: Recipes and Techniques for Building the Best Drinks" by America's Test Kitchen. Published by America's Test Kitchen.
Republished with Permission The Epoch Times    SUBSCRIBE
---
Get Citizensjournal.us Headlines free  SUBSCRIPTION. Keep us publishing – DONATE