BY BOWEN XIAO
SEATTLE—Nestled inside Seattle's counterculture hub sits the self-proclaimed "Capitol Hill Autonomous Zone," or CHAZ, a lawless area occupied by protesters after law enforcement officers abandoned their East Precinct building following a week of clashes between protesters and police.
A cursory glance at the zone—which covers approximately six city blocks and a park in the Emerald City—conjures images of a music festival, or a "block party," as the city's mayor describes it. But the reality isn't as rosy as some have depicted, as there are documented accounts of violence, intimidation, and so-called "warlords" that suggest a more police-state style of rule.
The first thing that catches the eye after entering the "police-free" zone is the graffiti. Spray painted on, or scrawled in chalk across almost every surface are anarchist symbols, pro-Black Lives Matter imagery, pro-revolution messages, and anti-police graffiti.
Some simply state "End America," while others say things such as "Shoplift your future back!"
Denizens of CHAZ have set up tents and public toilets, while "free food" booths (from donations), as well as pay-for-food stands have popped up. There have been attempts at farming across the zone, and makeshift barricades have been set up to block the area from the outside world. The Seattle chapter of the Democratic Socialists of America has set up a booth inside.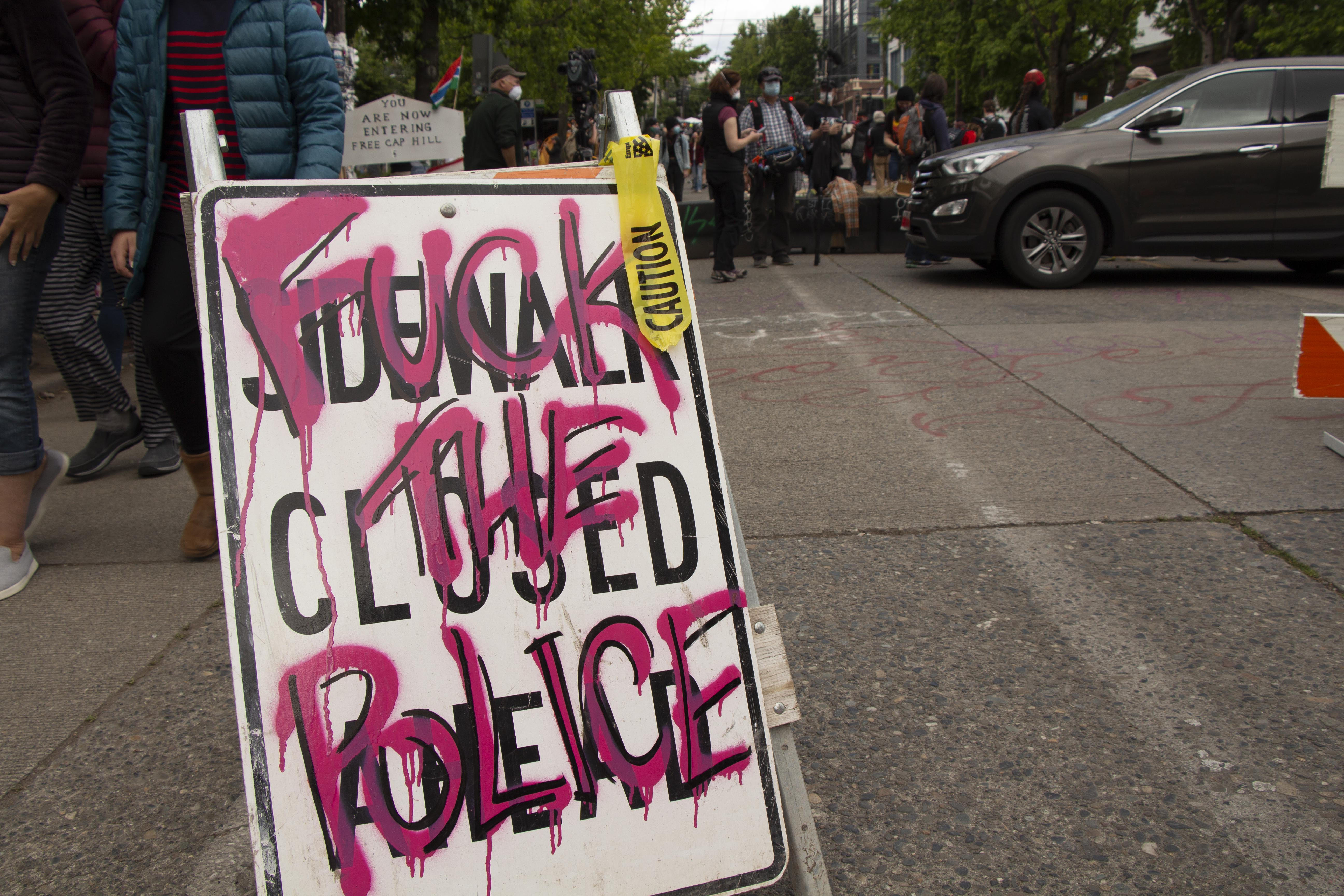 One of the entrances to the area dubbed the Capitol Hill Autonomous Zone (CHAZ) in Seattle on June 14, 2020. (The Epoch Times)
One of the most pressing concerns is that the city's law enforcement response has been crippled due to the loss of their Eastern Precinct building. Some local businesses in the area have also been affected, including Trader Joe's.
The grocery chain announced on June 13 it would close indefinitely the company's Capitol Hill location, "due to ongoing unrest in the area." However, on June 16, a Trader Joe's spokesperson said in an emailed statement to radio station KUOW that the store will reopen in a week or two after a remodeling project to address safety and security concerns, and employees will be paid for scheduled shifts during that time.
Seattle Police Chief Carmen Best has said, "Our calls for service have more than tripled," adding that "these are responses to emergency calls" for "rapes, robberies, and all sorts of violent acts" that have "been occurring in the area that we're not able to get to."
The zone, which some on the inside want to rename to CHOP (Capitol Hill Occupied Protest), was first occupied on June 8.
Protesters inside have compiled an ever-changing list of demands in a post on Medium, including the abolition of the city's police department and the attached criminal justice apparatus, to reparations for victims of police brutality, among other items.
'Disheartening'
"Car Tender," an auto shop located in Capitol Hill about 100 yards outside CHAZ, was broken into on June 14.
The owner and his family managed to detain the suspect, who attempted to steal cash and set fire to their store, but later had to release the person as officers failed to arrive, even after multiple 911 calls.
Matt McDermott, the owner's son, said they were notified by their neighbors that someone was in their parking lot swinging a hammer and attempting to break in.
"We called the police a number of times and there was no response—they never showed up," McDermott told The Epoch Times. "It's really disheartening, you know? When you call, you hope they show up."
McDermott said he knows officers want to help, but can't, due to politics. He said he hopes the mayor's office and the governor's office can come together to form some kind of solution "to allow the police force to come back and help the citizens.
https://twitter.com/BowenXiao_/status/1272657335056347136?ref_src=twsrc%5Etfw%7Ctwcamp%5Etweetembed%7Ctwterm%5E1272657335056347136&ref_url=https%3A%2F%2Fwww.theepochtimes.com%2Finside-seattles-lawless-self-declared-autonomous-zone_3390380.html
"They're wanted, they're needed, and they want to be here," he said, referring to law enforcement.
As they detained the suspect, a mob of people from CHAZ rushed to their store, telling them they had to let the suspect go. It's unclear exactly why the protesters swarmed their property.
"Probably close to somewhere between 500 to 1,000 were threatening to kill us if we didn't let the guy go that we caught trying to burn down our building," McDermott said.
Videos of the scene show protesters knocking down the store's fence and rushing the property. Some protesters tried to hold back those charging forward.
Seattle Fire Chief Harold Scoggins said the fire department is looking into why no one responded.
One resident inside CHAZ, meanwhile, said that he and several others he knows are choosing to stay elsewhere. The person, who chose to remain anonymous, told CBS-affiliate KIRO 7 that the protest has become "a different movement." Other residents brought up safety concerns.
The zone has prompted President Donald Trump to call on Seattle's mayor and Washington's governor, both of whom are Democrats, to "take back" the city. Trump has described those who took over the area as "domestic terrorists."
Occupants inside CHAZ don't appear to accept anyone that doesn't share their values. A man carrying an American flag was forcibly driven from the zone by an angry mob, one video documented by The Epoch Times shows.
In another video, a man wearing a MAGA hat and holding a flag had it ripped from his hands as CHAZ occupants surrounded him. The man was also forcibly ejected.
'Warlord'
While there are videos of armed inhabitants inside CHAZ, one person in particular is gaining prominence—a local hip-hop artist who has emerged as one of the de facto leaders of the zone and has been referred to as a "warlord."
Rapper Raz Simone, whose real name is Solomon Samuel Simone, rejected the label that he's a "terrorist warlord" in a June 13 interview with The Epoch Times inside CHAZ; online reports paint a different picture.
On the first night after the police department vacated its East Precinct building, Simone, who had an AK-47 on his shoulder and a pistol on his hip, screamed "This is War!" into a megaphone and "instructed armed paramilitaries to guard the barricades in shifts," according to City Journal, an urban-policy magazine.
Simone denied carrying a firearm at the time.
"[I'm] definitely not a terrorist warlord, monarch, or any of those names that they have been calling me. It's completely false," Simone told The Epoch Times.
https://twitter.com/BowenXiao_/status/1271920125914963968?ref_src=twsrc%5Etfw%7Ctwcamp%5Etweetembed%7Ctwterm%5E1271920125914963968&ref_url=https%3A%2F%2Fwww.theepochtimes.com%2Finside-seattles-lawless-self-declared-autonomous-zone_3390380.html
"When I saw it on the news, part of me was just dying laughing, and part of me was like, 'That is a scary accusation,' because I know what that does—that's like a dog whistle to any American who's a patriot to get down here and exterminate the terrorist warlord."
One video appears to show Simone handing out a rifle to another person inside the zone. According to journalist Andy Ngo, "Guns, weapons, and drugs are ubiquitous in and around the 'no cop' zone."
According to The Washington Times, there are various Twitter accounts that have portrayed Simone as a sort of warlord in the Seattle neighborhood, with him replacing the police and city authorities. One video of Simone shows him trying to stop a man from spraying graffiti before the confrontation appears to escalate into a physical one.
Simone, who was carrying a pistol on his person during the interview, claimed he was open-carrying for self defense only.
Follow Bowen on Twitter: @BowenXiao
Republished with Permission The Epoch Times    SUBSCRIBE
---
Get Citizensjournal.us Headlines free  SUBSCRIPTION. Keep us publishing – DONATE