Left-wing judge, local public officials viciously target MassResistance activist Arthur Schaper for demanding that a California city follow immigration law
Spurious arrest, outrageously unjust court trial, resulting in misdemeanor conviction Judge hands out bizarre punishment -- clearly politically motivated
By Arthur Schaper
PART 2 OF 2: THE TRIAL AND CONVICTION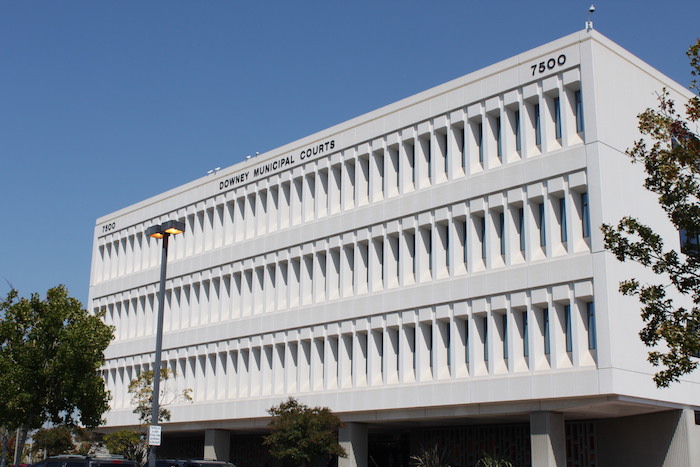 In Part I we described how Arthur Schaper was targeted by city officials and arrested during a bizarre scene at a Huntington Park, CA, City Council Meeting. His arrest was clearly politically motivated – he was an anti-illegal immigration spokesman opposing the city council and mayor that were violating state and federal law. They wanted him out of the room.
The arrest was just the beginning of a nightmare. It became clear that the government wanted to send Arthur a strong message about his conservative political activism.
Court date merry-go-round
Arthur was turned down by two California pro-family law groups. Therefore, a public defender was assigned to him. At his initial court hearing, set for Sept. 6, 2017, he was expected to meet his public defender to begin working on his case.
But when he got to the courthouse on Sept. 6, his name was not listed on the court calendar, and there was no public defender. Later that day he received an email from the Huntington Park police lieutenant in charge of his case, ordering him to appear in court instead on Oct. 23, 2017.
Arthur showed up on Oct. 23, and again he was not listed on the court calendar, and no public defender was assigned. (He later found out that the City of Huntington Park had not even filed the case.)
A few days later he received a notice to appear in court on Nov. 21. Soon after, he received notice that it was changed to Dec. 4 instead. Then he received a notice that it was changed to Dec. 18. Finally, over six months after his arrest, he had his initial court hearing. (Usually that happens quickly, often within a few days after an arrest.)
Public defender merry-go-round
After the Dec. 18, 2017 hearing he finally met with his public defender.Arthur immediately began working with her on the details and background of the case. But then on Jan. 29, 2018, Arthur was notified that because of "staff changes in the public defender's office" his public defender was being replaced.
At his next court hearing, Feb. 6, 2018, Arthur met his second public defender – who immediately told Arthur he had a "conflict of interest" with Arthur's case and could not continue (Arthur was never told what that "conflict of interest" was).  After that a private attorney was assigned to Arthur – Arthur's third public defender.
Pressure to plea-bargain
As we've seen when liberal activists (such as the "Antifa" or "Occupy" crowd) are accused of crimes, even if they are arrested the government often declines to prosecute their cases. But with Arthur it was completely different. The very left-wing Los Angeles County District Attorney's office adamantly told Arthur's attorney that they were not letting him off.
The DA wanted to avoid the bother of a trial by having Arthur simply plead guilty to one of the misdemeanor charges that they had cooked up. But Arthur and his attorney felt that the government's previous warnings to the city about its open meeting law violations demonstrated that Arthur had been illegally targeted and that the law was on his side in this situation. So he asked for a jury trial.
Delays and more delays. The DA's office was clearly angry at that decision and the delays started piling up. There were several more pre-trial hearings, mostly requested by the DA. The trial was finally scheduled for Sept. 18, 2018 – well over a year after Arthur's arrest. But then the DA's office said it still "needed more time to prepare" so the trial was re-scheduled for Oct. 17, 2018.
The trial – as close to a kangaroo court as we've seen
The prejudice and sheer injustice in this trial are nothing short of bizarre. The judge and prosecutor appeared to be almost in collusion. The judge, Commissioner Maria May Santos, was obviously a pro-illegal immigrant liberal and blatantly biased against Arthur. The Deputy District Attorney, Carl Marrone, clearly also a liberal, was relentless in his prosecution of him.
The charge against Arthur was "failure to follow the lawful order of a police officer," a misdemeanor. His actions were entirely peaceful; once they told him he was under arrest he cooperated completely. But the DA (with the judge's blessing) focused almost entirely on attacking Arthur's political beliefs and his conservative activism.
Crucial evidence excluded. The basis of Arthur's case was that the government had warned the City of Huntington Park that its action removing Arthur from a previous meeting was illegal, and that the city had a history of similar violations. The city's order that Arthur be removed in this case appeared to be a similar violation. That's why Arthur acted as he did. But inexplicably, the judge refused to allow that evidence to be included by Arthur's lawyer!
Restriction of witness testimony. Arthur had 11 witnesses to attest that he had not caused any disturbance during the entire city council meeting – and that the opposition was causing a lot of disturbance. The fact that Arthur did not cause a disturbance was pertinent as to whether the city council had lawfully thrown Arthur out of the meeting. But the judge only allowed 2 of the witnesses to testify before the jury — she simply said that that the others "would be repetitive."  Interestingly, a police officer who was called as a witness by the DA was forced to admit that he did personally not see or hear Arthur causing any disturbance.
"Poisoning the jury". This should have been completely disallowed. The DA's strategy was to largely ignore what Arthur was actually being charged with, and instead seek to inflame the jury against Arthur and his fellow activists as hateful and dangerous people. 

In particular, the prosecutor used lurid rhetoric to depict his group We the People Rising (which includes activists of all ethnic backgrounds who were there protesting illegal immigration) as violent and threatening. It was completely untrue — and of course had nothing to do with whether Arthur had committed this particular infraction or not. When the DA was cross-examining Arthur's two witnesses, he mostly asked them bizarre questions about We the People Rising and very little about the actual incident.

The DA showed the jury out-of-context excerpts from videos that Arthur and his group had about the city council meeting and Arthur's arrest. They had posted these videos to educate the public about what happened. But the DA told the jury that it was a "plot of crass exhibitionism" done "just to get notoriety." He said they had staged their protest and Arthur's arrest so they could get YouTube views from the videos. This was an absurd lie and had nothing to do the case
Arthur's lawyer objected over and over again to these tactics. Arthur's lawyer insisted that it was outside the scope of the trial. In every instance the judge overruled him and allowed the DA to continue.
When it suited him, the DA even misrepresented the facts of the actual incident. In his closing arguments, he told the jury that everyone had left the room but Arthur. However, the photos we have shown that several other people also stayed in the room.
These sleazy, emotional-based tactics and the judge's outrageous bias did the job. When the jury went out to deliberate, they came back after just 15 minutes with a "guilty" verdict.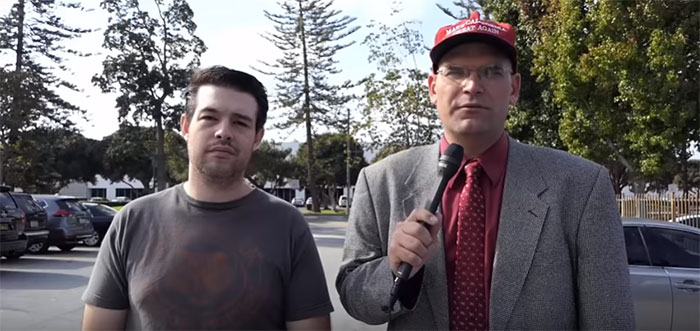 The draconian sentencing
The ultimate outrage came when the judge, Maria May Santos, handed out the sentence. It was like something out of the old Soviet Union. It has little to do with the specific infraction. The sentencing clearly reflects a personal rage at Arthur more than anything else – and to frighten everyone else who agrees with Arthur:
Arthur's sentence by Judge Maria May Santos:
Approximately a month picking up garbage on CA highways (20 days x 8 hrs/day)
Attend the Simon Weisenthal Museum of Tolerance, specifically at least five different exhibits, and write an essay about his visit. 
(This is to "cure" Arthur of being a "hater" – because he is opposed to illegal immigration.)
Restraining order: Stay 100 yards away from the Huntington Park City Council chambers and the city council members.
(Arthur had never threatened the city council members or anyone else in any way. This is simply to stop Arthur from protesting the city council's illegal actions.)
Write an apology letter to the Huntington Park City Council and the two police officers who arrested him. 
(This is to humiliate Arthur a little more.)
Pay $1500.00 in attorney's fees.
(This is very disturbing. Isn't a public defender supposed to be at no charge, even if you lose the case? This is clearly being done to punish Arthur for insisting on a jury trial.)
364 days in jail suspended, 3 years probation. 
(This seems to be the maximum sentence. Keep in mind that Arthur cooperated completely once he was arrested.)
To give you some perspective …
Like most liberals, Judge Maria May Santos is certainly not known for giving out "tough" sentences – just the opposite! As Arthur sat in her courtroom, he witnessed the following:
A man had violated a court order to stay from his domestic violence victim – which likely caused a great deal of pain and anxiety to that person. Santos gave him 10 days picking up garbage on the highway, a suspended sentence, and probation.

Several people had not even begun paying their fines from convictions – one man after a year and a half. Santos basically told them to start paying something, and let them go.

A man was caught lying right in the courtroom to the judge about starting work on his community service. She simply made a note of it and told him he should do it.
She certainly didn't get enraged at them, or anything else. Arthur's sentence was all about punishing his political beliefs and conservative activism.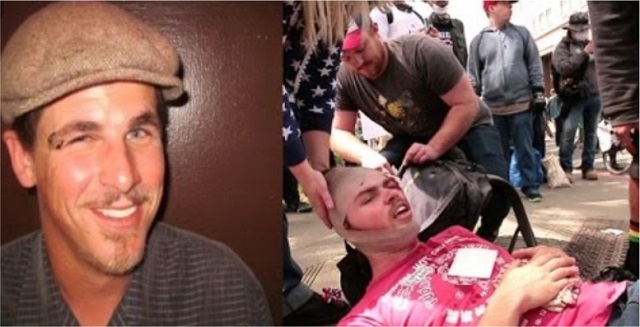 An appeal
If we allow this horrendous act of sheer injustice and political hatred to go unchallenged, we'd all better get ready for more of it.
If Arthur were a Leftist in this situation, we all know what would happen. The ACLU would be on top of this in the most aggressive way possible.
Unfortunately, every pro-family conservative legal group we've contacted has declined to help Arthur. They said they are more interested in "religious liberty" cases, which (to be honest) are the popular conservative thing these days, and easier to do.
Arthur has until Nov. 28 to file an appeal. We are working on finding legal counsel. If necessary, Arthur will file the appeal himself.
We believe that in a fair courtroom, Arthur would have been exonerated. We are determined fight this. We'll keep you informed.
DURING NOVEMBER: WE WANT TO HELP EVERYONE CONFRONT THIS RADICAL AGENDA! 
Arthur Schaper, Organization Director, State Director, California MassResistance, Website: MassResistance.org, Pro-Family Activism That Makes a Difference! Email: [email protected]  @MassResistance @CAMassResistance
---
Get Citizensjournal.us Headlines free  SUBSCRIPTION. Keep us publishing – DONATE