Make This Grilled Chicken and Veggie Platter Your Go-To Summer Dish
Creamy burrata and a bright, herby green sauce—which does double duty as a marinade—take this simple feast to new heights
We are in the heart of summer, folks! For my family in Carmel Valley, California, that means long afternoons in the swimming pool, lots of popsicles, and cooking as much of our food as possible on the grill.
I hope you are able to enjoy as many of the activities that make these months feel distinctly like summertime as possible, even during this bizarre summer.
I am finding that the current health precautions and restrictions are giving my family the opportunity to spend lots of time together, enjoying our home and each other, versus constantly being on the move. It's so easy to over-schedule your life, and this time period has been a great reminder to me and my husband to just slow down. 
When we do gather with friends, we typically meet up in one of Monterey County's beautiful and spacious public parks or beaches, or we have them over to grill out in our backyard. I haven't thrown a full-blown dinner party in months, but have loved hosting potlucks this summer. 
Potlucks are basically the lazy man's dinner party—the host is typically responsible for the "main event" of the night, and guests are asked to bring complementary dishes such as appetizers, salads, sides, and drinks.
My go-to dish this summer has been grilled chicken and summer vegetables served with a bright, herby, citrus-y green sauce and lots of burrata cheese. Burrata is the creamier, more luscious cousin of mozzarella, with a delicious, oozing center of soft curds and cream.
I like to serve the grilled goods, burrata, and green sauce all together on one big platter with arugula or spinach. The greens get a bit wilted by the heat of the chicken and vegetables, the burrata gets slightly warmed up when it's placed on top, and everything comes together perfectly into an unexpected, simple but beautiful summery feast.
Breaking It Down
I love making dishes that look fancy but really couldn't be easier to make, and this recipe fits that description perfectly. 
First, we marinate the chicken and vegetables in the same green sauce that we later serve with everything. It's great to marinate your meat for up to 24 hours, but if you don't have time, 30 minutes at room temperature will do the trick.
When it's time to cook, the grilling only takes about 15 minutes, since we are using boneless, skinless chicken breasts and thighs, and the sauce is already made, since it serves double duty as the marinade. Then, all that's left to do is pile everything onto a platter! 
Oh! And the bread. Grilled bread, to be exact. If you've never drizzled a slice of really good bread with olive oil, and then seared it on a hot grill, you've been missing out. Throw some grilled bread onto the side of your platter and use it to scoop up burrata into the perfect little bites. 
Whether I'm making a grilled chicken and veggie platter for a group of friends or just for me and my husband, I like to make at least four servings, because it's the perfect way to prep ahead and have lunch ready for the next day. If we have any leftovers, George likes to throw his over rice or couscous, whereas I like to make a big chopped salad by tossing the grilled chicken and veggies, romaine lettuce, some feta cheese, and some almonds into a big bowl and hacking away at it all with a chef's knife until everything is cut into very small pieces. 
For both of our leftover creations, a generous dousing of green sauce adds the finishing touch.
Grilled Vegetable and Chicken Platter With Burrata and Herby Green Sauce
Serves 4
For the Green Marinade/Sauce
1 cup packed cilantro leaves and stems

1 cup packed parsley leaves

4 scallions, cut into 3-inch pieces

2 garlic cloves

1/3 cup olive oil

Juice of 1 lime

Juice of 1 lemon

1/2 teaspoon kosher salt
For the Chicken and Vegetables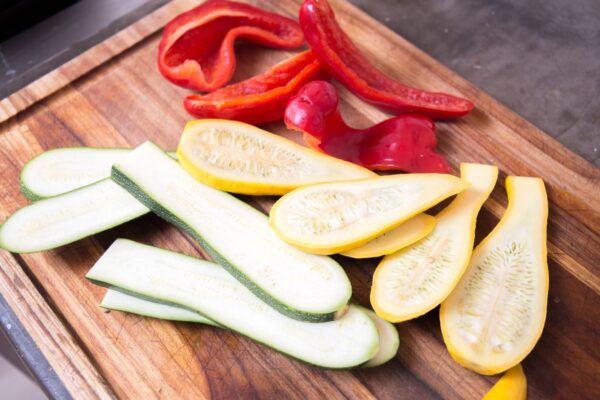 1 pound boneless, skinless chicken breasts 

1 pound boneless, skinless chicken thighs

1 large zucchini, sliced lengthwise into 1/4-inch thick planks

1 large yellow squash, sliced lengthwise into 1/4-inch thick planks

1 large red bell pepper, cut lengthwise into quarters

1/2 of a loaf of country or Italian bread

Olive oil
To Assemble
4 ounces burrata cheese

2 cups baby arugula
To make the green marinade/sauce, add the cilantro, parsley, scallions, garlic, olive oil, lime juice, lemon juice, and salt to a blender and blend until smooth.
Place the chicken, zucchini, yellow squash, and red bell pepper into a large flat baking dish or gallon Ziploc bag and cover with half of the green sauce. Reserve the second half of the sauce for serving.
Toss the chicken and vegetables to coat. Cover and refrigerate for up to 24 hours, flipping occasionally, or marinate at room temperature for 15 minutes, flipping once.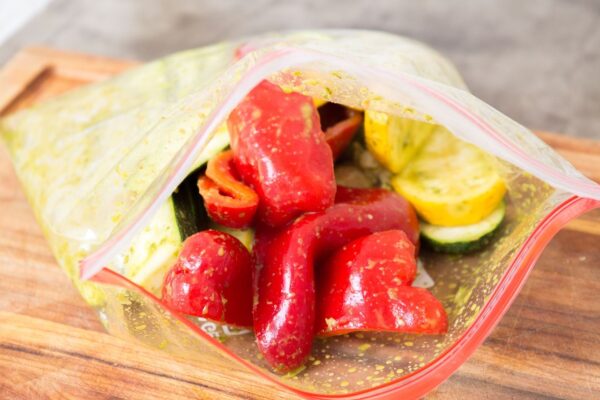 Marinate the chicken and vegetables for up to 24 hours in the fridge, or for 15 minutes at room temperature in a pinch. (Photo by Caroline Chambers)
Preheat the grill to medium-high heat.
Shake off as much of the marinade from the chicken and vegetables as possible as you add them to the grill, to prevent flare-ups. Grill the chicken thighs and peppers for 5 minutes per side, breasts for 4 minutes per side, and squash and zucchini for 3–4 minutes per side, or until charred and tender. Transfer everything to a large platter as it finishes.
Garnish the platter with the arugula and burrata, torn into 2 or 3 pieces, and drizzle it all with the reserved green sauce. Serve the remaining green sauce in a bowl on the side. Enjoy hot or at room temperature.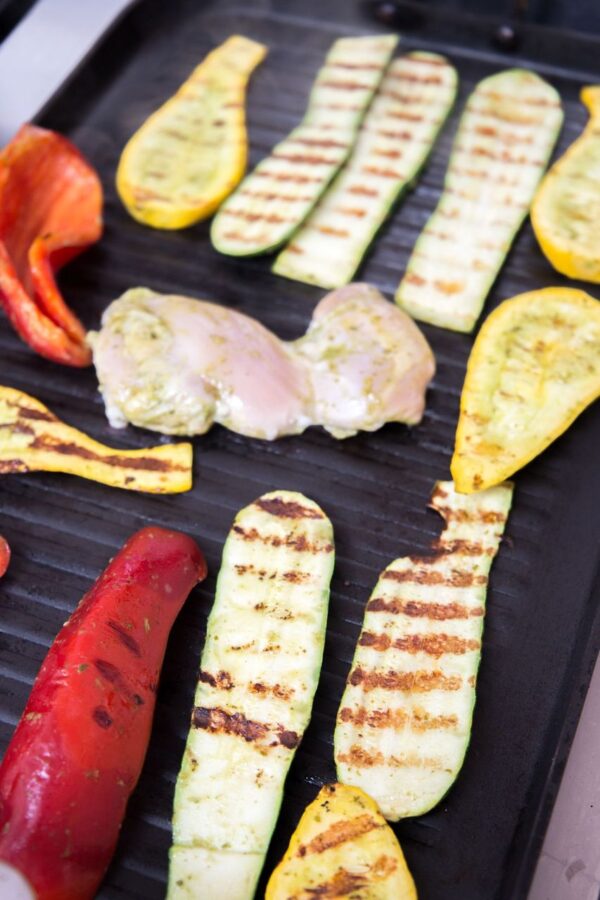 Grill until charred and tender. (Photo by Caroline Chambers)
Recipe Notes
Whenever I grill, I like to grill a couple of extra pieces of chicken or a few extra veggies, to have leftovers for salads throughout the week. I often make this recipe for just my husband and me, so that we can have lunch for the next day already handled.
Burrata can be tricky to find. If you can't find it, use feta or regular mozzarella. 
No cilantro? Use all parsley! No parsley? Use all cilantro! This recipe is very versatile.
Caroline Chambers is a recipe developer, food writer, and author of "Just Married: A Cookbook for Newlyweds." She currently lives in Carmel Valley, Calif., with her husband George, and son, Mattis. Follow her on Instagram for cooking tips and snippets from her life in Northern California. @carochambers