It was a day of celebration and some furry cuddles at a Colorado-based animal welfare organization when the staff welcomed 96 dogs rescued from captivity.
Non-profit National Mill Dog Rescue (NMDR) posted a video on Feb. 3, 2020, of its staff busy "offloading" the dogs that had arrived at Lily's Haven, the Peyton-based facility named after the very first dog rescued by the organization. It turned out that the canines had their first taste of freedom that day, as many of them had been kept in confinement for years.
"Those 96 dogs came from multiple different places," Theresa Strader, the founder and executive director of NMDR, told The Epoch Times in an interview.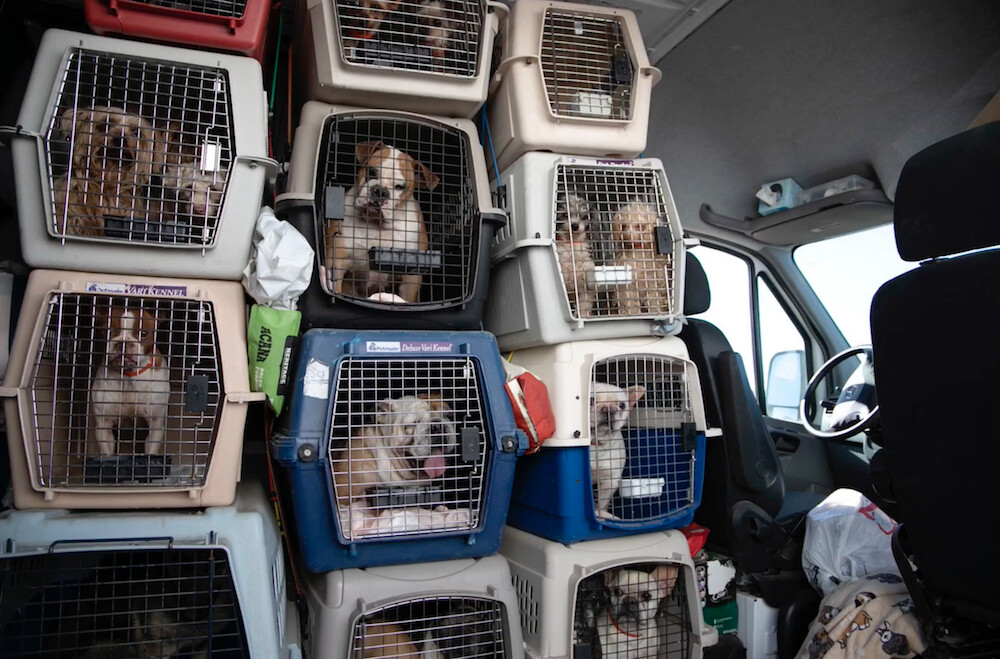 (Courtesy of National Mill Dog Rescue)
This is typical of the long journeys that Strader and her dedicated team make across the state and the country, making 10 or 12 stops on average to pick up more dogs. She said that the majority of the February batch of dogs were "very social and in really pretty good shape."
The relatively good condition of the group that arrived on that day ensured that most of them were ready for adoption once they received appropriate medical care and were spayed or neutered.
"Because so many of them were sweet and friendly, they went home, they're going home quickly," Strader said, adding that about 10 of the original batch hadn't been adopted yet.
Strader said that many of those that did remain are "considered seniors" being 8 years plus or 5 t0 10 years old. While puppies and younger dogs are often adopted first, the old-age factor "can sometimes slow people down on the adoption side."
The NMDR has been working for over 13 years to liberate dogs from inhuman conditions in breeding operations. The idea for the organization was born when Strader received an email in 2007 about a large-scale Italian Greyhound breeder going out of business and auctioning over 500 remaining dogs off.
"It was a life-changing experience for me to see dogs, so many dogs living that way," Strader said. "Within just a minute of being on the property, I knew that I was going to do something different—[be] the voice of this population of dogs."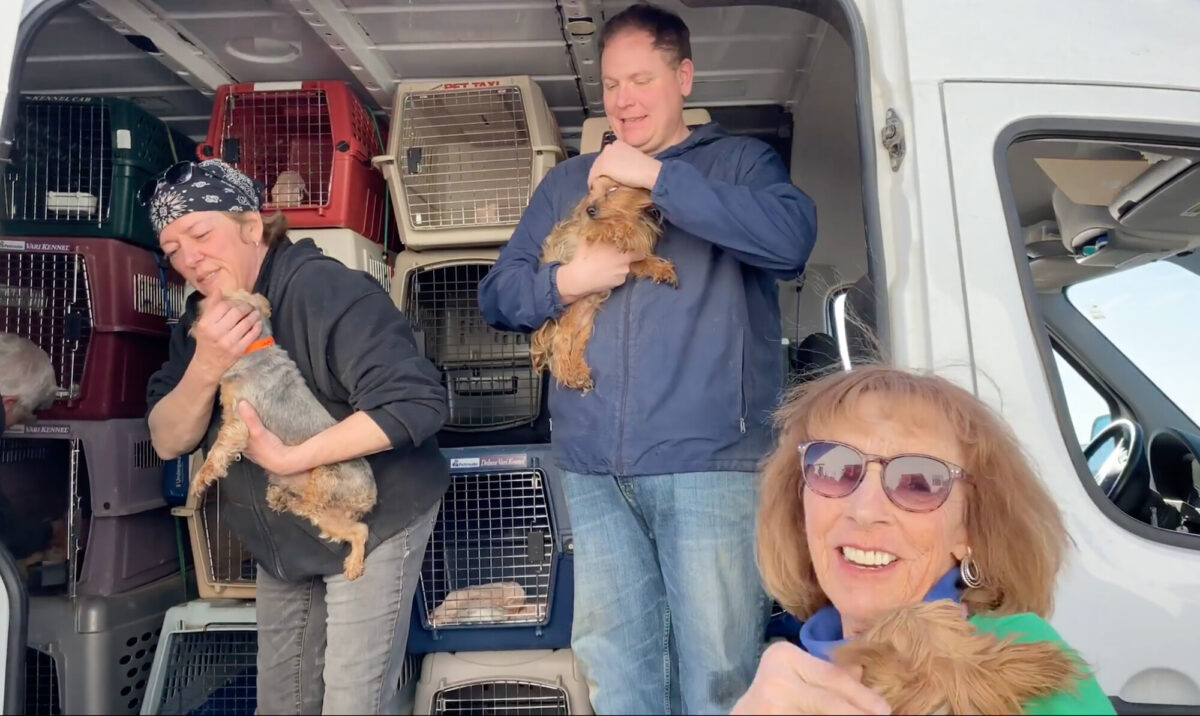 (Courtesy of National Mill Dog Rescue)
The tireless animal rescuer shared that her team has brought in a staggering 15,000 more rescues from puppy mills around the Midwest.
"Every single time I go down the roads rescue dogs is more special than the time before," Strader said. "It's never changed for me. It's always so incredibly rewarding. I just feel incredibly fortunate to be able to do this work."
She said that the amazing support from people, adopters, and volunteers is what makes all the difference and they are "able to keep this mission alive and well."
"The reward is insurmountable," she said. "When we go to bed after the rescue, we're tired and we're happy, super happy. Go back the next day and see those dogs in a totally different environment, knowing that their life is going to change forever is the best feeling in the world."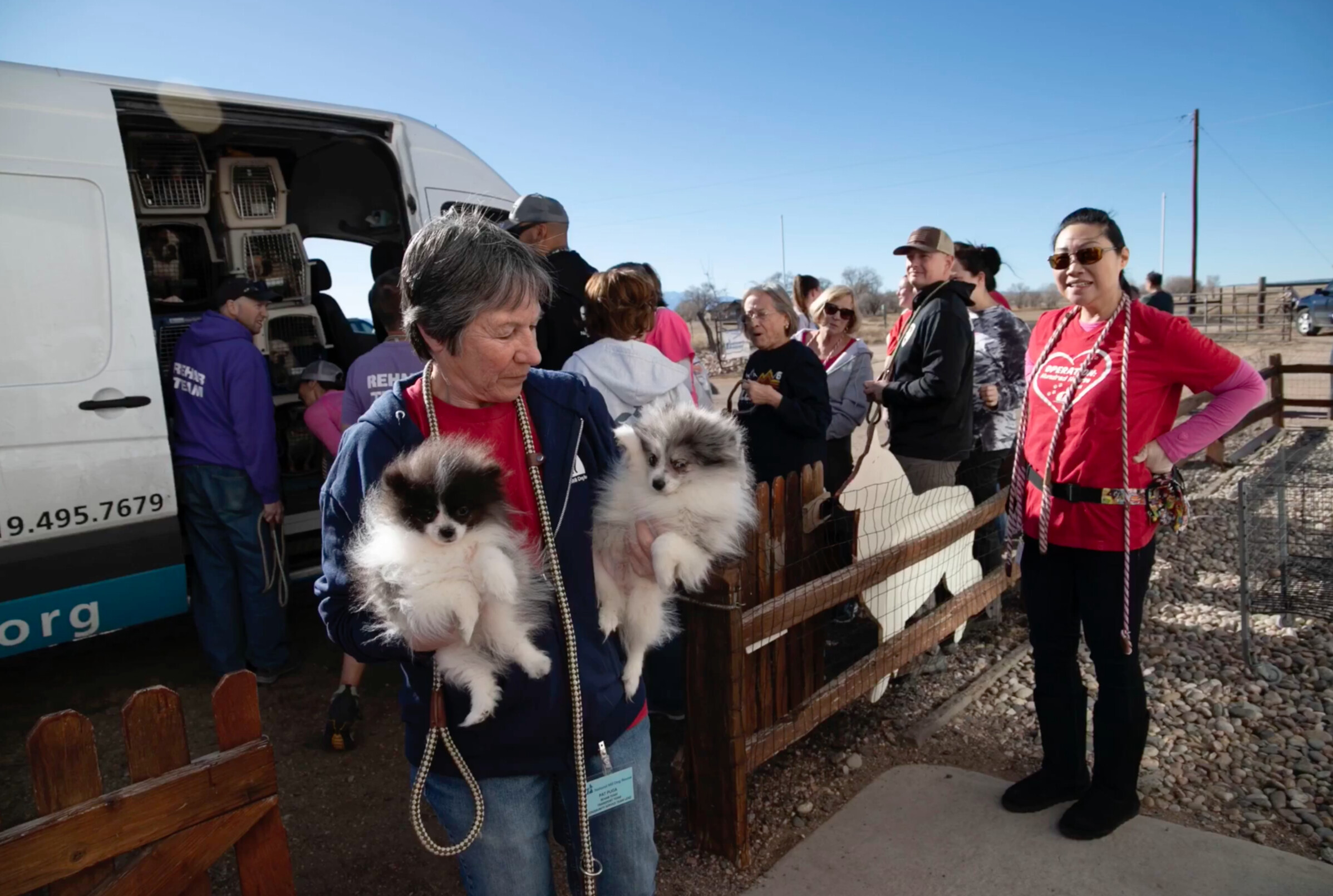 (Courtesy of National Mill Dog Rescue)
In addition to the large commercial operations, Strader receives many dogs from local pet stores that are marking off these canines as "retired."
By rescuing these dogs when they have outlived their usefulness in producing puppies, NMDR saves them from being euthanized. Strader said she would rather work with breeders if it meant sparing the lives of these dogs.
"[Dog breeding] is a legal business in the United States, whether anybody likes it or not. That's a fact," Strader said. "I would rather work directly with them, treat them like I would any other human being, and give the dogs an opportunity for a future. And we've been very successful with that model. I'm very grateful."
"They give us their dogs, they don't have to do that. They can do it the old way and just kill everybody," she added.
Strader also underscored that breeding animals remains largely unregulated in the states, which means that NMDR non-profit won't be going away anytime soon.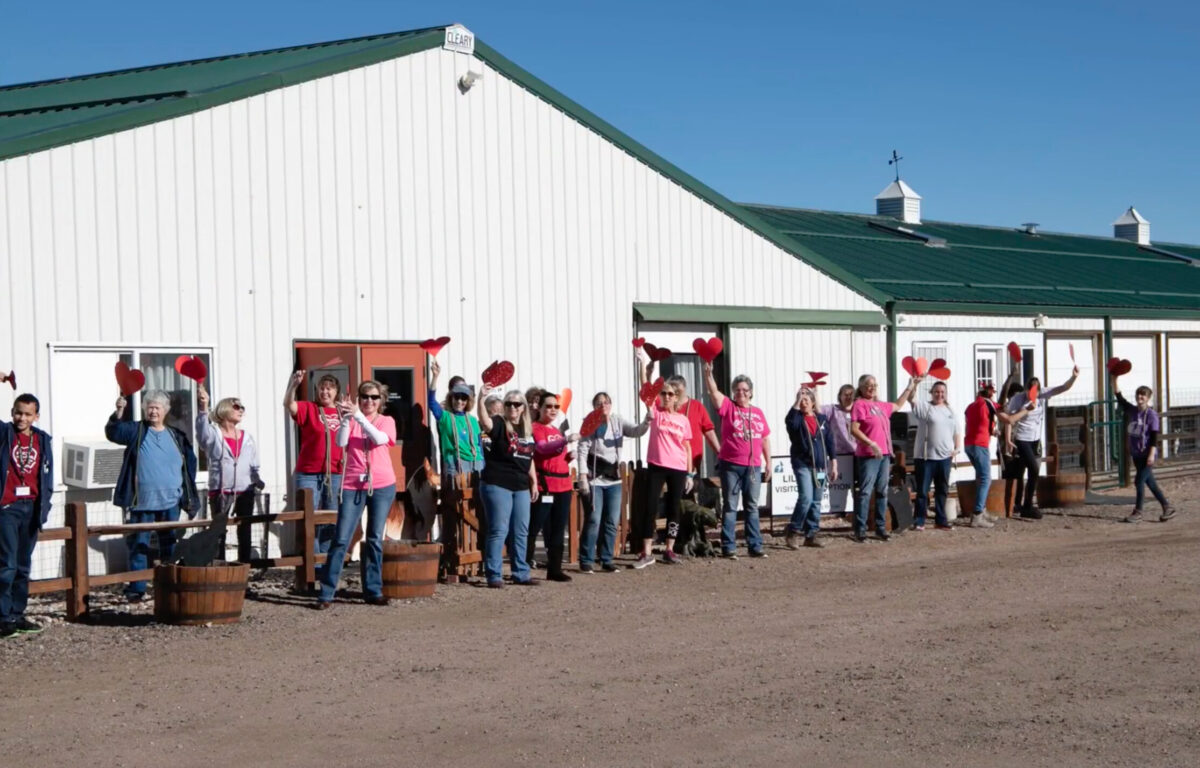 (Courtesy of National Mill Dog Rescue)
"Our mission doesn't change by much," she said. "We continue to do now what we've always done. It's just as the [industry's] standards are improving, and we're certainly supporting the efforts towards improving the standards, the dogs that we're seeing are healthier, more social, and perhaps a little younger."
"National Mill Dog Rescue is here forever and ever as the clearinghouse for these dogs," she added.
Republished with Permission The Epoch Times    SUBSCRIBE
---
Get Citizensjournal.us Headlines free  SUBSCRIPTION. Keep us publishing – DONATE