Obama Goes it alone- Cartoonist Chip Bok
cialis times;">Chip Bok, find Bokbluster.com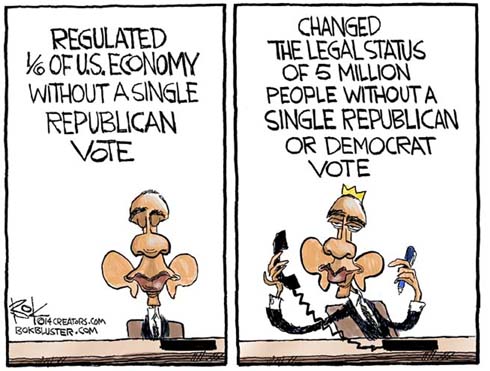 Three days after he was elected president Barack Obama told congressional leaders, order "elections have consequences and I won". He then proceeded to go it alone on an economic stimulus plan.
On September 9, 2009, Paul Ryan had the temerity to explain what was in the health care bill – before we passed it. Obama waited until April 13, 2011 (The Presidential Divider – WSJ) for payback. He invited Ryan to sit in the front row and then publicly humiliated him during a speech on the budget.
As a result of that and other insults, the Affordable Care Act was passed without a single Republican vote. Even at that, it required stunts like the Louisiana Purchase, the Cornhusker Kickback (later removed in reconciliation), and the illegal prosecution of Alaskan senator Ted Stevens (The 60th ObamaCare Vote – WSJ).
ObamaCare has never been popular with a majority of Americans. According to Jonathan Gruber Americans are a simple people who need to be lied to for their own good because they're too stupid to understand basic economics.
Go it Alone
In January of this year Obama announced he no longer needed the serfs or Congress. He had a pen and a phone and he would go it alone on immigration reform. And so he did. Here's the speech.  When Congress refused to give him a bill he could sign – something David Harsanyi points out Congress has no obligation to ever do – he ordered immigration reform without a single vote from either party.
________________________________
Editor's note: Chip is a talented cartoonist as well as political commentator.  People like this don't work for free, so would you help us with our new trial Adopt-a-Reporter program?  If you like and would be willing to help support a writer, DONATE and send us an email referencing the donation, which will be earmarked for the purpose you specify. Let us know what you think of his work via reader comments here or by email. We encourage you to visit his site- http://bokbluster.com, read, enjoy and click on the links.
Get Citizensjournal.us Headlines free  SUBSCRIPTION. Keep us publishing – DONATE