ANAHEIM, Calif.—Saddleback Church operates what has become Orange County's largest food resource for people in need, rising from among the top 10 facilities to become No. 1 amid the pandemic.
Since the start of the pandemic, Saddleback volunteers have distributed more than 2.4 million pounds of food at more than 300 grocery distribution events throughout Orange County; the church has also served locations in Los Angeles and San Diego counties. 
"Saddleback has been feeding our community for over 10 years," Ashley Eure, the church's communications minister, told The Epoch Times. "When COVID hit, we scaled up our distribution to meet the rapidly increasing need. Every Southern California Saddleback campus has contributed to putting on food distributions and caring for the physical and spiritual needs families are facing right now."
Pastor Rick Warren of Saddleback Church encourages church members to serve their communities by following the example of Jesus, Eure said.
"Pastor Rick has said that, as Christians, we are called to step into the places of pain. In a time when the world is scared and hurting, instead of running away from that, we're going to run towards the pain and meet people where they are," she said. 
The church works in partnership with Second Harvest Food Bank and The O.C. Food Bank to help provide the food for distribution. The congregation also collects food donations throughout its local church campuses.
A group of volunteers from the church gathered to serve some 1,000 vehicles in the parking lot of Savanna High School in Anaheim on Aug. 18. They were understaffed and the heat was intense, but the volunteers greeted people with smiles as they handed over boxes of groceries.
Once food donations are collected throughout the county by volunteers, they are taken to a warehouse in Lake Forest, where groceries are sanitized, sorted, prepared in boxes for individual distribution, and loaded onto semi-trucks to be handed out to needy families at designated local drive-through sites.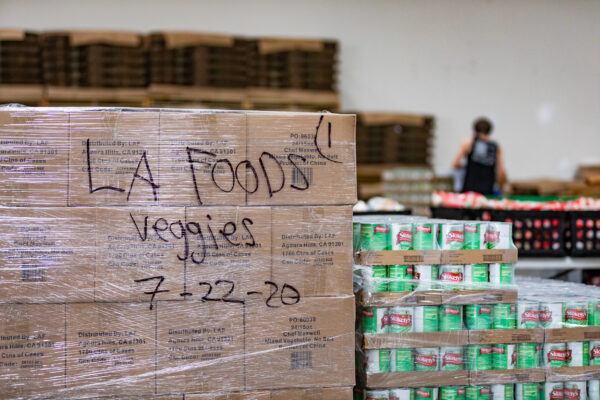 The Saddleback Church Food Pantry is Orange County's largest food distribution center, in Lake Forest, Calif., on Aug. 17, 2020. (John Fredricks/The Epoch Times)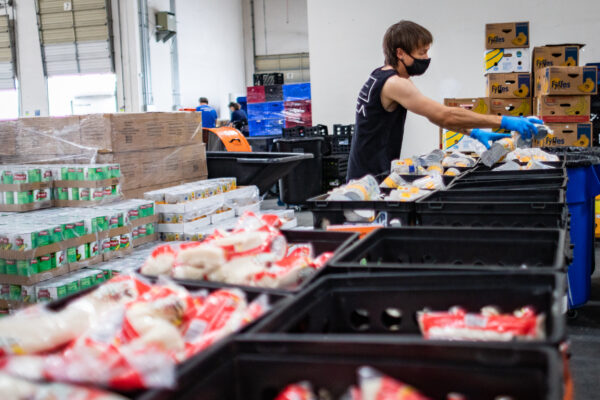 A volunteer sorts food at The Saddleback Church Food Pantry in Lake Forest, Calif., on Aug. 17, 2020. (John Fredricks/The Epoch Times)
"Just in July, we've had over 1 million pounds of food donations," Adam Ermisch, the director of the Saddleback Church Food Pantry in Lake Forest, told The Epoch Times.
"It takes about 100 volunteers to run the ministry on site. We even have church staff members furloughed that are here volunteering. Many other volunteers who have been laid off or facing challenges from other places are using their time to serve here as well."
One such volunteer is Tim Homan.
"I have been homeless for years, which I take personal responsibility for, but I am now five months sober from drugs," he told The Epoch Times.
"A nice lady and her niece invited me to check out Saddleback Church months back, and soon after that, I got invited to the food pantry to get food for myself. After many visits, I was then invited to start serving at the food pantry; and now, I am a volunteer leader.
"I went from working for nothing to working for God, and I told God, I would give Him my best here with His help."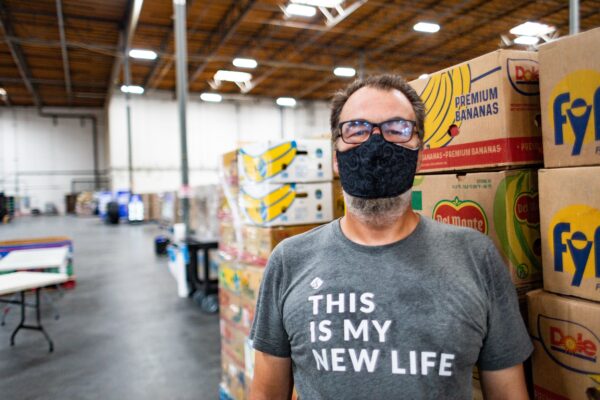 Tim Homan, formerly homeless, was a beneficiary of Saddleback Church's food pantry, and now leads volunteers at the pantry. (John Fredricks/The Epoch Times)
During the process of collecting, organizing, and distributing food, church staff members labor to sanitize everything from food donation packages to coolers to the tents that provide shade.
Maria Trujillo, the family and community engagement specialist for Anaheim's Savanna High School, said her community is happy to have Saddleback set up at the school.
"It's been such a blessing having Saddleback here. Not only to our school site but to the community. We have parents calling us and telling us this," she told The Epoch Times. "It's been great to see how the church has come here and shown such empathy and love for the families."
About 5,000 families are being served a week through various pop-up food pantries across Orange County, said Rana Muncy, mission central support director for Saddleback Church. Before the pandemic, 2,500 families were receiving food monthly.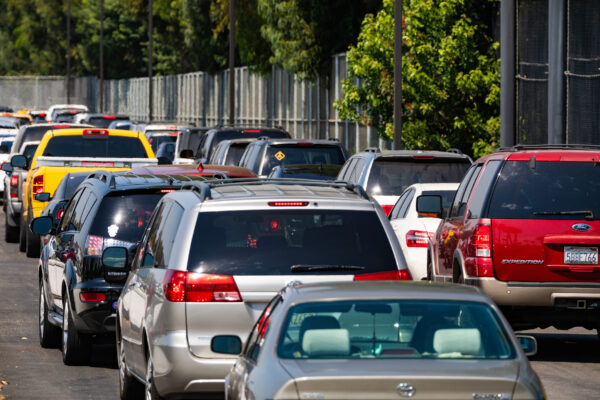 Cars line up to receive food distributed by Saddleback Church at Savanna High School in Anaheim, Calif., on Aug. 18, 2020. (John Fredricks/The Epoch Times)
Standing near the long line of vehicles waiting to receive groceries at Savanna High School, Muncy told The Epoch Times: "We ask people how they are doing, and they just open their lives up to us. They share their life and sometimes their struggles. We then ask if they would like prayer, and if they do, we pray with them."
Francisco Esquival and his son, Matthew, collected a box of food and were headed home, when a young female volunteer offered to pray with them and they accepted. They all paused together under the shade of a tree, then parted ways with smiles. 
Francisco Esquival and his son, Matthew, pray with a Saddleback Church volunteer at the pop-up food donation site at Savanna High School in Anaheim, Calif., on Aug. 18, 2020. (John Fredricks/The Epoch Times)
More than 450,000 people are at risk of going hungry each month in Orange County, including seniors living on fixed incomes, people with disabilities, and those without homes, according to one of Saddleback's partners, Second Harvest Food Bank. One in six children in Orange County is at risk of hunger.
The Saddleback Church food pantry ministry distributes boxes of groceries to families in the cities of Anaheim, Corona, Irvine, Lake Forest, Laguna Woods, Rancho Capistrano, and San Clemente.
Information on receiving or giving help can be found on the church website at Saddleback.com/connect/ministry/food-pantry.
Republished with Permission The Epoch Times    SUBSCRIBE
---
Get Citizensjournal.us Headlines free  SUBSCRIPTION. Keep us publishing – DONATE