BY JAMIE JOSEPH
IRVINE, Calif.—Salon owners across Southern California are worried that new mandatory closures due to the COVID-19 pandemic may bankrupt their businesses.
Gov. Gavin Newsom ordered a vast statewide closure of indoor activities on July 13, including bars, movie theaters, and restaurants. He also mandated the closure of fitness centers, places of worship, and hair salons in counties that show troubling COVID-19 trends.
In conjunction, the California State Board of Barbering and Cosmetology announced "all hair salons, barber shops, and personal care services (which includes nail salons, esthetic salons, and electrology offices) that are within the monitored counties" must close immediately.
After months with little or no income, the new closures caught many salonists by surprise.
"We didn't really have a lot of time to prepare financially … the second time around," cosmetologist Michelle Wilson told The Epoch Times. "You know, some of us only had two weeks. Some of us had a bit longer, but trying to catch up and then kind of save for a rainy day was nearly impossible."
Wilson reopened her business, Velouria Beauty Lounge in Porterville, following a May 26 announcement allowing salonists to reopen. She was open for six weeks until she was forced to close again.
Whether she can afford to open again is up in the air. For other salonists, however, the decision has already been made.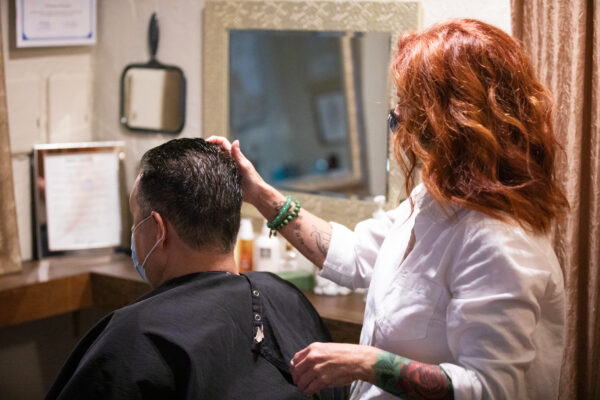 Owner Christine Maniaci cuts a friend's hair at Salon Touche in Redondo Beach, Calif., on July 16, 2020. (John Fredricks/The Epoch Times)
Closing the Doors
"I just closed my salon completely … I'm shutting the doors," salonist Michelle Hallman told The Epoch Times.
Hallman has owned Harbor Hair in Redondo Beach since 2018. She rents a studio through Phenix Salon Suites and works alone, seeing dozens of clients a week, but when the CCP (Chinese Communist Party) virus hit and stay-at-home orders were implemented on March 19, she had to close her doors.
Hallman reopened on June 3. She went back to work for a week, then decided to pull back again when she saw COVID-19 numbers in her county rising.
By the time she felt it was safe to finally reopen, Newsom had targeted her industry again. This time, she closed her doors for good. The cost of lost business was too great to recover on her own.
She'll be moving in with another salonist in Redondo Beach, splitting the cost of rent in another suite. She was paying upward of $3,000 for rent in Phenix Salon Suites.
"I'm going to go rent from another salon owner who is a very strong advocate for the industry. I'm going to go help her out," she said.
'Unfairly Targeted'
Devin Daly, a subleaser at Phenix Salon Suites, collects rent from tenants. He then pays a portion to the landlord.
Daly told The Epoch Times that he forgave salonists who were unable to cover their rent during the shutdown, but landlords still expected the full amount to be paid. That weight falls on his shoulders.
"You're talking $3,000. No independent contractor or sole practitioner hairstylist will be able to pay $3,000," he said.
Daly said the first wave of shutdowns was brutal. He feels salonists are "lost in the system" because government aid, such as the Payroll Protection Program (PPP) and the Small Business Administration's Economic Injury Disaster Loan (EIDL), doesn't apply to the industry.
Now he's losing tenants who are going out of business, which has made it even more difficult for him to pay his landlord.
"We're getting crushed," Daly said. "We lost several hundred thousand dollars that we'll never be able to recover."
The first shutdown was "a body blow, but we were able to get up off the mat," he said, but "if it's another 10 weeks, I don't know that we'll be able to come back."
Daly said he felt everyone was sharing the responsibility during the first shutdown—but now salons and the beauty business in general are "being very unfairly targeted."
"There are giant gatherings on beaches, people dining outdoors, not social distancing or wearing masks, and all that being allowed, and it's absolutely wrong," Daly said.
"[Salonists] are fully trained in safety and sanitation. They've taken that up a notch and are complying 100 percent with the guidelines. And they're getting shut out of business," he said.
A woman wearing a face mask passes Salon Touche in Redondo Beach, Calif., on July 16, 2020. (John Fredricks/The Epoch Times)
Worse Than the First Time
Another stylist in Redondo Beach, Christina Maniaci, has owned Salon Touché for the last 18 years. She has seven stylists working for her. They're normally all booked up, but COVID-19 has changed that.
When salon restrictions were lifted, protests were taking place countywide, so she delayed her reopening. "So we chose to stay closed just for safety reasons, and then we opened. And we were only open for a week and we got shut down again," Maniaci told The Epoch Times.
Financially, her business took a huge hit, yet she "did not receive a nickel" from unemployment funds.
Most of her regular clients are afraid of the virus and won't book appointments, she said. "They still do not feel comfortable coming in," she said, even though she follows state guidelines to create "the cleanest, most controlled area possible."
As a business owner, she said the re-closures are worse than the first mandates in March. She spent hundreds of dollars to prepare for reopening, hiring a cleaning crew and stocking up on hair supplies, sanitation items, and disposable gowns.
"As an owner, it put me out several hundreds and hundreds and hundreds of dollars—just to be turned around and shut back down again," Maniaci said.
"I haven't even had a chance to even recover from that, let alone the loss of income from the last several months that we were closed, so I've taken a big hit," she said.
In announcing the new closures, Newsom said, "We're moving back into a modification mode of our original stay-at-home order but doing so utilizing a dimmer switch, not an off-on switch."
In response, the hair styling industry is calling for a statewide initiative that would allow them to operate outdoors—but current Board of Barbering and Cosmetology regulations state that all related services must be performed "inside a licensed establishment."
Owner Christine Maniaci has been ordered to close her door again at Salon Touche in Redondo Beach, Calif., on July 16, 2020. (John Fredricks/The Epoch Times)
Republished with Permission The Epoch Times    SUBSCRIBE
---
Get Citizensjournal.us Headlines free  SUBSCRIPTION. Keep us publishing – DONATE