The Donald Evolves
viagra buy arial,sans-serif;">By Chip Bok Bokbluster.com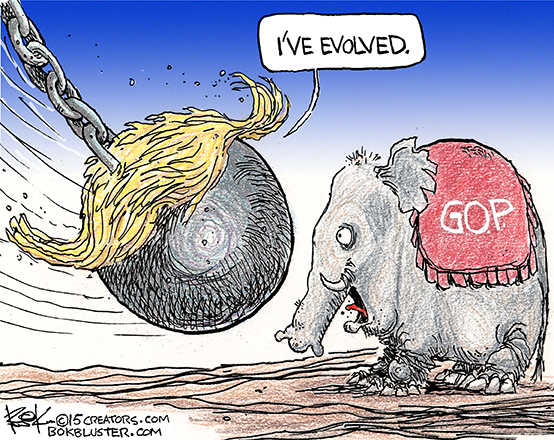 David Harsanyi at the Federalist thinks the first Republican debate was awesome. I agree. The field looked strong all the way down to Carly Fiorina on the JV team.
Then there's The Donald. He refused a pledge not to pull a Ross Perot if doesn't win the nomination. Why give up the leverage, he reasoned. Makes sense I guess. And he said he made Hillary attend his wedding by giving her money. Also believable.
When asked how he came to change his views on taxes and abortion he said he evolved.
Editor's note: Chip is a talented cartoonist as well as political commentator.  People like this don't work for free, so would you help us with our Adopt-a-Reporter program?  If you
like and would be willing to help support a writer, DONATE and send us an email referencing the donation, which will be earmarked for the purpose you specify. Let us know what you think of his work via reader comments here or by email. We encourage you to visit his site- http://bokbluster.com, read, enjoy and click on the links.
Get Citizensjournal.us Headlines free  SUBSCRIPTION. Keep us publishing – DONATE
Scroll down to make a comment