President Donald Trump, in an interview Monday with "Fox & Friends," said that the CCP virus cases will likely peak "around Easter" and defended the White House's social distancing guidelines, saying they would last until the end of April.
"We're doing a lot of things and we don't want to [reduce the restrictions] too soon," Trump said. "Around Easter, that's going to be the highest point, we think."
Trump said that he hopes that April 30 "is a day where we can see some real progress" on the cases, adding that his administration "expect to see that, short of June 1, we think the death—it's a terrible thing to say—will be brought to a very low number."
The Epoch Times refers to the novel coronavirus, which causes the disease COVID-19, as the CCP virus because the Chinese Communist Party's coverup and mismanagement allowed the virus to spread throughout China before it was transmitted worldwide.
The guidelines that Trump and the pandemic task force headed by Vice President Mike Pence initially introduced were titled, "15 days to slow the spread," including social distancing rules to mitigate human-to-human transmission. It has since been extended to April 30.
Trump told the broadcaster that he received information from task force officials that if the United States did nothing initially, 1.6 million to 2.2 million could have died from the CCP virus.
"If we didn't do anything, 2.2 million people could have died," the president said. "The worst thing we can do is declare victory … and then not have victory," Trump continued. "We're at war, this is war."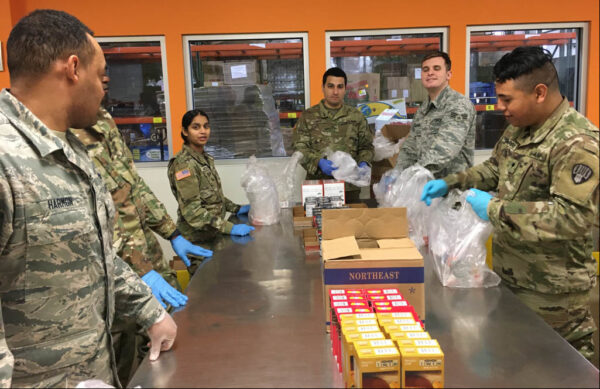 New York Army and Air National Guard members pack food parcels at Feeding Westchester, a food pantry in Westchester County, N.Y. on March 12, 2020. (U.S. Army National Guard photo by Col. Steve Rowe)
His remarks come several days after posting to Twitter that he wanted Americans to go back to work by Easter, which is April 12.
"I think it's going to happen pretty quickly," Trump told reporters on March 26, saying that authorities will "start the process pretty soon" of allowing Americans to go back to work. "We have to go back to work. Our country is built on that," the president remarked, adding that people "are going to be practicing" social distancing as much as they can when they start working again.
But his desire to reopen the country was met with a sobering statement on Sunday from Dr. Anthony Fauci, the top infectious disease expert and a member of the CCP virus task force. Fauci told CNN that he predicts that between 100,000 and 200,000 people will die from COVID-19 in the United States but didn't elaborate on a timeframe.
"We're going to have millions of cases," he said before qualifying that "I don't want to be held to that" because the pandemic is "such a moving target."
Fauci also downplayed statements about reopening the country too soon.
"It's going to be a matter of weeks. It's not going to be tomorrow, and it's certainly not going to be next week," he said in another interview on Sunday. "It's going to be a little bit more than that."
As of Monday morning, more than 2,500 people have died in the United States, and more than 140,000 cases have been reported, according to researchers.
Republished with Permission The Epoch Times    SUBSCRIBE
---
Get Citizensjournal.us Headlines free  SUBSCRIPTION. Keep us publishing – DONATE