Visiting America's Largest Bird Park
Sylvan Heights Bird Park is also the world's largest waterfowl park
One of the most distinctive visitor attractions in the United States, a delightful park that appeals to all age groups, is a place you've probably never heard of, located in a town you've also probably never heard of.
Scotland Neck, North Carolina—located roughly midway between North Carolina's capital city of Raleigh and Virginia's capital city of Richmond—sits 19 miles east of Interstate 95 and 29 miles south of the Virginia border astride Route 258, which doubles as its Main Street. The town is so small (population 2,029) that it doesn't have a traffic light.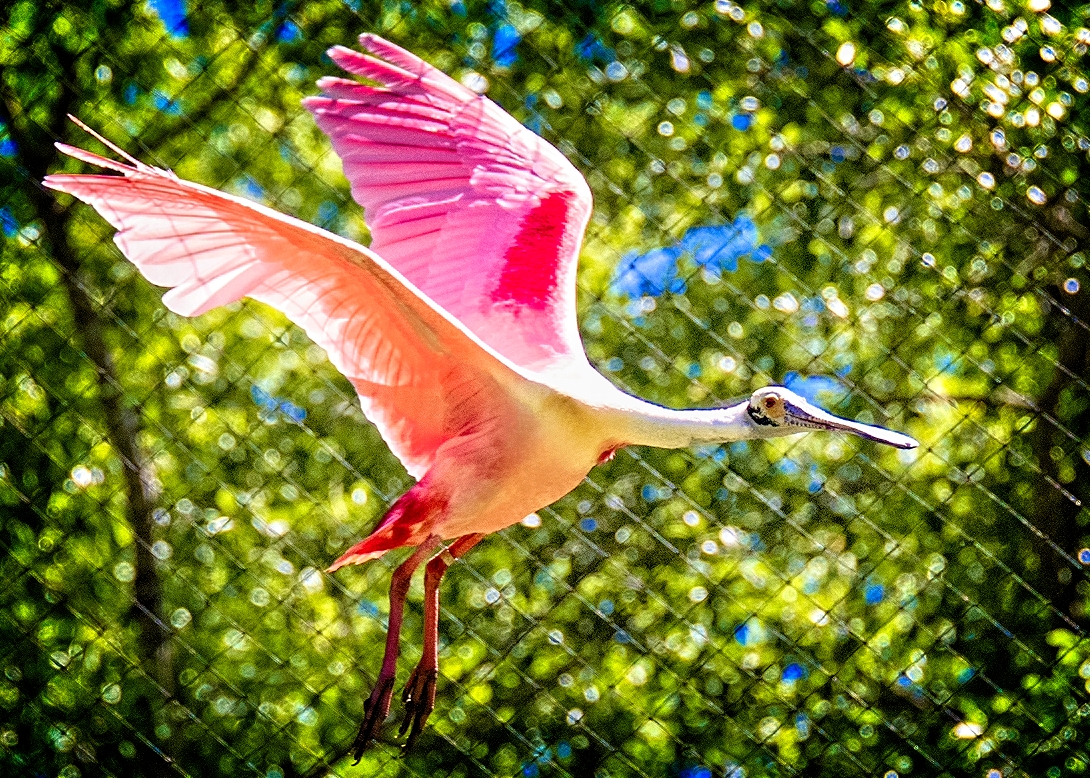 Because each sector is extra-large and features a large open area and exceptionally high nets, you can witness birds such as this roseate spoonbill in flight. (Copyright Fred J. Eckert)
What it does have is an outstanding attraction that my wife and I loved so much when we first visited just a few years ago that we've already returned three times and will again. It gets rave reviews from just about everyone who has discovered it. Visitors say it enchants adults and children alike.
Sylvan Heights Bird Park is the largest waterfowl park in the world and the largest bird park in North America. Huh? The largest waterfowl park in the world is in little Scotland Neck, North Carolina? And so is the largest bird park in all North America? And they're joined together in one park? You got it!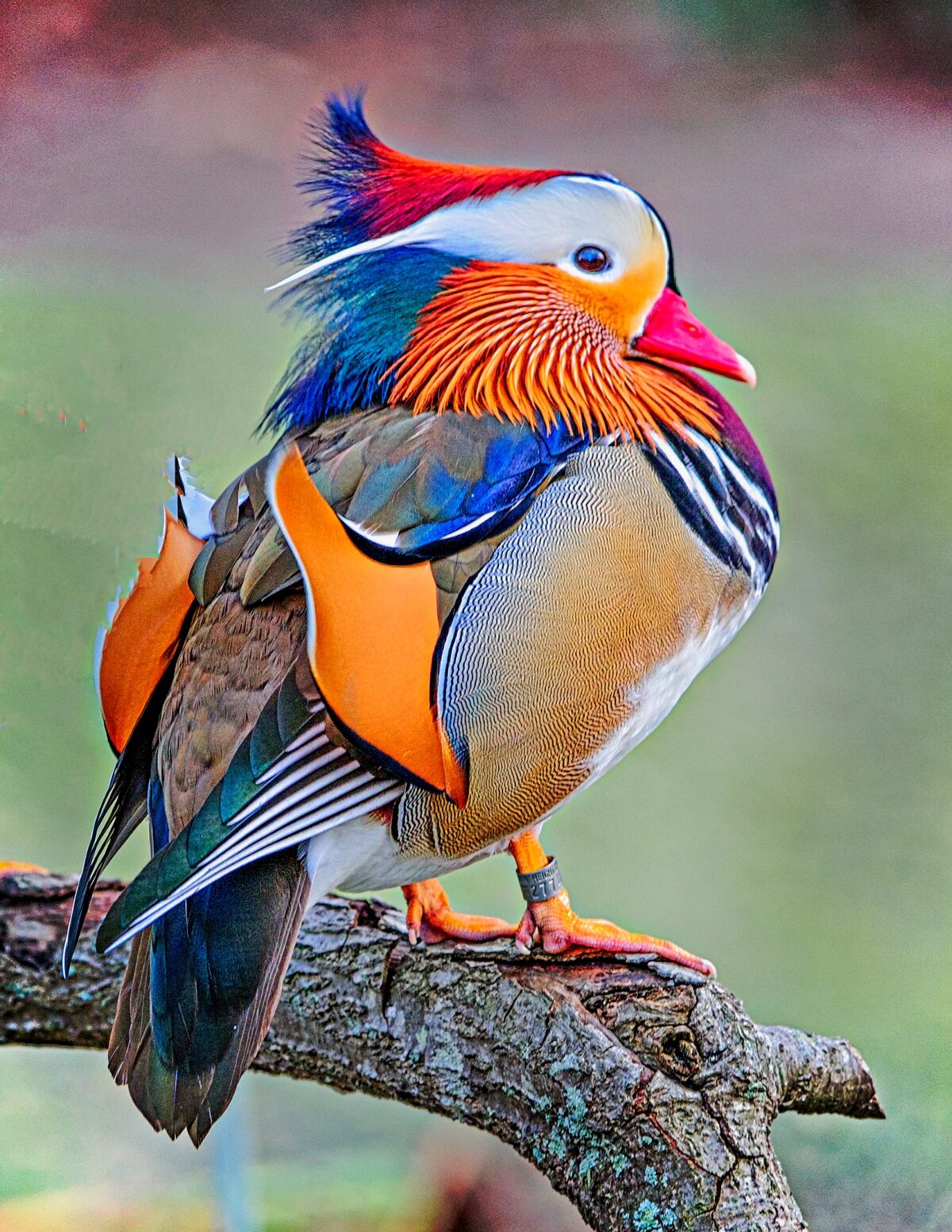 The mandarin duck, found in East Asia, is closely related to the North American wood duck. (Copyright Fred J. Eckert)
What you can see here unlike in any other place is a truly amazing array of exotic and endangered birds, ducks, geese, and swans from all parts of the world.
It's home to more than 2,500 birds! These include 18 endangered species, more than 30 species of very rare birds, all eight swan species, 30 of the just over 30 species of geese, and more than 100 species of ducks.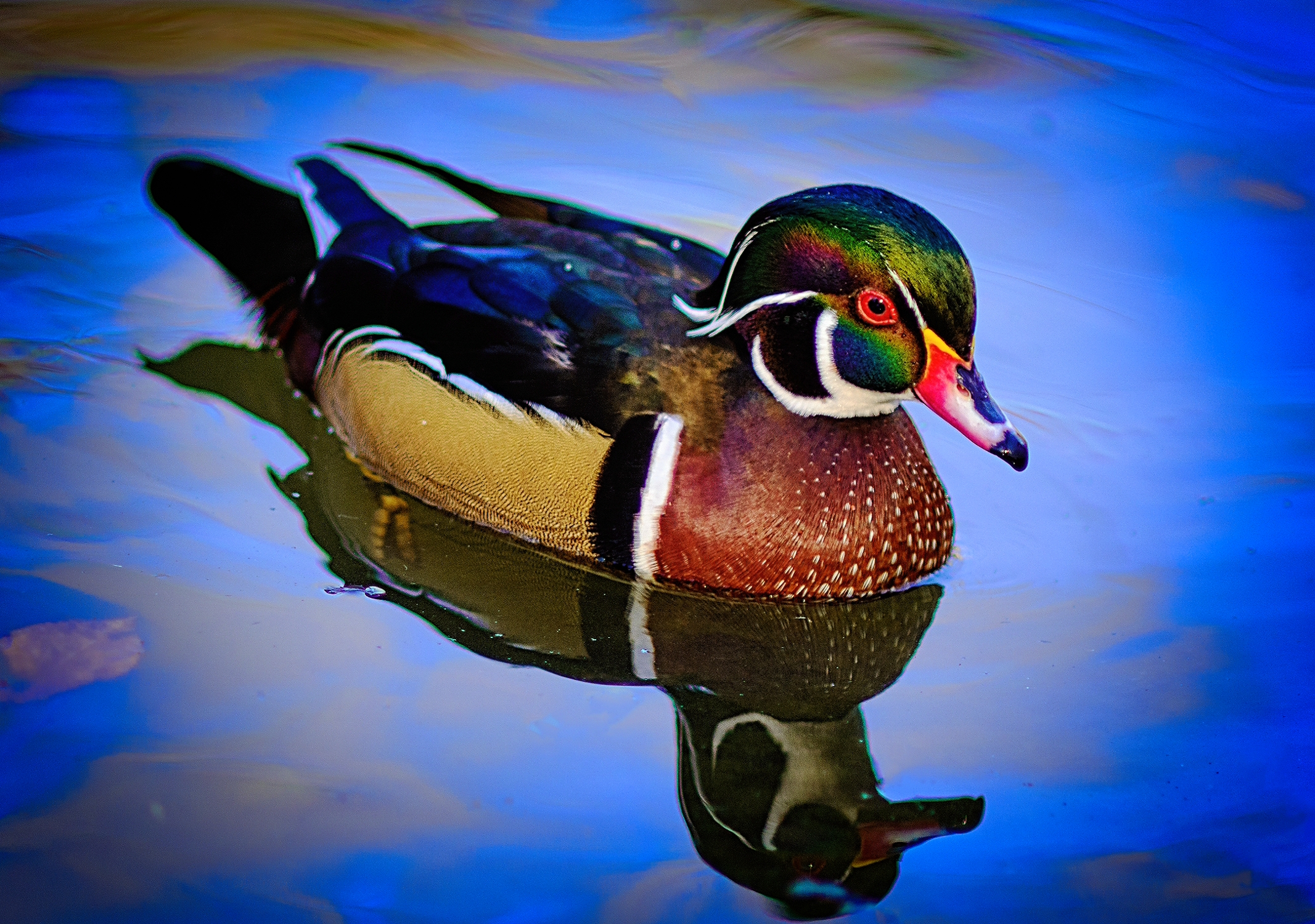 The wood duck, native to North America, is America's most beautiful duck. (Copyright Fred J. Eckert)
It truly is a park. Eighteen acres of nicely treed, attractively landscaped, meticulously maintained grounds well laid-out in a double-eight, clearly marked pathways, and divided into sectors dedicated to each continent (except, because of climate, Antarctica), plus sections focused on exotic birds, finches, pheasants, flamingos, and swans, geese, and cranes. Most of the park's pathways are paved. Visitors with wheelchairs and strollers can access all the park's aviaries and almost all of the nature trails.
An outgrowth of its adjacent, private 10-acre breeding center devoted to raising rare and endangered species of waterfowl, this great avian collection is the dream and culmination of a lifetime of work of Mike Lubbock, who founded and directs this not-for-profit operation with his wife, Ali, and their son, Brent, and a handful of staff and volunteers.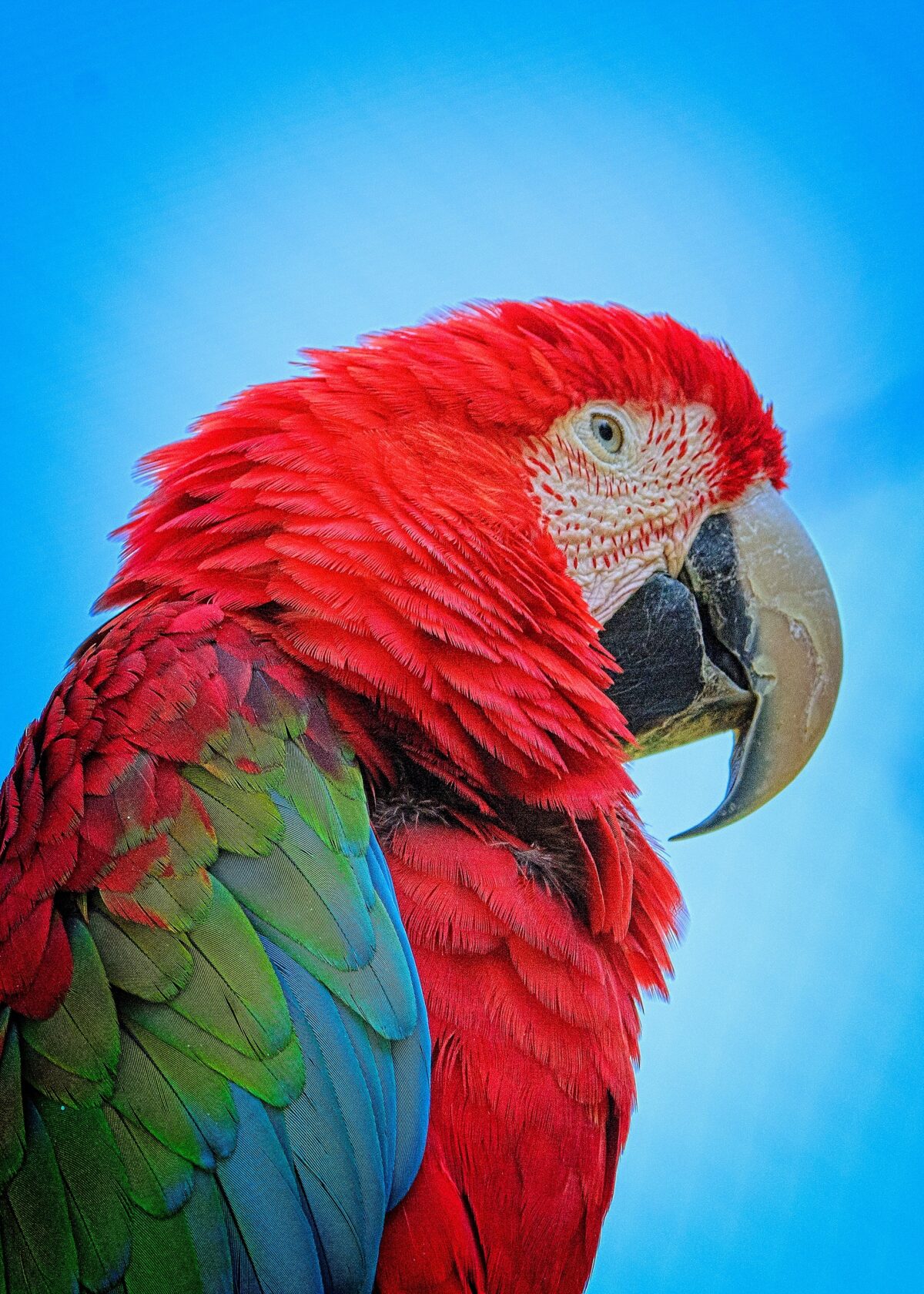 One of the largest and most colorful of all macaws, the scarlet macaw is the national bird of Honduras. (Copyright Fred J. Eckert)
"The park is designed to educate people about waterfowl and the importance of preserving them," Lubbock said. "Our goal is to tell visitors the story of every species—where it comes from, what habitat it prefers, and why the species is important to our world."
Park-generated revenue helps fund the breeding center.
Widely recognized as the world's leading expert on waterfowl, this farm boy from the Somerset area of England became fascinated with birds as a youth and began his career in ornithology at Britain's prestigious Wildfowl and Wetlands Trust. His rare talent for bird-breeding resulted in his being personally consulted by Queen Elizabeth II and becoming the queen's go-to expert thereafter.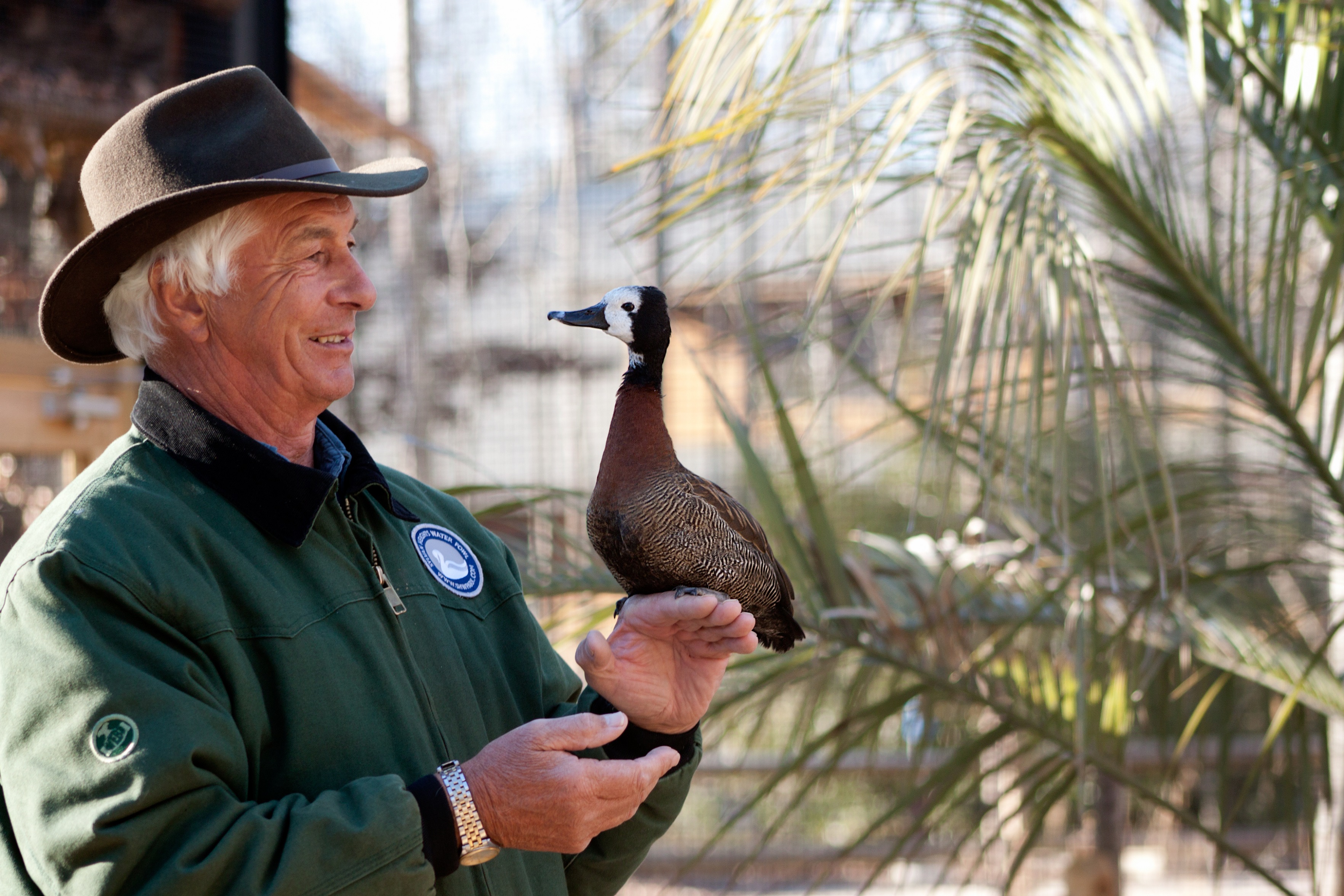 Mike Lubbock founded and directs Sylvan Heights Bird Park with his wife Ali. (Courtesy of Sylvan Heights Bird Park)
Lubbock's passion to preserve threatened waterfowl and other birds and promote conservation efforts has taken him all over the world. The story of how Scotland Neck became the place where he and Ali came to realize their long-time dream of creating their own great avian collection is detailed in the 2014 book "The Waterfowl Man of Sylvan Heights" by Dale A. True.
Sylvan Heights was carefully planned and designed to ensure maximum safety for the birds and waterfowl as well as the best possible experience for them and for their visitors. Besides being so pleasant and well-maintained, each area is quite sizable with exceptionally high nets.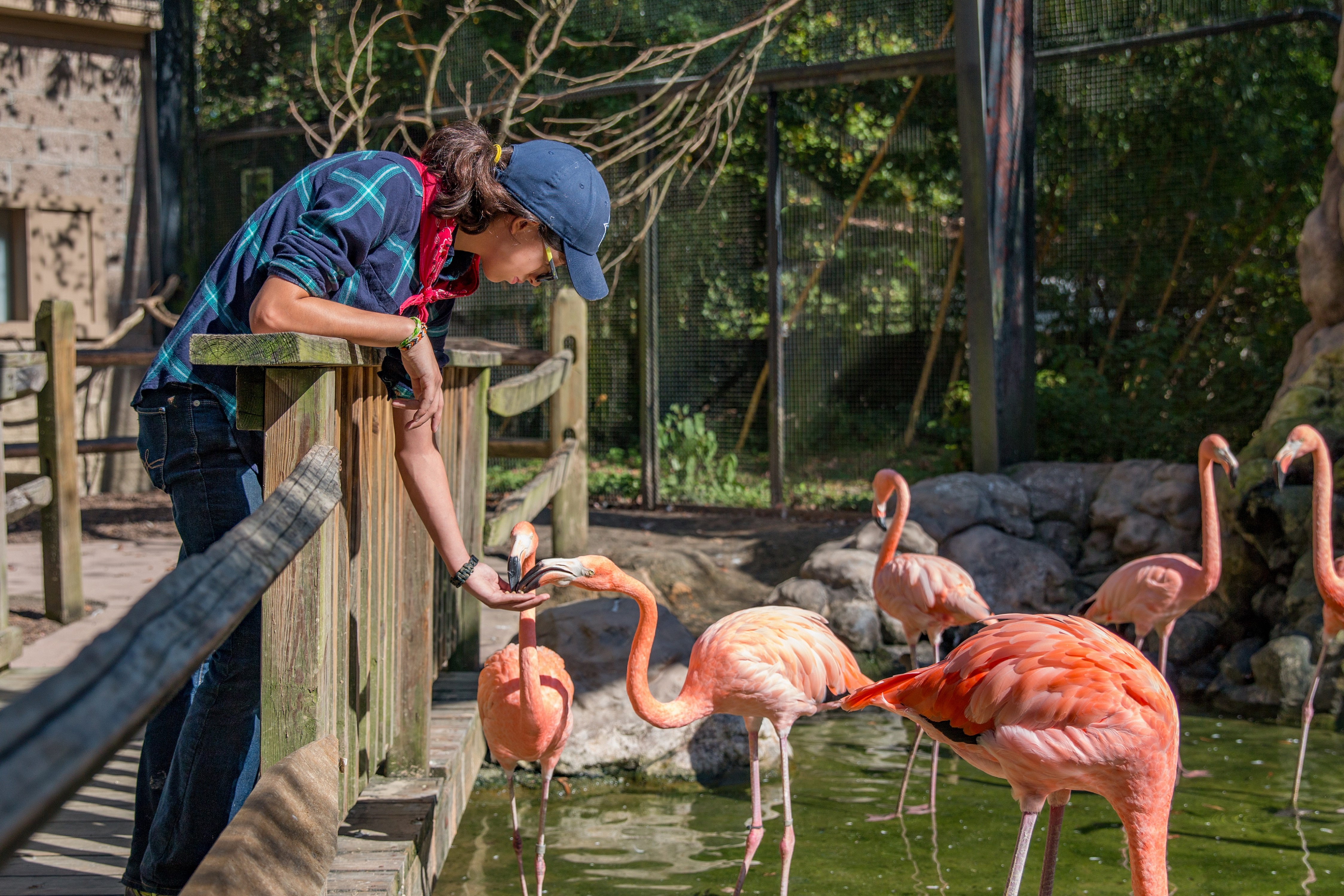 You can hand-feed the flamingos. (Courtesy of Sylvan Heights Bird Park)
Obviously a place where visitors can come see waterfowl and other birds that include endangered and very rare species must house them in a protective captive environment. For anyone who suggests that it is not good to have birds in such a protected area, Mike Lubbock has a question: "Would you rather view an endangered species alive in a nice parklike environment such as Sylvan Heights Bird Park or dead in some museum?"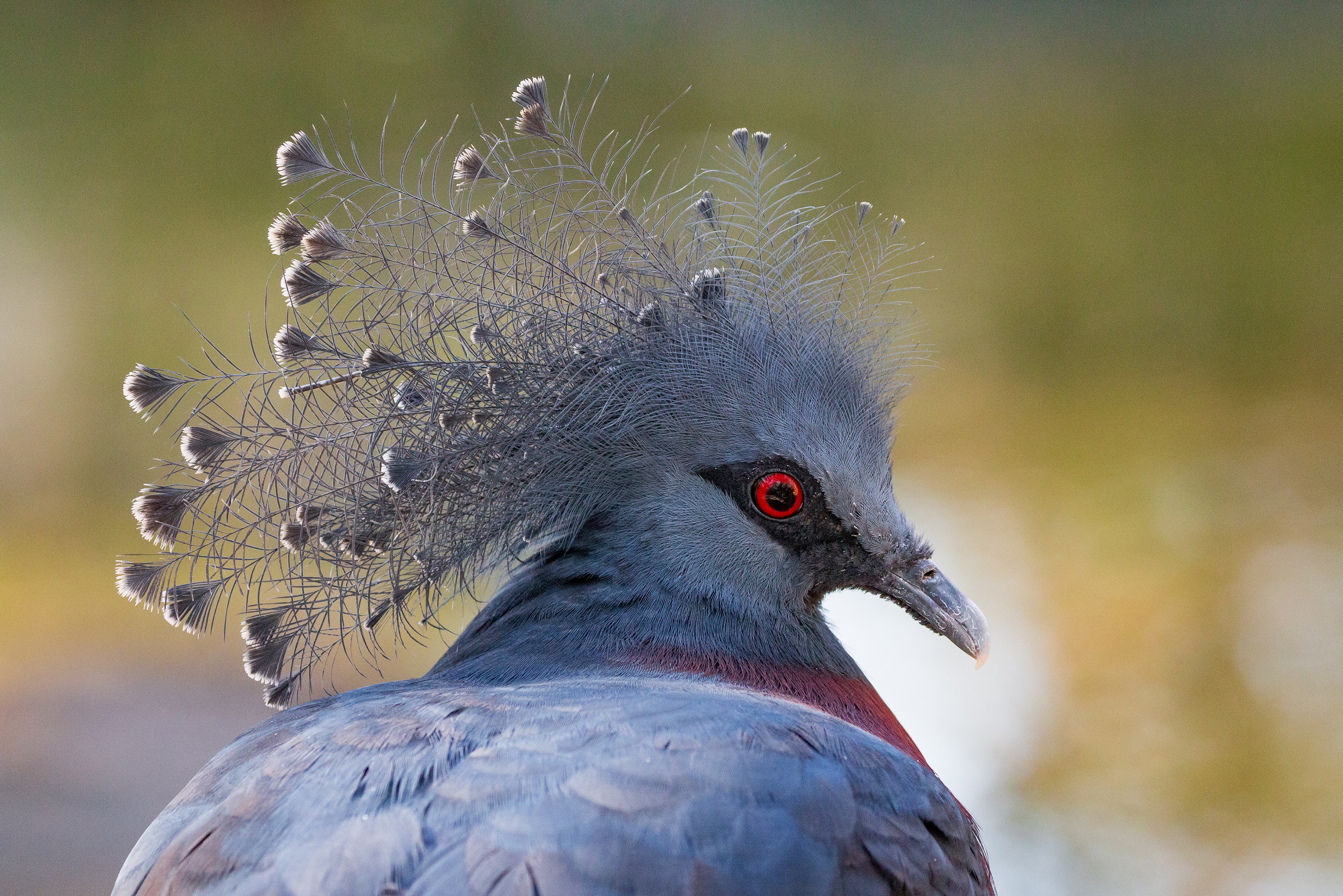 Victoria crowned pigeon. (Courtesy of Sylvan Heights Bird Park)
The 18 endangered species and 30-plus very rare species that reside at the bird park should appreciate Lubbock's point of view. One-third of the world's once perilously endangered white-winged wood duck population calls Sylvan Heights home. It's also credited with breeding 17 species of waterfowl for the first time in the world and 15 species for the first time in North America.
Within the park you can also observe birds and waterfowl in the wild. At Beaver Pond Blind, which overlooks a wetland, you can look out from one of its many blinds. A large roofed viewing platform located over another wetland is wheelchair accessible.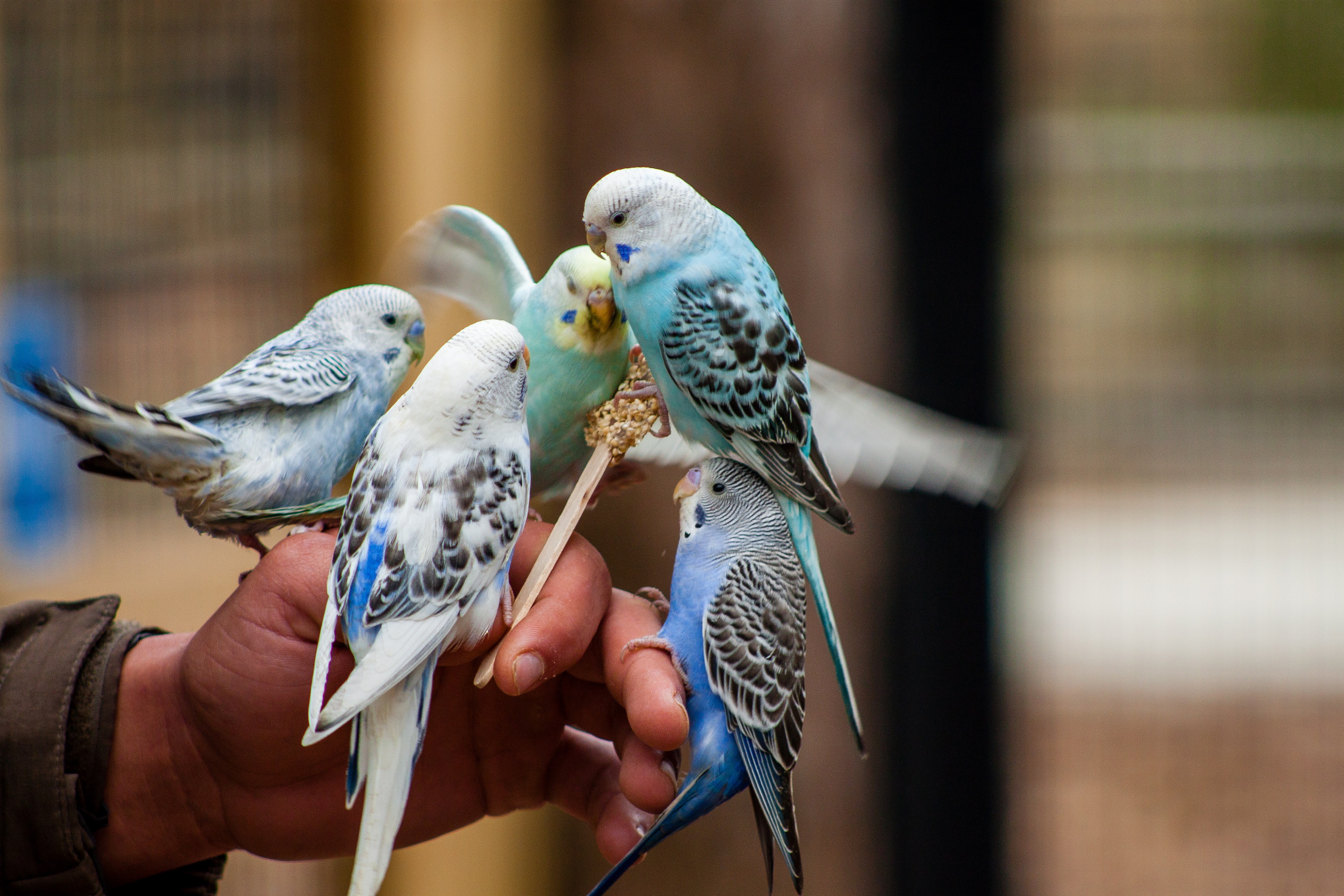 Parakeets gather around a seed stick. (Courtesy of Sylvan Heights Bird Park)
New in the past few years is Wings of the Tropics, a large walk-through aviary featuring about 25 species, including hummingbirds, jays, finches, quail, toucans, terns, and eagles.
Especially popular with children is the Landing Zone building where parakeets and other birds, such as tiny parrots—sun conures and budgerigars (aka budgies)—fly to you if you have a seed stick. You can feed flamingos out of your hand.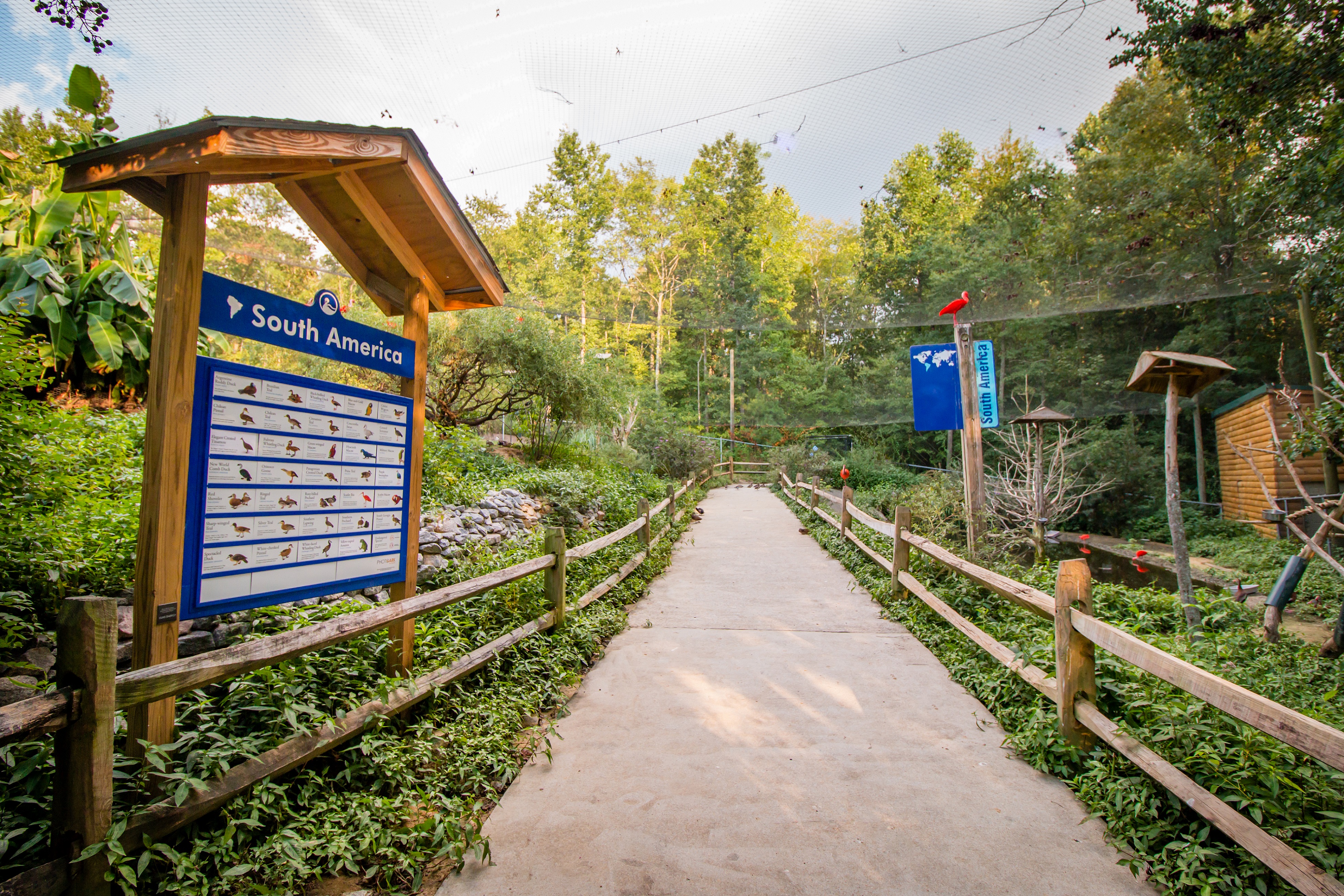 The South American aviary. (Courtesy of Sylvan Heights Bird Park)
A seed stick or a food package cost only $1, a pleasant surprise—just like pretty much everything else about Sylvan Heights Bird Park.
And if you happen to be someone who enjoys taking photos, as I am, you will be surprised how easy it is to get some compelling avian images here, including up-close and in-flight ones.
This is because each sector is extra large and features a large open area and exceptionally high nets. Plus there are a number of spots where you can even open an area in the fence wide enough to poke through even the longest lens and easily move it up or down and from side to side with no risk of any bird escaping. You'll need a key, which you get for a modest extra fee while your driver's license is held to secure its return.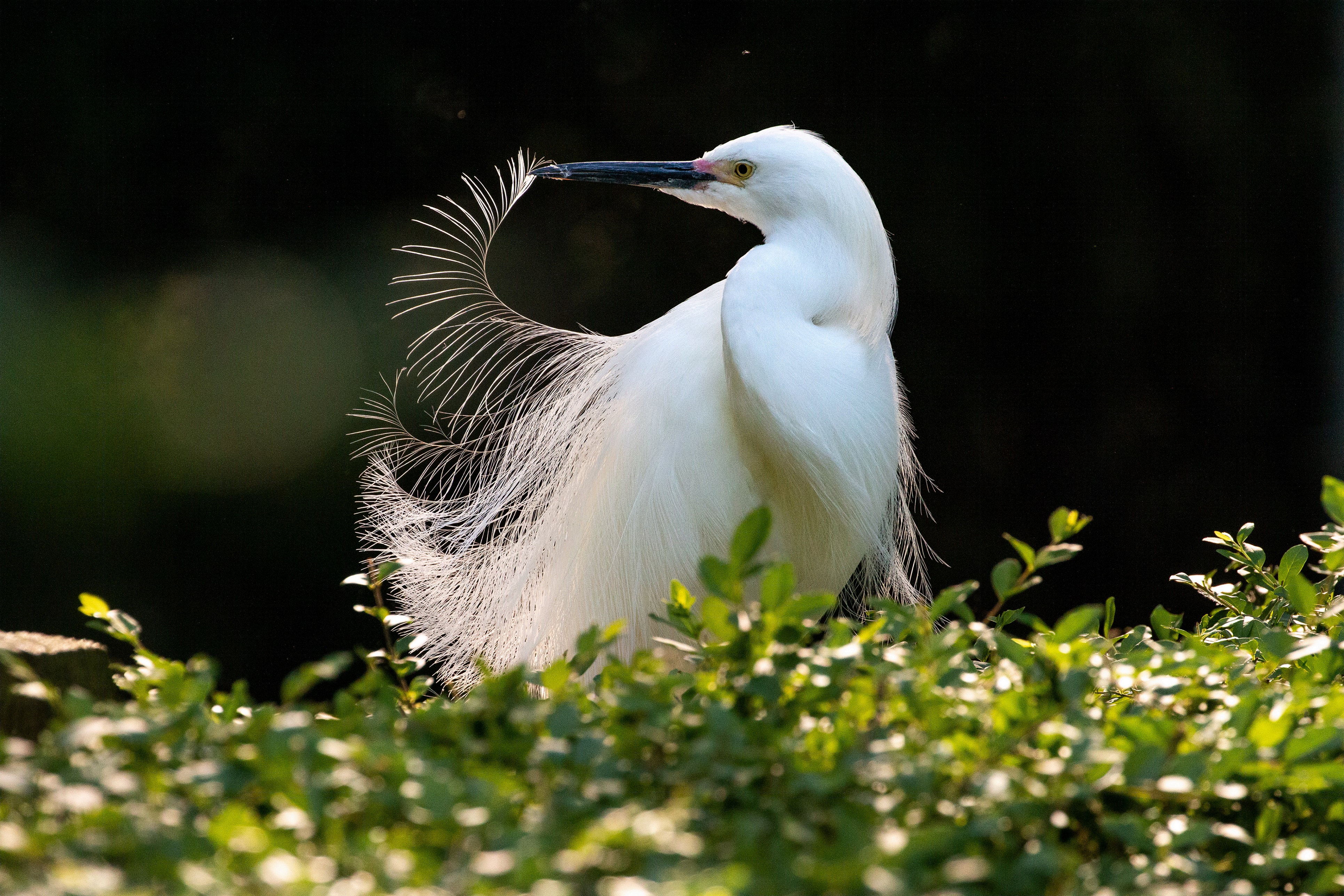 Snowy egret. (Courtesy of Sylvan Heights Bird Park)
"Sylvan Heights is a fantastic place!" renowned National Geographic photographer Joel Sartore raved to me after he spent a week there shooting images included in his highly acclaimed latest book, "The Photo Ark: One Man's Quest to Document the World's Animals."
Indeed it is.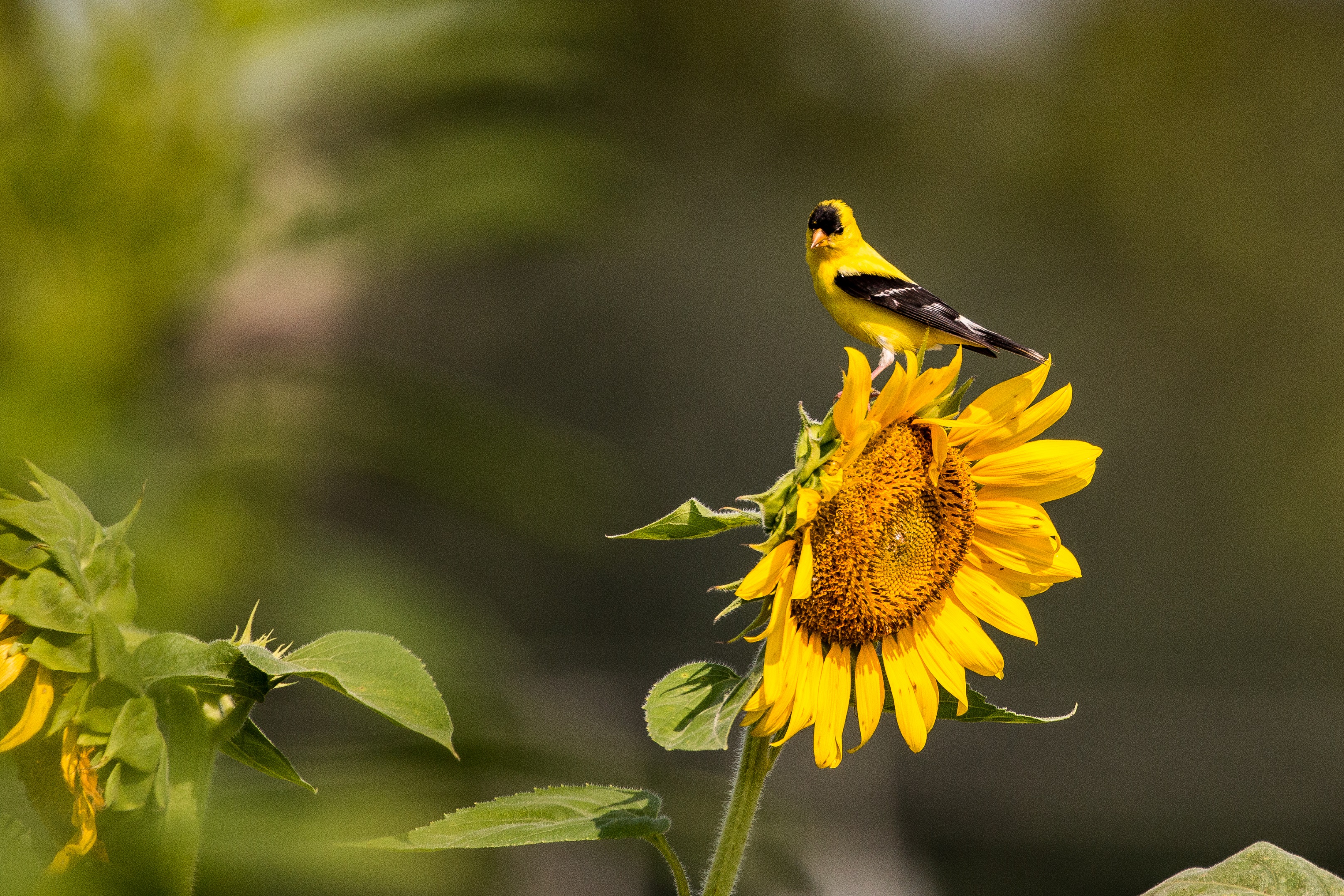 American goldfinch. (Courtesy of Sylvan Heights Bird Park)
If You Go
Best time to visit: Any time of year is a good time to visit. Note: Most ducks are at peak coloring mid-October through mid-May, and tropical birds are at peak coloring during the summer months.
Information: See SHWPark.com
Food: Sylvan Heights does not presently operate any food service, but welcomes your bringing a picnic lunch and provides a couple of nice picnic areas and a playground. And it's only a few minutes' drive to several restaurants in town, one of which, La Casetta—operated by an Italian who hails from Sicily—draws customers from as far as Raleigh and Richmond because of its reputation for truly extraordinary Italian food at reasonable prices. A food facility is expected to be added in 2020.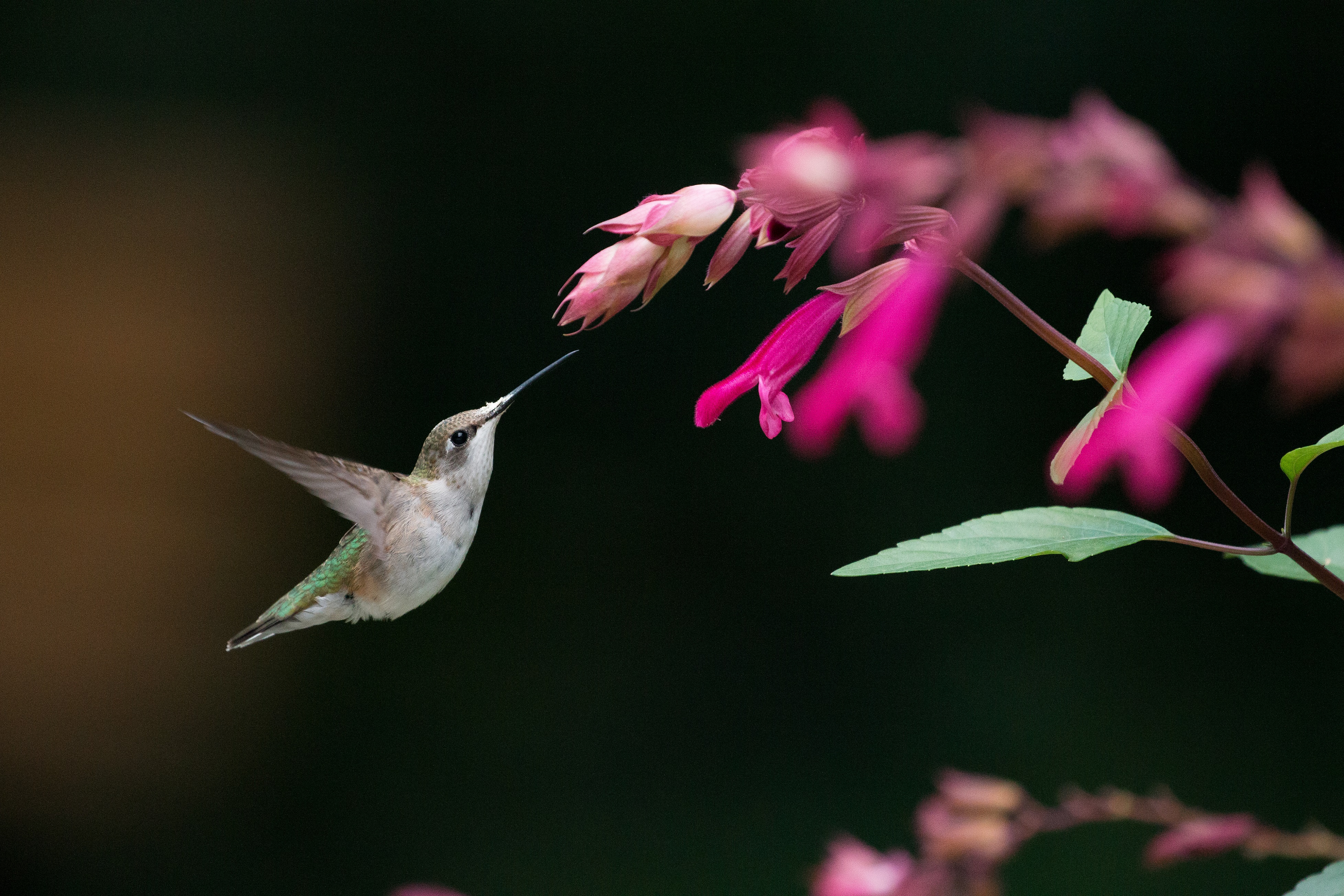 Ruby-throated hummingbird. (Courtesy of Sylvan Heights Bird Park)
Days and hours open: Closed Mondays, except Easter Monday, Memorial Day, and Labor Day. Closed Thanksgiving and Christmas. Otherwise open Tuesday through Sunday, 9 a.m.–5 p.m. April through October and 9 a.m.–4 p.m. November through March.
Suggestion: It's worth a two-day visit and it's best to overnight in town. The 31-room Scotland Neck Inn offers a discount for Sylvan Heights visitors and compares very favorably to any of the next-nearest motels in Roanoke Rapids, Rocky Mount, or Tarboro, each a 30-to 40-minute commute on small country roads that are pitch black at night.
Fees: Children under 3 admitted free; age 3–12, $8; age 13–61, $11; age 62+ $10.
Fred J. Eckert is a retired U.S. ambassador and former member of Congress. His writings have appeared in many leading publications, including Reader's Digest and The Wall Street Journal. He is also an award-winning photographer whose collection of images spans all seven continents. See his work at EckertGallery.com
Republished with Permission The Epoch Times    SUBSCRIBE
---
Get Citizensjournal.us Headlines free  SUBSCRIPTION. Keep us publishing – DONATE