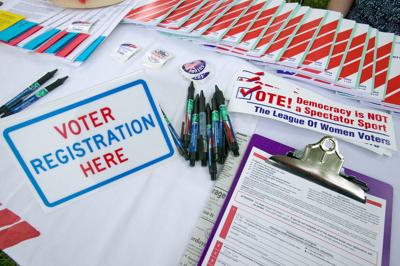 (The Center Square) – Judicial Watch moved to dismiss a federal lawsuit on Wednesday it filed against elections officials in New York and New York City after, according to the watchdog organization, the city removed more than 440,000 ineligible individuals from its voter rolls.
In July, the organization filed the lawsuit in the U.S. District Court for the Eastern District of New York, claiming officials failed to follow parts of the National Voter Registration Act. While the law is best known for the "Motor Voter" provisions, which allow people to register to vote when they apply for, or renew their license. The law also calls for boards of elections to take reasonable steps to remove ineligible voters from their rolls, which includes people who have died or moved.
In its lawsuit, Judicial Watch claimed New York City only removed 22 voters from its rolls, which contain more than 5.5 million voters, over a six-year period.
The settlement with Judicial Watch comes more than five years after the New York City Board of Elections reached a settlement with federal officials, after an investigation found the board removed about 117,000 voters from its list, because they did not vote. That agreement also called on the city to properly maintain its voter rolls.
Under the law, a person cannot be removed from the rolls for simply choosing not to vote. Rather, individuals would be removed if they did not respond to an address check, and failed to vote in the following two federal elections.
The defendants notified Judicial Watch that it followed the law's guidelines this past February. As a result, it removed more than 82,000 voters from the Bronx, more than 128,000 from Brooklyn, more than 145,000 in Manhattan, more than 66,000 in Queens and more than 18,000 from the rolls in Staten Island.
In addition, the city agreed to notify Judicial Watch by March 31 of additional removals from the rolls. The city will do that again in 2025.
"This historic settlement is a major victory for New York voters who will benefit from cleaner voter rolls and more honest elections…We look forward to working together under this federal lawsuit settlement to ensure New York City maintains cleaner rolls for future elections," Judicial Watch President Tom Fitton said in a statement.
The group has filed similar lawsuits, and forced states to strike ineligible voters from their lists. Earlier this year, North Carolina settled a lawsuit with Judicial Watch and agreed to pare more than 430,000 names from rolls in Guilford and Mecklenburg counties, home to Greensboro and Charlotte, respectively.
---
TELL YOUR FRIENDS ABOUT CITIZENS JOURNAL  Help keep us publishing –PLEASE DONATE