When it comes to wine, it's difficult to know where to start. The variety of grapes and appellations alone is enough to make your head spin, and figuring out what to smell and taste for, or how to pair a bottle with food, just adds to the confusion. Throw in etiquette, and you might find yourself entirely lost.
Fortunately, we have experts to guide us.
Enter Aldo Sohm, master sommelier at Eric Ripert's critically acclaimed Le Bernardin in New York City, and the director of his own Aldo Sohm Wine Bar, steps away from the restaurant. In an effort to answer the many questions he's received on the job, and to share his passion for wine with others and encourage newcomers to find their own, Sohm recently released a new book, "Wine Simple: A Totally Approachable Guide from a World-Class Sommelier."
Originally from Austria, Sohm began waiting tables at age 19. During his third job working at the front of the house, he was waiting on a Swiss couple who were passionate about food and wine, when they asked Sohm what they should have to drink with their meal. Perplexed and unable to provide an answer, Sohm began to research the world of wine, reading as much as he could on the subject.
Sohm quickly became passionate about wine, and immersed himself in literature and tastings. At age 20, he was able to secure a job at Hotel Arlberg Hospiz, which was well-known for its wine program, and was permitted to join all of the wine tastings as long as he set up and broke down.
After a trip to Florence, Italy and an arduous two years of study, Sohm received his sommelier diploma in 1999. Five years later, he arrived in New York in 2004 to work for Kurt Gutenbrunner's restaurant Wallsé. In 2007, Sohm won the Best Sommelier in America competition, and the next year, was crowned the Worldwide Sommelier Association's Best Sommelier in the World.
I had an opportunity to speak with Sohm about his new book, and learn about the vast world of wine from grape to glass.
The Epoch Times: What motivated or inspired you to write "Wine Simple?"
Aldo Sohm: Wine can be very intimidating. As a sommelier I see this every day at work at Le Bernardin and Aldo Sohm Wine Bar. I wanted to help make it more approachable and fun as well as provide my opinion.
The Epoch Times: Why do you think the world of wine can be intimidating for people? How can they become less intimidated?
Mr. Sohm: It's a very complex topic—and on top of that, try reading a German wine label, let alone a Greek one. With "Wine Simple" I wanted to point out that you don't have to be a dedicated sommelier to enjoy wine. Sometimes you don't want it to be a complicated science and just want to have a good glass of wine.
The Epoch Times: How did you determine how to structure the book? And why did you decide to make it so visual, including so many illustrations and infographics?
Mr. Sohm: The moment learning becomes playful, it becomes fun. With "Wine Simple," we're providing the information in easy, digestible bites. Whether you read it for an hour or simply open it for 20 seconds you can take something from it. The illustrations help give a certain lightness to it.
The Epoch Times: What are some common myths and misconceptions about wine?
Mr. Sohm: One myth: White wine with fish and white meat, and red wine with dark meat. For example, a domestic pinot works just great with grilled salmon, or a light red such as chianti would work well with roasted chicken breast with some tomato sauce, because of the sauce. There's a classic Austrian dish called Tafelspitz, a boiled beef and broth, which is typically served with white wine. The bottom line is that it makes a difference whether the protein is poached, roasted, or grilled. The sauce also has a major influence on the pairing.
The Epoch Times: What questions would you suggest asking a sommelier, or a wine shop clerk, to help pick the perfect bottle?
Mr. Sohm: Tell them what wines you liked in the past (also the ones you disliked). I suggest taking a photo on your phone to remember. Also, it's helpful to ask them what is drinking really well right now.
The Epoch Times: What are some wines you're really excited about right now?
Mr. Sohm: I'm not a moody person but I'm a moody drinker, therefore I follow the season and what I'm craving. I always love champagne, and I seem to often go back to wines from Rías Baixas (Spain), Piedmont, and Tuscany. When it snows, I love richer versions of champagne, such as Christophe Mignon Pur, Savart, and Chartogne-Taillet.
For freezing cold weather, I like:
St. Joseph Domaine Jean-Louis Chave, Rhone
Pian del Ciampolo Montevertine, Tuscany
Blaufränkisch Wachter-Wiesler, Austria
Chateau Bourgneuf, Pomerol
Castro Candaz Mencía, Ribeira Sacra
The Epoch Times: What advice do you have for people who are just beginning to become interested in drinking wine?
Mr. Sohm: I suggest buying three bottles of a grape (same price point) and comparing them to see which you like best. All of our palates vary. For example, some people like oysters and others do not. It doesn't mean one is right and the other is wrong, it's a great and normal thing.
Read, research, travel, and don't forget to have fun. Surround yourself with passionate and curious people and discover wine but also food. They often go hand in hand.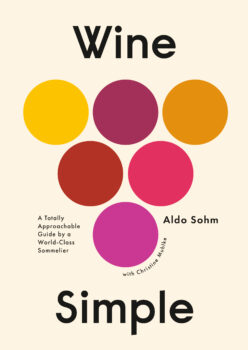 "Wine Simple: A Totally Approachable Guide from a World-Class Sommelier" by Aldo Sohm and Christine Muhlke (Clarkson Potter).
Republished with Permission The Epoch Times    SUBSCRIBE
---
Get Citizensjournal.us Headlines free  SUBSCRIPTION. Keep us publishing – DONATE