By Tyler Durden
You wouldn't know now if a bank or banks are subject to a run because banking is done online and at ATMs.
If they were, you might just get an online notice that online banking was down . . . like Canadians received the other night. Certainly Dictator Trudeau's freezing bank accounts doesn't increase confidence in the Canadian banking system.

Days after Canadian Prime Minister Justin Trudeau said he would invoke emergency orders to crack down on demonstrators by freezing their bank accounts, five major Canadian banks went offline on Wednesday night, as customers reported their funds were unavailable, according to technology website Bleeping Computer.
Royal Bank of Canada (RBC), BMO (Bank of Montreal), Scotiabank, TD Bank Canada, and the Canadian Imperial Bank of Commerce (CIBC) were all hit with unexplainable outages on Wednesday evening. Users began reporting issues with banks around 1600-1700 ET, Downdector data showed.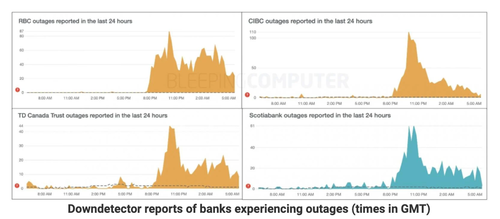 Canadian Twitter users reported they couldn't access their funds at the ATMs. One user took a photo of an error message at one of RBC's ATMs that read, "Tap transactions aren't available for this card."
RBC atm pic.twitter.com/OtI9M7ikrr

— Inmate780 (@AB_inmate) February 16, 2022
In response, RBC tweeted, "We are currently experiencing technical issues with our online and mobile banking, as well as our phone systems."
Source https://straightlinelogic.com
---
TELL YOUR FRIENDS ABOUT CITIZENS JOURNAL  Please keep us publishing – DONATE