Delaware Farm Planted in Opportunity Zone Gives Former Inmates a Second Chance
BY EMEL AKAN
WILMINGTON, Del.—KaLief Ringgold, 34, was released from prison on March 26 after spending years behind bars on drug dealing charges. He stepped out into a world that, for many former inmates, can be overwhelming as they struggle to find work.
Amid the pandemic and economic recession, Ringgold landed a job on a smart farm called Second Chances that hires former prisoners.
"The name of this place is Second Chances, but I really believe this is my last chance. It might be my only chance to do something good," he said on Sept. 14 at an event hosted by the farm.
Before he was hired, Ringgold had spent much of his adult and juvenile life incarcerated.
"My friend was killed this morning," he said. "Everyone I know died from gunshots and overdoses. So that could be my life."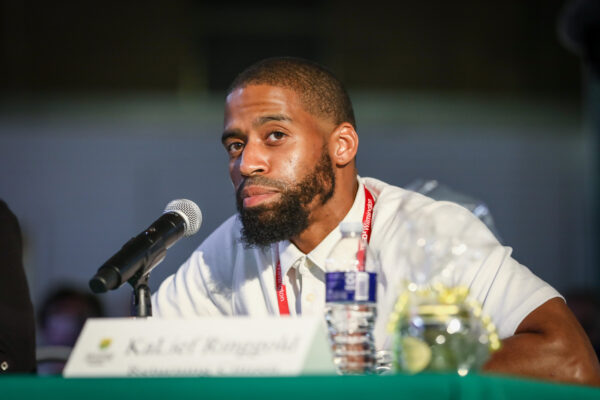 KaLief Ringgold, former inmate and now an employee at Second Chances Farm in Wilmington, Del., on Sept. 14, 2020. (Charlotte Cuthbertson/The Epoch Times)
Committed to compassionate capitalism, Second Chances Farm, LLC is an indoor, vertical farm based in Wilmington, Delaware. Founded by Ajit George, the farm exclusively hires formerly incarcerated citizens such as Ringgold who are seeking to reenter the workforce.
The company currently employs 36 returning citizens, and also provides them with mentoring, life skills, and job training. Each gets $31,200 a year plus medical and other benefits. Three employees have already been promoted to leadership roles.
The farm grows plants in water without using soil, a process called hydroponics. Plants are grown within containers, where water and fertilizer reach the roots and allow the plants to grow. The company uses artificial light to aid in the plants' process of photosynthesis.
Crops include lettuce, kale, spinach, basil, cilantro, and microgreens. The farm provides fresh produce year-round, unaffected by weather, and free from all pesticides and herbicides. It sells products locally, reducing carbon footprints created by long-distance trucking.
The farm's main customers are restaurants and groceries. It also offers a farm-to-table home delivery program, serving 380 subscribers.
The indoor farm is located in a 47,500-square-foot building in the Riverside neighborhood in Wilmington, an economically disadvantaged area designated an opportunity zone, which may help the farm in attracting investors.
On Sept. 14, Secretary of Housing and Urban Development Ben Carson and Attorney General William Barr visited Second Chances Farm and held a roundtable with the management team and employees of the firm.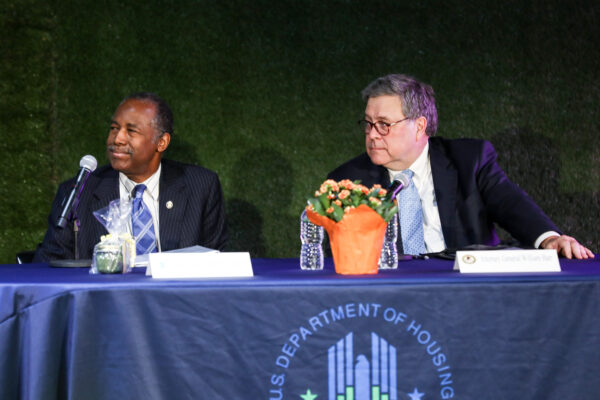 Housing and Urban Development Secretary Ben Carson (L) and Attorney General William Barr at Second Chances Farm in Wilmington, Del., on Sept. 14, 2020. (Charlotte Cuthbertson/The Epoch Times)
Speaking at the event, Carson said the startup farm is a "shining example of the kind of innovative thinking that we're seeing popping up in opportunity zones."
Farming in an Opportunity Zone
Created by the 2017 Tax Cuts and Jobs Act, opportunity zones offer tax breaks to private funds that invest in these economically underserved communities. There are 8,764 areas designated as opportunity zones across the country.
Nearly $75 billion in private capital has flowed into these zones in the past two years, generating approximately a half-million jobs, according to a recent report by the White House Council of Economic Advisers.
The pandemic, however, had an effect on investment activity in these underserved communities this year.
"There's no question that COVID has had a deleterious effect on" opportunity zones, Carson told The Epoch Times.
"That will obviously be rectified," he added. "There's a tremendous amount of resiliency in this economy. Part of the reason that you see things springing back the way they are, and the reason that it really didn't go down for the count as many people expected, is because a lot of the regulatory barriers have been removed."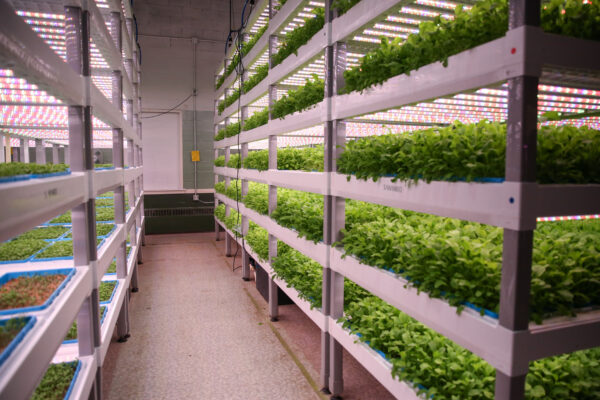 An upright hydroponic garden at Second Chances Farm in Wilmington, Del., on Sept. 14, 2020. (Charlotte Cuthbertson/The Epoch Times)
There are 25 opportunity zones in Delaware, eight of which are located in Wilmington.
Second Chances Farm has raised approximately $2 million to date, according to Jon Brilliant, co-founder and chief financial officer of the company.
"Being located in an opportunity zone has created a lot of buzz and promotional activity, but has not helped us at all in raising any money," he told The Epoch Times.
Like many opportunity zone businesses, Second Chances was hit hard by lockdowns caused by the pandemic. In March, while the company was still harvesting its first crop, the governor of Delaware issued an order closing all restaurants. The management of the company had to revise its business model and launch a home delivery program within 24 hours to avoid going out of business.
Since March, the company has been delivering farm produce and herbs to homes in Delaware, Pennsylvania, and Maryland.
"Opportunity zones are already severely hit areas," Scott Turner, executive director of the White House Opportunity and Revitalization Council, told The Epoch Times.
He said, the pandemic increased this severity but still some businesses inside the opportunity zones were able to thrive.
Turner expects investment activity in these zones to be "tremendous" next year.
Returning Citizens
During the roundtable event at the farm, employees from all kinds of backgrounds shared their personal stories.
Gabrielle Newton, one of the employees, was arrested on gun charges and spent months behind bars. After she was released, she said many businesses hesitated to give her a second chance.
"I'm going to interview after interview and they go very well," until the background check comes up, she said.
"It does something to your pride, to your spirit."
Chris Whittle, a former prisoner who was charged with arson, is grateful that the farm has given him a second chance to do the job he loves.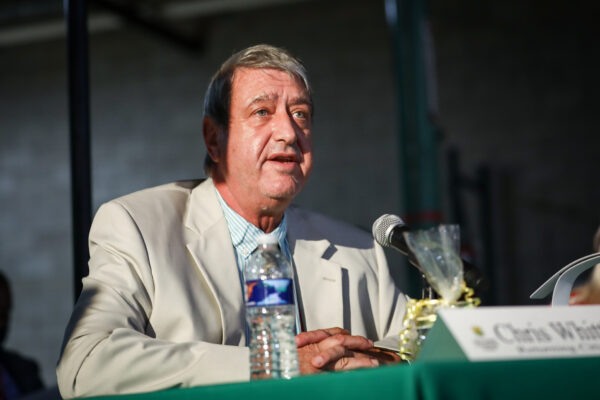 Chris Wittle, former inmate and now a teacher at Second Chances Farm in Wilmington, Del., on Sept. 14, 2020. (Charlotte Cuthbertson/The Epoch Times)
A Harvard University graduate and former teacher, Whittle said, "arsonists are not eligible to work as teachers, work with children in the state of Delaware."
He now works as a corporate trainer at the Second Chances Farm.
Speaking at the roundtable, Barr praised the farm for giving returning citizens "an opportunity to have a meaningful job and help them achieve economic self-sufficiency."
"This is a great project because, in addition to making economic sense and bringing economic opportunity to the neighborhood, it provides, at the same time, something that is desperately needed from the standpoint of the Department of Justice," he said.
More than 7 out of 10 people in Delaware return to prison after their release mainly because many companies don't want to provide jobs to ex-offenders.
Jon Brilliant, who launched the Second Chances project with George nine months ago, says there is a proven correlation between employment and recidivism.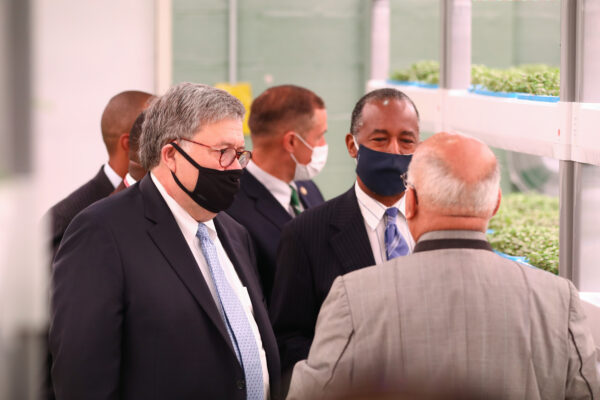 Attorney General William Barr (L) and Housing and Urban Development Secretary Ben Carson (2nd R) tour Second Chances Farm in Wilmington, Del., on Sept. 14, 2020. (Charlotte Cuthbertson/The Epoch Times)
While the company hasn't been around for five years to truly measure the impact of recidivism, "so far, I'm happy to report that none of the returning citizens that we work with have been rearrested," Brilliant said at the roundtable.
"Hundred percent of our returning citizens came to our door without any other meaningful opportunity. Seventy-three percent came to us, as poor or in poverty."
The company now plans to expand to Philadelphia, where it will also operate in an opportunity zone.