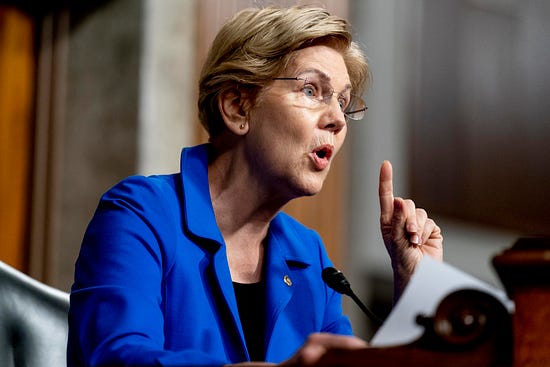 Democratic Sen. Elizabeth Warren of Massachusetts needs new material.
Fast.
Warren entered the U.S. Senate in 2013 brimming with fresh ideas and so much promise.
Now, the failed presidential candidate is more like that one annoying uncle who does the same party trick at every family function. Except instead of doing lousy imitations or corny jokes, Warren's party trick involves blaming every single solitary thing that is wrong in the U.S. economy on corporate greed.
For example, Warren this week blamed the rising cost of groceries on a sinister plot by Big Supermarket.
"Giant grocery store chains force high food prices onto American families while rewarding executives & investors with lavish bonuses and stock buybacks," Warren said. "I'm demanding they answer for putting corporate profits over consumers and workers during the pandemic."
Sure, it's possible grocery chains discovered the concept of price-gouging in the year of our Lord 2021. Or perhaps the increasing cost of groceries has something to do with rising inflation, which hit a 39-year high in November. Perhaps rising costs have something to do with the White House's domestic and trade policies. Perhaps the mismanagement of the supply chain has likewise played a role in soaring prices. I'm just spitballing here.
This is Warren's party trick. Whenever there's an economic downturn, any time consumers suffer for the federal government's meddling in economic policy, the senator alleges a shadowy conspiracy of corporate greed and private sector malfeasance.
Cost of gas got you down? Warren blames Big Oil.
Turkeys unusually expensive this Thanksgiving? Warren blames Big Poultry.
Meat prices going up? Warren blames Big Meat.
Car rentals seem more expensive this year? Warren blames Big Rental.
Read more at the Washington Examiner.
T. Becket Adams
Senior commentary Washington Examiner. Former "S.E. Cupp Unfiltered" contributor. Bylines in RealClearPolitics, Business Insider, And another thing Subscribe
---
The views and opinions expressed in this commentary are those of the author and do not necessarily reflect the official position of Citizens Journal
Get Citizensjournal.us Headlines free  SUBSCRIPTION. Keep us publishing – DONATE