Let's Talk Money Financial Literacy Workshop – Invest in Your Future
4-part financial literacy education series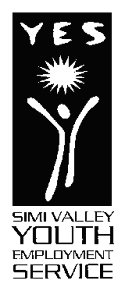 The Simi Valley Youth Employment Service (YES) in partnership with the Bank of America's better money habits education team will host a four-part Let's Talk Money Financial Literacy Workshop series to teach local youth about financial literacy education.
Teens and young adults that attend the free workshop series will learn about effective money management from healthy budgeting and how to build credit to savings and investing.
"I think these workshops are very worthwhile for teenagers like me to attend since they teach real world skills not covered in school in a fun, interactive way," said Shreeya Julakanti, chair of the YES financial literacy committee and author of A Teen's Guide to Investing: How to Make the Magic of Compounding Work for You!  "Millions of Americans struggle with managing their finances after they graduate high school, and coming to an event like Let's Talk Money could have helped many of them prevent that."
To see the videos of previous workshops in the series, visit the @SimiValley Youth Council YouTube channel.
To reserve a seat or for more information about the topics covered during each workshop, go to https://bit.ly/simitalkmoney. Each workshop will be held in a hybrid format; in-person at the Simi Valley Public Library (strongly recommended) and online on Zoom.
The workshops are provided solely for educational purposes and are not an offer of investment or financial advice nor do they constitute a recommendation or suitability of any investment or financial advice by the City of Simi Valley.
For more information, visit www.simivalley.org/yes or call Kristin Tignac, YES Coordinator, at (805) 583-6766.
Videos of each workshop will be available, as well as the presentation and activity handouts by emailing [email protected]
---
Get Citizensjournal.us Headlines FREE SUBSCRIPTION. Keep us publishing – DONATE