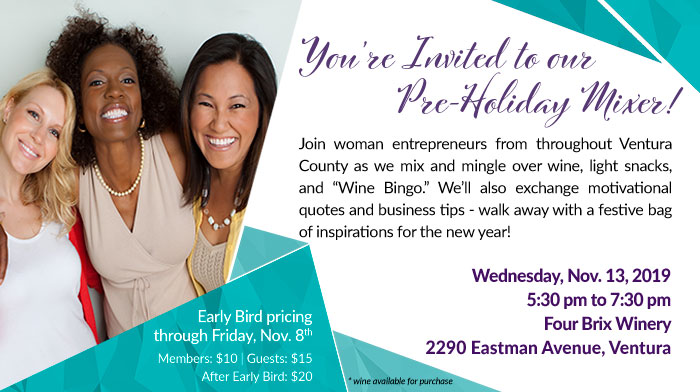 Does the thought of overbooking your December calendar with holiday parties make you feel a bit stressed? The Ventura County chapter of the National Association of Women Business Owners (NAWBO VC) is giving you the gift of time this holiday season! No NAWBO VC holiday party to add to your already overflowing December calendar.
Instead, relax with us on Wednesday, November 13th for a festive Pre-Holiday Mix & Mingle and ring in the holidays at Four Brix Winery in Ventura over light snacks, wine* and WINGO (women networking over bingo).
Fun activity while we network . . . Bring 30-40 business-size or 3×5 cards with an inspirational message or business tip to share. This is ONE quote or business tip duplicated 30-40 times. All who participate walk away with a festive bag of inspirations and tips for the new year!
This Pre-Holiday Mix & Mingle is open to our large community of women business owners and entrepreneurs and those who support them. Spouses, significant others, colleagues, employees, and friends are all welcome. Admission is just $10 for members and $15 for guests if you grab your tickets before November 8th. After that all tickets are $20 per person.
"Our membership is growing at a rate of 2 new members monthly," commented Lynnette Coverly, President of NAWBO VC and CEO of Coverly Professional Services, Inc. "The caliber of our membership is stellar as we support each other in thinking bigger and growing our businesses into successful companies and nonprofits. Events like this are a great opportunity for women serious about growing their business to get to know us."
This event would not be possible without the generous support of Elite NAWBO VC Member Brenda Terzian, co-owner of Doug Terzian Construction, Inc.. NAWBO VC is also supported by Corporate Partners, Chase Bank, Bank of America, The Metropolitan Water District of Southern California, Montecito Bank & Trust, Pacific Western Bank, Southern California Edison, and Meyers, Widders, Gibson, Jones, and Feingold, LLP.
---
Get Citizensjournal.us Headlines free  SUBSCRIPTION. Keep us publishing – DONATE